James Jackson, Jr. And Adam Enright Star In I JUST WANTED TO WEAR THIS...TOO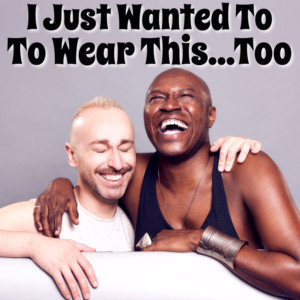 It's happening. Adam Enright and James Jackson Jr. are coming to The Green Room 42. Together. For the first time. Again. Why?
In a world full of hashtags, how do you handle life's important decisions? Caught between a rock and a hard place, flats or heels, belting or a healthy mix - two old friends will discover life isn't half-bad. You can be lovers AND haters - of everything! Take away the pop culture, the political humor, and your best 16 bars, and what's left? Are you tired of hanging in the closet with no place to go? Why did you even come out tonight? I just wanted to wear this.
This evening is backed by an incredible band with Music Direction by Elliot Roth, Lavondo Thomas on Bass, Chris Heinz on Drums and Jeff Jeudy on Guitar.
I Just Wanted To Wear This...Too is Friday, November 16th at 9:30pm at The Green Room 42.
Click here to watch James Jackson Jr. Cover We Belong by Pat Benatar!
Adam Enright is and actor, signer and writer. He has lived New York for a very, very long time. His solo show Good Bitch Goes Down recently played Boise Contemporary Theater for a three-week run this year but originated at Joe's Pub at the Public where he regularly performs with 2Scoops: The Legendary, Chart-Topping, Entirely Fictional 90's Girl Group, which he writes and performs with comedy partner Aaron Fuksa. He is a Progressive Theatre Workshop associate artist, having performed in a developmental reading of Cake (Dixon Place) and God Hates This Show (HERE Arts Center) both written and directed by John J. Caswell Jr. Adam also sings with the band Erin and Her Cello. You probably didn't notice him of TV or in films including Mozart in the Jungle, Odd Mom Out, Eastsiders, Landline, Drunk Parents and Stella's Last Weekend, directed by Polly Draper. Adam has played Hedwig twice and wouldn't mind doing it again. www.adam-enright.com
James Jackson, Jr. has committed several crimes since he was deposited in New York City back when Jesus was a boy. His cabaret (The Black-Ups) has been seen at Joe's Pub, 54 Below, DROM, The Duplex, The A.R.T.'s Club Oberon in Boston, and Los Angeles' Lyric Theatre. Before that, there were some national tours with angry Brits ( Whistle Down The Wind), public belting in close proximity to The Rockettes (The Radio City Christmas Spectacular), and more regional theater than any resume should have to deal with (Dreamgirls at Massasoit Theatre - DASH Supporting Actor Award, North Shore Music Theater, Bucks County Playhouse), and even some time as a drag queen (Henri Gabler) with Exigent Theatre Company. Michael R. Jackson's A Strange Loop, John J. Caswell Jr.'s Cake (Dixon Place). Most recently he has been blocked on Twitter by Kirstie Alley. www.TheJamesJacksonJr.com
Related Articles View More Cabaret

Stories

Shows
More Hot Stories For You