Fra Fee, John Lloyd Young, Chita Rivera, and More Next Week at 54 Below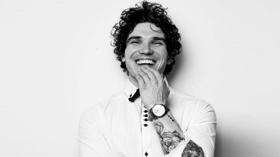 Next week, FEINSTEIN'S/54 BELOW, Broadway's Supper Club & Private Event Destination, presents some of the brightest stars from Broadway, cabaret, jazz, and beyond. To purchase tickets or for more information, visit www.54Below.com/Feinsteins or call (646) 476-3551.
Fra Fee: SEISÚN, JANUARY 7 AT 7:00PM
Fra Fee is an award winning Irish actor and singer currently appearing as Michael Carney on Broadway in Sam Mendes' helmed The Ferryman by Jez Butterworth (WhatOnStage Award - Best Supporting Actor in a Play). A regular on the West End and London stages, he is known for his role as Courfeyrac in the movie adaptation of Les Misérables, the title role of Candide at the Menier Chocolate Factory and next appears on screen opposite Holliday Grainger and Alia Shawkat in the upcoming feature film Animals.
Following it's sold-out premiere at London's The Other Palace, Fra Fee brings Seisún to Feinstein's/54 Below. Seisún is an evening of story-telling through songs and tunes ranging from Sondheim, Pasek & Paul, Flaherty & Ahrens, to Fra's roots in traditional Irish music with multi-instrumental guests and singers lending their talents to the evening.
Featuring: Rachel Bay Jones (Tony winner- Dear Evan Hansen), Laura Jane Matthewson (Evening Standard Award Winner for Dogfight in London), and Scarlett Strallen (Candide, Mary Poppins).
Please note that all artists and acts are subject to change at any time.
$35-$45 cover charge. $75 premium seating. $25 food & beverage minimum.
Michael Lee Brown: WAY IT USED TO BE, JANUARY 7 AT 9:30PM
Michael Lee Brown, star of the six time Tony Award winning musical Dear Evan Hansen, makes his Feinstein's/54 Below debut in his first New York City solo concert entitled Way It Used To Be. Enjoy a nostalgic, energetic, and soulful night of 1990s and early 2000s pop rock and musical theatre favorites, as well as some of Michael's original songs that have been described as "bubbling with heart, spirit and a refreshing brand of sing-along familiarity that veteran songsmiths struggle to achieve." His EP Way It Used To Be premiered recently on Billboard and can be heard on all streaming services world wide. This bright young artist currently plays the title role of Evan Hansen weekly and is excited to "step into the sun" and tell you a little about himself and his journey to Broadway. Let's have some fun and get swept away to the wonderful tunes and memories of the Way It Used To Be.
$30-$40 cover charge. $65 premium seating. $25 food & beverage minimum.
John Lloyd Young- LIVE!, JANUARY 8 AT 7:00PM
John Lloyd Young, the Tony and Grammy winning Frankie Valli from Broadway's Jersey Boys as well as the star of the Clint Eastwood-directed Warner Bros film, brings a new show to Feinstein's/54 Below featuring highlights from two popular programs he presents to sold-out audiences across the country.
"Part One" presents standout songs from John Lloyd Young's Broadway. In his signature passionate and thrilling style, Young features spine-tingling, soul-bearing showstoppers that shaped his earliest Broadway aspirations. Young sings favorites from shows including The Wiz, Dreamgirls, and Jersey Boys, as well as tried-and-true classics by Rodgers, Hart, Hammerstein, and more.
"Part Two" features selections from Introducing: John Lloyd Young. Earning several rave reviews from The New York Times and others, Young curates a delectable selection of classic retro R&B and rock in shades of 007, spaghetti westerns, and David Lynch. Both including and departing from Jersey Boys. Young draws from his 5-star-rated, Amazon-bestselling debut album of 60s classics, My Turn..., as well as the catalogues of artists such as Roy Orbison, Little Anthony, and Bobby Hatfield. With reverence for the past but an eye to the future, Introducing: John Lloyd Young also features R&B-influenced originals co-written with his pianist and music director, Tommy Faragher.
Music Direction by Tommy Faragher
$75-$105 cover charge. $110-$130 VIP seating. $140-$160 premium seating. $25 food & beverage minimum.
54 SINGS Lady Gaga, JANUARY 8 AT 9:30PM
Lady Gaga WILL NOT BE APPEARING AT THIS CONCERT
"Just Dance," "Born This Way," "Edge of Glory," "You & I," "Million Reasons" - the music of six-time Grammy award-winning singer/songwriter and pop culture icon, Lady Gaga, comes to Feinstein's/54 Below for one night only! Join over a dozen Broadway performers and rising stars as we celebrate the decade long career of one of this generation's most trailblazing artists: Lady Gaga.
A portion of the proceeds will be donated to the Born This Way Foundation.
Featuring: Joseph Allen (Hairspray, Something Wicked This Way Comes), Mackenzie Dade (The Sound of Music), Annie Golden (Netflix's "Orange Is The New Black"), Morgan Siobhan Green (Be More Chill, Folk Wandering), F. Michael Haynie (NBC's "Jesus Christ Superstar: Live", Charlie & The Chocolate Factory), Taylor Iman Jones (Head Over Heels, Groundhog Day), Charlotte Maltby (The Sound of Music), Lauren Marcus (Be More Chill), Isabelle McCalla (The Prom, Aladdin), Destinee Rea (The Book of Mormon, Amelie), Brian Charles Rooney (The Three-Penny Opera), David Rowen (Bob Marley's Three Little Birds, The Color Purple), Nathan Salstone (Harry Potter and the Cursed Child, Rags), Carrie St. Louis (Wicked, Kinky Boots, Rock of Ages), Talia Suskauer (Be More Chill)
Also featuring:
Anne Bragg (A Christmas Carol, Baby Fat Act I: A Screeching Weasel Rock Opera), Gregory Driscoll (Shrek: The Musical, Run For Your Wife), Asher Dubin (The Body Politic, Babies)
Jason Goldston (Becoming Nancy), Samantha Littleford (Hair, American Idiot), and Jenna Najjar (Mary Poppins, The Three Musketeers).
Casting is subject to change.
Musical directed by Luke Williams
Produced by Jenn Maley & Benjamin Nissen
$35-$45 cover charge. $75 premium seating. $25 food & beverage minimum.
Chita Rivera, JANUARY 9-12 & 16-19 AT 7:00PM
Back by popular demand after her sold out Feinstein's/54 Below engagement! The one and only Chita Rivera returns with her unique solo concert event. The incomparable Broadway legend and two-time Tony Award winner will recreate signature moments from her illustrious career including numbers from West Side Story, Sweet Charity, Chicago, Kiss of the Spider Woman, Bye, Bye, Birdie, The Rink, and The Visit. In addition to a special tribute to her dear friends John Kander & Fred Ebb, the timeless music of Leonard Bernstein, Charles Strouse, Jerry Herman, and Stephen Sondheim will also be featured, accompanied by her long-time trio.
$75-$85 cover charge. $110 VIP seating. $140-$145 premium seating. $25 food & beverage minimum.
STRANGER SINGS! THE PARODY MUSICAL, JANUARY 10 AT 9:30PM
Take a trip back to Hawkins, Indiana: 1983 -when times were simpler, hair was bigger, and unsupervised children were getting snatched by interdimensional creatures.
Stranger Sings! is a parody musical that lovingly riffs on the first two seasons of that one 80's-themed Netflix show and all its campy nostalgic glory. Join Mike, Eleven, Lucas, Dustin, and the whole Hawkins gang for a night of adventure, thrills, indulgent pop culture references, pubescent angst, heavy synth, poor parenting, convoluted love triangles, cheap effects, singing monsters, and maybe, just maybe, justice for everyone's favorite frumpy ginger, Barb Holland. Featuring an exciting cast of NYC Theatre and Feinstein's/54 Below favorites, prepare to go Upside Down with Stranger Sings! The Parody Musical!
Featuring: Christina Bianco (Forbidden Broadway) as Joyce, James Bock (Castle On a Cloud, Million Dollar Quartet) as Hopper, Dean Cestari (Here and Now, Mamma Mia at ACT) as Will, Patrick Howard (NYTF, The Timekeeper) as Dustin, Peter LaPrade (This Ain't No Disco, The Lightning Thief) as Steve, Blair Medina (Heist! The Musical) as Eleven, Savannah-Lee Mumford (PITS!, Into the Woods) as Barb, Michael Pigliavento (FRIENDS: I Was There for You) as Demagorgon, Emily Kay Shrader (Sister Act national tour) as Nancy, Nathan David Smith (Thousand Faced Theatre, METRO) as Jonathan, Jackson Walker (Hello, Dolly! at Lyric Theatre) as Mike, and Eric Willingham (The Wiz, LINE) as Lucas
Written and Directed by: Jonathan Hogue
Orchestrations and Music Direction by: Michael Kaish
Production Designer: Allison Hartfield
Marketing Manager: Adyson Johnson
Executive Producers: Dena Hardee, Michael Pigliavento, Allison Hartfield
Please note that all artists and acts are subject to change at any time.
$35-$45 cover charge. $70 premium seating. $25 food & beverage minimum.
Jamie Leonhart, JANUARY 11 AT 9:30PM
On January 11th, 2019 Jamie Leonhart follows up her sold-out debut Feinstein's/54 Below performance of ESTUARY: an artist | mother story with a show of new original material supported by music director Michael Leonhart's lush arrangements and a magical band.
Jamie will be performing material from her highly-anticipated upcoming release as well as some pieces from Estuary: an artist | mother story.
$25-$35 cover charge. $65 premium seating. $25 food & beverage minimum.
Erin Clemons: MIXOLOGY OF LOVE: JANUARY 11 AT 11:30PM
For one night only, Erin Clemons of Broadway's Hamilton and Les Misérables returns to Feinstein's/54 Below for her solo concert debut, in a night of songs exploring what it means to love yourself so that you can better love the world. Featuring the music of her unique upbringing and her journey through life, love, and music, this inspiring concert debut includes the music of Billie Holliday, Patsy Cline, Sam Smith, Stephen Sondheim, and more. Don't miss this young artist as she steps into her own light!
$20 cover charge. $45 premium seating. 2 drink or $20 food & beverage minimum.
NEW MUSICAL! THE LUCKY BOY BY Kirsten Childs, FEATURING PENN STATE MUSICAL THEATRE, JANUARY 12 AT 9:30PM
Join us at Feinstein's/54 Below for a concert event featuring highlights from the new musical The Lucky Boy - book, music, and lyrics by Kirsten Childs. This concert will be the first ever debut of scenes and songs from this new musical based on the Grimm's fairy tale "The Devil with the Three Golden Hairs." The Lucky Boy was commissioned by Penn State Musical Theatre and the concert features the talented seniors in the program.
Starring: Jack Bowman, Nick Case, Lauren Echausse, David Friedman, Katie Griffith, Graham Hancock, Kamryn Harris, Jonathan Hashmonay, Julio Reinaldo, MiKayla McKasy, and Lena Skeele
$25-$35 cover charge. $65 premium seating. $25 food & beverage minimum.
THOUSAND OAKS STRONG: A BENEFIT FOR THE VICTIMS OF THE BORDERLINE SHOOTING AND CALIFORNIA WILDFIRES, JANUARY 12 AT 11:30PM
On November 7, 2018, twelve people lost their lives in the Borderline Shooting in Thousand Oaks, California. Less than 24 hours later, wildfires swept the city.
Some of Broadway's greatest talents call Thousand Oaks home, and now they will come together for one night only to sing songs of hope and inspiration and raise money to help those affected by these tragedies.
Please join cast members from such shows as Mean Girls, Spamilton, The Prom, and many more as they do what the Broadway community does best: bring comfort to those who need it the most.
A portion of the proceeds from this event will be going to the Westlake Rotary Club Fund For Victims Of The Borderline Shooting.
Featuring: Ryan Andes (Big Fish, Sweeney Todd), Michael James Byrne (Rock of Ages, Stephen Schwartz's Magic To Do), Steven Ferezy (IN THE ROOM with Steven & Dana)
Tess Ferrell (Wicked), Sara Jean Ford (The Phantom of the Opera, Finian's Rainbow), AJ Holmes (The Book of Mormon, Twisted), Andrew Karl (Ragtime), John Koladziej (Johnny en Rose, The Rocky Horror Show), Katie Luke (Kiss Me Kate, Newsies), Catherine Ricafort (Spongebob Squarepants, Honeymoon in Vegas), Juan Drigo Ricafort (#BARS, In The Heights), Brian Charles Rooney (The Threepenny Opera, When Pigs Fly), Jonalyn Saxer (Mean Girls, Holiday Inn), Rebecca Spigelman (Hairspray, Baby), Sasha Weiss (Jerry Springer the Opera at Carnegie Hall, ABCs What Would You Do)
Produced and Directed by Robert W. Schneider
Hosted by Ben Rimalower (Patti Issues, Real Housewives)
$30 cover charge. $44 premium seating. 2 drink or $20 food & beverage minimum.
54 SINGS YENTL, JANUARY 13 AT 7:00PM
Join Feinstein's/54 Below as we tip our yarmulke to Yentl! With a stunning score by Michel Legrand and Marilyn & Alan Bergman, songs like "Papa, Can You Hear Me," "A Piece of Sky," and "Where Is It Written" have become part of the popular American songbook, and not just amongst Barbra Streisand devotees! Featuring a brilliant cast of Broadway and cabaret favorites and a full band, expect a healthy dose of behind the scenes tidbits from Sondheim Unplugged host, Phil Geoffrey Bond.
Featuring: Anastasia Barzee, Bethany Eggleston, Alexa Green, Jessica Hendy, Sally Mayes, Molly Pope, Kelli Rabke, Brian Charles Rooney, Lucia Spina, Rachel Ulanet, and Donna Vivino
Hosted by Phil Geoffrey Bond
Music Direction by Jeremy Robin Lyons
Please note that all artists and acts are subject to change at anytime.
$35-$45 cover charge. $75 premium seating. $25 food & beverage minimum.
Dan Domenech, JANUARY 13 AT 9:30PM
Feinstein's/54 Below solo debut! Dan Domenech (Smokey Joe's Cafe, Heathers) brings his acclaimed solo concert to NYC in collaboration with musical director David Gardos.
Bootleg Famous tells the story of the Long Island native and Broadway star navigating his way through the entertainment industry and unintentional internet theater fame... and an accidental branding with bread.
Songs include hits from shows that defined his career, and some that define him. Expect selections from RENT, You're a Good Man Charlie Brown, Rock of Ages, Kinky Boots, and more, all woven through a story about what a love affair with theater will give to you and take from you.
$25-$35 cover charge. $60 premium seating. $25 food & beverage minimum.