Cast Of EVELYN: A NEW MUSICAL To Present POP DIVA'S GO '40'S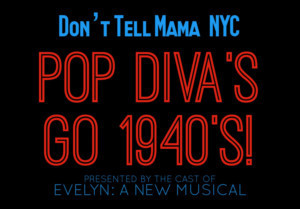 The cast and creative team of Evelyn: A New Musical present one night only cabaret at Don't Tell Mama to raise funds for their upcoming production at Dixon Place. The money will contribute to paying the cast and crew and providing costumes and props. The remaining amount of money will be donated toward The Trevor Project: a non-profit organization that promotes suicide prevention and provides resources for individuals in the LGTBQ+ community who are struggling with mental illness.
The cabaret will feature your favorite current pop songs with a 1940's twist. Hosted by producers Rikki Ziegelman and Hayden Anderson, the cabaret will feature director Heather Bildman, creator Quenton Ellis, Maddy Waters, Dillon McPherson, Camille Clossum, Michelle Houle, Cody Ayrer, Maddie Booth, Ronell Hurt, Hannah Taylor, Logan Mace, and special guests Kennedy Bastow and Jessica Dowling.
As previously announced, Evelyn: A New Musical will present a one night only limited engagement at Dixon Place. Based on the iconic photo published in the New York Times titled "The Most Beautiful Suicide," Evelyn: A New Musical follows the life of Evelyn McHale, who tragically took her life by jumping off of the Empire State Building in 1947. Both heart wrenching and heart warming, Evelyn: A New Musical touches upon themes of feminism, family, and sexuality- while also carefully depicting the cautious affects of mental illness in the 1940's.
Dixon Place is a non-profit organization dedicated to presenting original works. The Dixon Place Lounge is open before and after the show and you can bring your drink in the theatre! Bar proceeds directly support Dixon Place's arts and mission.
"Pop Diva's Go 40's" will be at Don't Tell Mama on October 12th at 9:30. Tickets will be $10 in advance and $15 at the door with a two drink minimum. Tickets can be reserved here.
Evelyn: A New Musical will premiere on November 9th, 2018 at 10pm at Dixon Place, with ticketing information to be announced.