Click Here for More Articles on NEW YORK CITY
BWW Interview: Robbie Rozelle on SONGS FROM INSIDE MY LOCKER, Intense Kickstarters, And His BWW Cabaret Award Wins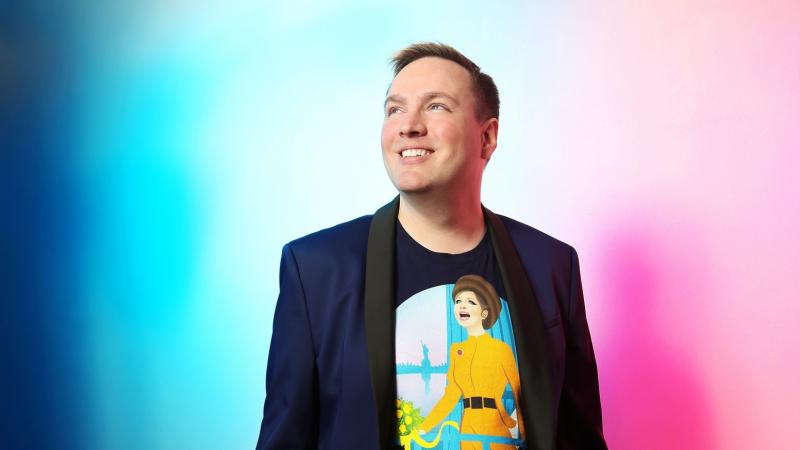 Whether he's behind the scenes or center stage, Robbie Rozelle knows how to find his light.
As a writer and director, he's collaborated with everyone from Tony nominee Melissa Errico (AMOUR) to Nathan Salstone (HARRY POTTER AND THE CURSED CHILD. This year, his work with WICKED's Jessica Vosk on BEING GREEN garnered a Best Show, Celebrity award for Vosk and a Best Director award for Rozelle at the BroadwayWorld New York Cabaret Awards. Her debut album, WILD AND FREE (which Rozelle produced) took home a Best Major Recording award, as well.
But in 2017, Rozelle stepped up to the mic himself with SONGS FROM INSIDE MY LOCKER before headlining Feinstein/54 Below's 2018 Pride with BUSTIN' OUT, a nominee itself in the Best Special Event, Solo category.
Following SONGS FROM INSIDE MY LOCKER's initial success, he decided to launch a Kickstarter campaign to fund a live album. Given his work as A&R Director at Broadway Records, Rozelle is already well-versed in what goes into recording live theatre, but that didn't mean it was easy.
"I sort of know the ins and outs of just about every side, but a lot of solo albums are self-funded in some way, whether they're crowdfunded or the artist just writes a check because they want to put their art out into the world. It just has given me a new level of respect for the amount of work that goes into it."
Though it came down to the wire, Rozelle's campaign was funded, and he'll return to Feinstein's/54 Below to record the album on February 23 and March 1, along with special guests Maya Days (AIDA) and Bonnie Milligan (HEAD OVER HEELS).
Ahead of the performances, we spoke with Rozelle by phone about SONGS FROM INSIDE MY LOCKER, how intense heading up a Kickstarter can be, and his recent BWW Cabaret Awards success.
This interview has been edited for length and content.
---
TF: Can you tell me a little about the show, for people who didn't see it the first time around?
RR: I started on this weird cabaret sort of journey as a writer and director for a lot of other people, like Kate Baldwin and Melissa Errico and Jessica Vosk. Every time we would do a show, the folks at 54 [Below] would say, "You should do your own thing," and I was like, "Nobody would come to that!" Then one day, I just put up on Facebook, "Hypothetically, if I did a thing, would somebody come to the thing?" An hour later, I had a contract and a date from 54, and suddenly I had to put together a show, which we sold out, thank god.
I sort of call myself a reluctant performer. When you create shows like this, there's a bunch of tropes, and I try to avoid them at all costs. So, I was hunting for what could the theme of the show be, and what I kept coming back to was these really great theatre songs that kept me alive as I went through what was a really sort of brutal high school experience. Time and again, I would turn to musical theatre to keep me sane. I pulled all these [songs] together to celebrate them and celebrate the glow-up that's happened to me since then.
TF: So, it seemed like a natural fit to make it the storyline, given that that's the music you were interested in at that time?
RR: Yeah, without saying, "I wanted to be an actress, so I moved to New York City, and my boyfriend dumped me. Here's a song about my cat (laughs)."
Honestly, I try to avoid that at all costs. I've found that the more niche I could go--- like, there's a medley of Charles Nelson Reilly and Paul Lynde material. That's exactly what I want to see, and that's the good time with just a soupçon of stupidity. That's me.
TF: I love that. Were Paul Lynde and Charles Nelson Reilly people you identified with a lot when you were in high school.
RR: Yeah. I grew up in '76, so I grew up on HOLLYWOOD SQUARES. When you seek out your kind---my kind being campy homosexual---that wasn't really prevalent on '80s television, except for like THE Mickey Mouse CLUB. But there was Paul Lynde and Charles Nelson Reilly, and they're just heroes of mine. Also, Charles Nelson Reilly got to create "It Only Takes a Moment" on the Broadway stage, which is so beautiful and tender, which would never happen now. It's a handsome leading man who would sing that, so it's just stuff like that.
TF: I feel like that fits into the show, where there are a lot of funny moments but there are also some tender moments, from what it sounds like.
RR: Yes. When you shape these things, you want there to be some kind of arc to them. So, when I build cabaret, I like it to feel like a 70-minute play, where you walk in feeling one way and walk out feeling like you've learned something but also not like you've been emotionally attacked (laughs).
So the lighter I can make it with my sort of brand of stupidity but also charm, that's what I aspire to do. That's why I named my band The Two-Drink Minimum because they're just six guys who are so great at what they do and friends of mine now. Some of them have been friends for years and some I found for the show, and, collectively, we all came together. It's just like a dollop of whimsy that's so important.
TF: Do you think this show is similar in tone to others you've produced along the way?
RR: Yes and no, because the people I work with are so dissimilar. Jessica Vosk is not Melissa Errico, is not Kate Baldwin, is not Nikka Graff Lanzarone, is not Nathan Salstone. I walk up to them and say, "What kind of story do we want to tell? What is it do we want to do?" So, developing the Sondheim show with Melissa is completely different from creating Jessica's show, where it was an AMAZING RACE quest to become a gay icon in 70 minutes. Very different. But there's trademark humor and mashups and things like that that are part of every show I put together or collaborate on. So yes, this is a natural extension of that, but there are also jokes I can get away with that Kate Baldwin cannot, although I'd like to see her do that (laughs).
TF: I've seen a few teases on social media that you're adding a few new pieces and making some other tweaks. Can you hint at all about what those changes or additions might be?
RR: When I originally did this show in 2017, it was created as a one-off. We got a by-popular-demand encore, which was lovely. And then this past year, 54 asked me to be their Pride headliner, so I wrote a whole new show called BUSTIN' OUT and decided when we were creating this recording edition of the show for album release... which, I can't believe it's happening. I'm really excited. I dropped a chunk from INSIDE MY LOCKER and replaced it with a nice chunk of BUSTIN' OUT.
There was a medley of roles that I got too old to play. I'm doing a little bit of AIDA with Bonnie Milligan and Maya Days, who played Aida on Broadway, and we've just added a new mashup that I don't want to give away, and we've added a new Frank Wildhorn song to the end of the show to button it up.
Josh D. Smith, my collaborator on this, his charts are insane, and any time I say, "I want to do this medley, here's how I imagine it," he can take my simple singing into an iPhone and turn it into a real thing for six pieces. He's the best. Part of why I wanted to make the album was to just preserve his work because it's so good.
TF: Is there any one moment whether new or old that you're you're excited to show everyone this time?
RR: I personally love the Charles Nelson Reilly-Paul Lynde medley because I was so happy to sing "A Veritable Smorgasbord" from CHARLOTTE'S WEB because that's not something you see every day. But I also love singing William Finn's "I Have Found," which is so weird because I'm not usually like the ballad guy. I'm the sassy, funny guy who... I'm Nicely-Nicely Johnson. I walk in, I give you 10 jokes, I sing a song, and you never see me again. But I'll bring down the house (laughs). So, to be able to just sit still for three minutes and live in the sort of wisdom of William Finn has been a blessing.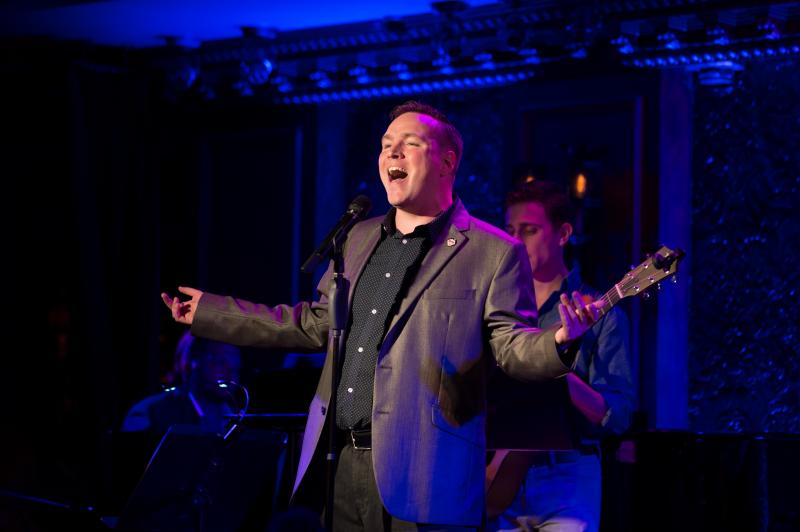 TF: Since the show involves the songs you loved growing up, do you remember the first cast recording you ever got obsessed with?
RR: Oh, sure do, sure do! I could tell you in every medium the first thing I've bought. The first cassettes I ever bought were the BEACHES film soundtrack and Dionne Warwick's greatest hits 1979-1990, which included "That's What Friends Are For," so it was very important to have. And then LITTLE SHOP OF HORRORS.
TF: You had good taste!
RR: I still do (laughs)! And in records, it was NUNSENSE---you're welcome---and, again, LITTLE SHOP OF HORRORS. In fact, in every medium, LITTLE SHOP has been there because I love it so much. And I don't sing from it in the show.
TF: I wanted to talk a little bit about the Kickstarter campaign. First of all, what made you decide you wanted to make the live album in the first place.
RR: We did a Kickstarter for Jessica Vosk's album last year that was, I don't know if you know, a little successful (laughs). It was nuts, and it funded in 72 hours, and I was in Rome texting her at, like, 3:00 AM Rome time because I hadn't adjusted yet to the time change. And I was like, "Uh, I guess we're making an album."
So, smash cut to I did my show twice, I did the Pride show, and it was just such a blast. And the one thing I'd always wanted to do since kindergarten, I've always just been obsessed with music and records and somehow landed in the music business. I was able to turn to my boss, Van Dean, of Broadway Records and say, "So, I have this show, and it's half theatre music and half stand-up... what would it cost for me to record it live and get it out in the world?"
He helped me walk through a budget, and, somehow, I was able to meet that through a Kickstarter. It was... terrifying, sort of? It's sort of terrifying to put yourself out there, and what happens if it doesn't happen? We had plateaued the last week, and two days before the end of the campaign, we were about $1,500 short. I turned to my husband, and I said, "Okay, so maybe this isn't going to happen, and that's okay." And I started going through the whole grief process of it, just letting it go, it was what it was. And then this wonderful human who was the biggest backer of Jessica's album kicked in the rest.
Every day, Kickstarter sends you an email about how you did that day. At midnight, you get an email, and it's just like, "Congrats, you went up three percent," whatever. Then 15 minutes later, I got another email, "Congratulations, you've funded." Everything went silent and I just was sitting down, and I started to cry and said, "So, well, we're doing this." It was really thrilling and terrifying. I don't recommend it unless you're ready to say, "Well, if it doesn't happen, it doesn't happen." But I'm really glad it's happening.
TF: I was thinking when I was reading about it how everyone's heard of some kind of crowdfunding campaign but certainly not everyone has done one.
RR: It's constant work because you're constantly like, "Hi, guys. Don't know if you remember, but I'm raising money for this thing. And, yes, the world is falling apart. Please donate so I can tell some dick jokes." That's hard. It does help that I know enough fancy people who could post it for me as well and say, "Hey, this is what the world needs," which is very kind of them.
TF: And also having the experience of doing it with Jessica's album probably helped.
RR: Yeah, producing that album, I think the people who have heard that album know that we will make a great product. Her Kickstarter campaign was like in and out. It was so fast. Mine was much more...
TF: Dramatic?
RR: Yes, I would say, but also intense in the push. I sometimes say I would leave social media altogether if I wasn't constantly promoting someone's show or somebody's Broadway show to see or a record or something else. The struggle is real, but the hustle is deep. Just the constant promotion and I hate self-promotion so much personally, but it's required. And that's what I mean when I say, it's not for like the people who are not ready to... I didn't travel the world in WICKED, so I don't have that built-in base of wonderful people. It was a little intense.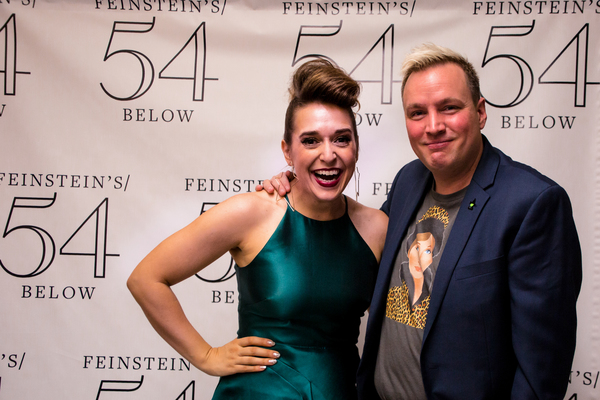 TF: Speaking of Jessica, congratulations on your wins from the BroadwayWorld New York Cabaret Awards!
RR: Hey, thanks! We loved doing that show. That was just a year ago that we did the shows, and then we made the record after that, WILD AND FREE, which also won. We're so thrilled people responded to what we did.
TF: And then you won Best Director, too, for her show. What was it like being singled out in that way for your work?
RR: I think it's lovely when people notice the amount of hard work---and this is hard work---crafting these things and writing these things is not easy. So, it was lovely to know that people sort of said, "You had a really great year with what you worked on. Good for you." And good for everyone who was nominated. Because doing it, the doing it is the joy, and anything else, whether it's your name in bold on a website or whatever, is lovely. I was nominated for my show this year, as well; I lost to some "unknown" named Maureen McGovern (laughs). So, pluses and minuses, but [somebody] saw the show and thought it was worthy enough to submit it for a nomination, and that really thrilled me. That means I touched somebody somewhere.
TF: Based on your "Not Since Carrie Medley," which Broadway flop do you think most deserves another chance?
RR: This is so hard. Honestly, CARRIE in its original form--- didn't like the rewrite. But CARRIE in its original form, definitely, I think now would've run a lot longer. Also, MERRILY WE ROLL ALONG, so either of those.
TF: Which leads to my next question: to flip it on its head, are there any roles you'd love to play someday that you're still too young for?
RR: Whoa! I would say I'd love to play George in SUNDAY IN THE PARK WITH GEORGE because I feel like he's older. I mean, technically he's not because I'm 42 and am probably the right-ish age, but I don't look that. I'd love to play Herr Schultz in CABARET someday and probably Doolittle in MY FAIR LADY.
TF: Is more performing something you want to continue doing as much as possible?
RR: As much as possible? I don't know.
TF: Sometimes?
RR: Yeah. I love my job. I love preserving theatre music and want to do that always and would probably die at Broadway Records, mostly because it's a fourth-floor walk-up. But I really enjoy performing, and part of the reason we're doing the album is because, then, we have this thing where we can say, "Hi, we have this show. We would love to take it to X. Are you interested, yes or no? Circle one."
TF: What else do you have coming up in 2019?
RR: I just started some pre-work on some major major solo albums from some Tony-nominated people, but I'm not allowed to talk about them, except to say "I'm in pre-work for some solo albums from some Tony-nominated people." I know that we want to tour WILD AND FREE once Jessica finishes her WICKED contract. We have Melissa's show, SONDHEIM SUBLIME, we're taking it to London in May.
---
Robbie Rozelle's SONGS FROM INSIDE MY LOCKER returns to Feinstein's/54 Below on February 23 & March 1. For tickets and information, visit 54below.com.
Troy Frisby is an entertainment writer and digital news producer based in New York. Follow him on Twitter @TroyFrisby.