Click Here for More Articles on NEW YORK CITY
BWW Review: In Solo Debut, Robbie Rozelle Leaps Into the Spotlight and Insists That the 'Personality Piece' Is Not a Dead Art
The New York cabaret scene has found itself a new star, whether or not anyone was asking for it.
Broadway album designer and social media superstar Robbie Rozelle, who has previously created solo shows for Melissa Errico and Kate Baldwin, decided it was finally Robbie's Turn and brought us SONGS FROM INSIDE MY LOCKER. When he regally ascended to the stage at Feinstein's/54 Below on June 9 as though he were the goddamn mayor's wife, it became immediately evident that this was a man set to lay it all out there for the enjoyment of the masses.
Anyone familiar with Rozelle's personality or online presence had a fairly good idea of the self-effacing, mildly snarky, razor-sharp wit in store for the evening. The true question and delightful surprise was to find that the following 75 minutes would also manage to attain a level of truly earnest self-reflection by way of personal memories and candid tales of a boy and his love of theatre.
At heart, that is what was achieved that evening, all the while the packed house was in nonstop stitches over the largely improvised dialogue, ironic song choices, and a few deliciously bizarre surprise moments.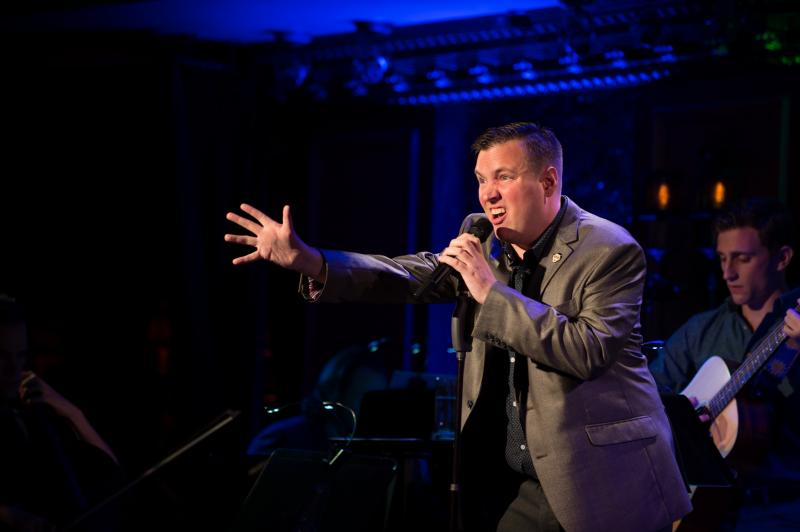 To thunderous applause, Rozelle took to the stage with a sweet rendition of "Let's Misbehave." He boasts a compelling, pleasant singing voice that is absolutely oozing with character.
In his own words, the man is a combo of Paul Lynde and Charles Nelson Reilly. If the two had gotten together in real life, it would've produced not only a wildly unsettling sex tape, but also a love child quite similar to the onstage and in-life persona of Rozelle.
Until someone decides to bring back THE MATCH GAME, the Broadway community is lucky to have Diva Robbie. The evening's narrative surrounded his childhood and adolescence as a young, gay showtune fanatic in a world before GLEE.
He spoke about his discovery of "the school play" as a teen and his first big break in their production of THE WIZARD OF OZ, leading into an uncharacteristically soothing rendition of "If I Only Had a Brain." Next came a brilliant mashup of two of the great Grande Dame Villain songs of all time: "Little Girls" from Annie and "Captain Hook's Tango" from another show I can't quite recall the title of.
Transitioning into his present-day personal life, Rozelle talked about his unexpected flare-up of paternal instinct and gorgeously delivered the title song from THE KID, which chronicled Dan Savage's experiences with adoption.
One of the great triumphs of the evening appeared out of the blue as the intimate room was aggressively pervaded by the sound of Grindr notifications. As an excitable Rozelle launched into a smokey rendition of "Them There Eyes," there emerged from the wings a burly mountain of a man.
That man was Jack Parton (better known in porn circles as Dirk Caber, and don't pretend you don't know his work), wrapped in a sousaphone. As Parton went to town on the bass part, Rozelle directed the torch song in his direction, later joining in a rousing kazoo instrumental.
What followed was a whirlwind flow of singular comedic afterbirth. "You Made Me Love You" was re-written as an open letter to Bernard Telsey, with lyrics including:
You smiled right at me as if you meant it, and I cried all the way home just 'cause you smiled at me for being in your way! Aw, I'll never forget it, Mr. Telsey. Honest. You're my favorite casting director! I hope you like this song and that you're approvin', Cause otherwise I'll sing this shit for Tara Rubin!
Wrapping up this endlessly fulfilling night, I personally swooned when Rozelle took out one of his many copies of Ken Mandelbaum's epic tome on Broadway flops, NOT SINCE CARRIE.
In a generous gift to we rare breed of masochist who can't get enough of shows that did nothing but lose money, Rozelle offered an updated flop medley consisting of "Come Look at the Freaks," "Where I Wanna Be," "Rags," "Tap Your Troubles Away," "Not a Day Goes By," and "The Story Goes On."
The final highlight, which established Rozelle fully as a man who knows his brand, gave the audiences a reenactment of CARRIE itself. Joined onstage by "Belting" Bonnie Milligan, the duo treated the room to the Act One finale of that infamous show, with Rozelle singing the Barbara Cook/Betty Buckley/Marin Mazzie role of Margaret White. Imagine the rest.
In a brief next-day chat with Rozelle, he reflected on the experience:
I didn't have the nerves I thought I would. I could feel the room just electrically charged with love and I kind of floated on that. The last thing I thought was "here we go" and "hope I remember all of these lyrics!"
While I was singing [William Finn's] "I Have Found," my eyes adjusted to the people in the dark, and I caught my first boyfriend out of the corner of my eye, and that kind of threw a lump in my throat.
I think mostly that my mom was there to take everything in is what I will hold with me most.
Indeed, the energy in the room was nothing short of electric. Rozelle's evening in the spotlight was one of humor, reflection, love, and hope. It was simultaneously Broadway Insider-y and universal in its messages. And most of all, it was just a damn fun Friday night.
---
Robbie Rozelle returns to Feinstein's/54 Below in SONGS FROM INSIDE MY LOCKER on October 28. For tickets and information, visit www.54below.com.
Matt Blank is an arts journalist, educator, designer, and lecturer. He most recently spent a decade on the editorial team for Playbill.com and as Editor-in-Chief of PlaybillArts.com, publishing over 7,000 articles and covering five Tony Award ceremonies. Follow him on Twitter @MattBlankPlease and Instagram @brdwymatt.
Related Articles