Click Here for More Articles on NEW YORK CITY
BWW Interview: Carole J. Bufford Discusses the Fearless Females of the 1960s and Her Celebration of Them at Feinstein's/54 Below
Music history is ripe with women who have been getting shit done, with or without the recognition they deserve. Before Chuck Berry "founded" rock and roll, Sister Rosetta Tharpe sunk into the resonator and cried her soul out onto "Strange Things Happening Every Day." (And let's not even discuss Elvis's place in rock music, who was beat out by Big Mama Thornton with the first and best version of "Hound Dog.")
One of the country's most vibrant eras in music, in general and especially for women, was the 1960s, filled to the brim with girl groups like The Chantels and The Supremes, folk pioneers like Joan Baez, and songwriters so influential that, decades later, that musical written about them keeps filling its Broadway house to capacity for close to four years (Carole King, of course). In the midst of political and public unrest, in a male-dominated world and industry, these women made space and carved out their own spots in music history.
Who better to spotlight these singers and songwriters than Carole J. Bufford, who has carved out her own spot within the New York cabaret scene as an enthusiastic and rich interpreter of the Jazz Age songbook, and has returned to the circuit with something a little different: YOU DON'T OWN ME: THE FEARLESS FEMALES OF THE 1960S, a celebration of the "bold and daring women [who] planted their flags and ensured their voices were heard." And as it turns out, it's not only Bufford's most fearless show, but also one of her best.
Ahead of her final show in her run at Feinstein's/54 Below, Bufford sat down with BroadwayWorld to discuss the women who broke through and continue to reign supreme.
This interview has been edited for length and content.
---
I want to talk about the show concept, what drove it, and how it came together.
I tend to do a lot of shows that focus in on a decade. I've done a lot of '20s and '30s---it's where I love to live---but I was looking to do something a little more contemporary. I'd been chatting with a friend of mine, Scott Coulter, who's done a couple of shows that are in that '60s genre, and he had mentioned to me that he thought it'd be a great fit for me. So, I started exploring it. This was probably a year and a half ago, maybe even two years. I started just toying with things and doing a lot of research. I was familiar with a lot of the music because a lot of the music that we do in the show was very popular at the time; they're well-known hits. And I'd listened to them growing up all of the time and sang along with the radio, but I never really thought about performing them.
I know this is a little bit later in music history than most audiences have seen you do, so I was curious if you had any kind of connection with the time period--- if you listened to it growing up, had any connection with your parents, or anything like that?
Yeah, definitely. You know, growing up, I was exposed to a lot of different genres of music, but I would say, for the most part, my dad was really keen on the American Songbook. I grew up on a lot of Judy [Garland] and Liza [Minnelli] and Dinah Washington and things like that from him. And my mom was a little more fond of the pop music, and when she would drive us around, we would always listen to the Golden Oldies station. That was '50s and '60s music, so a lot of these things, I was really familiar with and very fond of and had great affection for. I just never really considered singing them, to be frank.
So, when I started researching the idea and listening to the music and then started thinking about how I would want to arrange them to fit me and my style, I brought them into my musical director, Ian Herman, who is a wonderful genius. Together, we came up with some arrangements that I think you still completely hear the sound of the '60s, which is so specific, but we've come up with arrangements that really fit my voice and my style.
How has that collaboration [with Herman] been?
It's fantastic. I met Ian Herman through somebody who's been very influential in my career, Scott Siegel. The first time we sang together, he was subbing for a show that I did with Scott called 11 O'CLOCK NUMBERS AT 11 O'CLOCK. So, he played and I immediately loved him and we had a great connection, and we've worked on so many shows together now. I think our first full show that we did together was BODY AND SOUL, which Scott Siegel produced. He's just a great friend and a damn good pianist (laughs).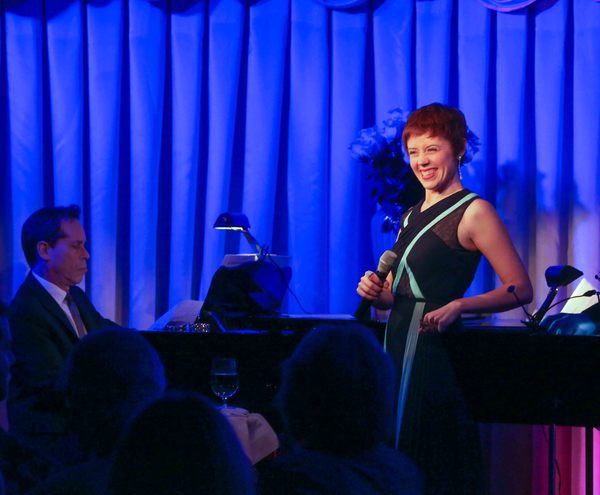 How have you come up with the song selection for this set, and how has he helped in that?
For the most part, I start with an extremely long list that I add to and it's way longer than anybody would ever want to hear me sing (laughs). And I start whittling them down. The more research I do... It's not theatre, but I want to have an arc to the show. With this one in particular, I thought the real story should be the way the sound evolved through the '60s, because the music from the beginning of the '60s is very different from the music in the late '60s. I thought that that was truly the story that I wanted to tell, along with the story of these women.
And certain songs got nixed just because you can't have 10 songs from 1963 (laughs)---
They all start sounding alike, too.
Yeah, exactly. For this one, too, I wanted to highlight specific female singers, so I wanted to make sure I got Dusty Springfield in there and Janis Joplin and Tina Turner. A lot of it was based on that.
What kind of research was involved in whittling down the songs?
So many books--- a lot of biographies and autobiographies, and a couple of books that were just on the time period. And the internet is such an incredible resource. You can go back and look at old magazine articles, newspaper articles. I always try to double check everything because the internet can be a little sketchy sometimes---you can't always trust Wikipedia---but it's a good springboard. It tells this story and then you research that story, and then you find an even better one that you want to tell in the show. It's an immensely helpful tool for a performer.
Whose biographies and autobiographies did you read?
I read Janis's, Tina Turner, Dusty Springfield, which she had a completely fascinating life. Some of the bios, I'd already chosen a song, so I would find the bio and go directly to mentions of that song if I was running a little late on time to look for specific stories. Some of them I read completely through, and some were skimmed in the interest of finding a specific story or a fact or something like that.
What did you pull out from them about who they were as people and who they were as performers?
You know, it's interesting. As far as who they were as people, [performers] are all affected by who we hear as younger children, and I think it always really affects your style and your sound. That was one of the things that fascinated me the most about these women, was who they would listen to and who inspired them. One in particular that springs to mind: Dusty Springfield. She was really inspired by other peers of hers. She was inspired to pursue a solo career after hearing The Exciters sing "Tell Him." She was a member of a group and she would never have gone solo, but she heard this tune "Tell Him" and she loved hearing the lead vocalist, Brenda Reid, so much that it made her want to pursue a solo career.
And she was one that loved covering other artists and loved when other artists covered her. I think that's another interesting fact about the 1960s. It was kind of the last decade where it was okay to cover other artists' songs--- not just okay, it was even encouraged and considered really flattering. I think somewhere in the '70s, it became taboo. But, you know, '60s, it's all peace and love and, "Yes, we all share everything." (Laughs) And she did. She covered a lot of other artists' tunes and vice versa. That was really fascinating to me.
In your show, there's that sort of separation between singers and songwriters, where they didn't necessarily write the songs because of restrictions or misogyny in the industry, but they still found ways to make the songs their own.
Absolutely, yes. I would say, with the exception of two songs, the songs were all written by men.
You've got "Will You Still Love Me Tomorrow" by Carole King...
The other, it was the lyrics; the music was not. "You Don't Have To Say You Love Me" was originally an Italian pop tune ["Io che non vivo (senza te)"] by Pino Donaggio. But Vicki Wickham, who was Dusty Springfield's manager, she and Simon Napier-Bell wrote the English lyrics for that.
But other than that, like you said, it was predominantly men. That being said, "You Don't Own Me" was written by a man, but (laughs) it takes a woman to deliver that, I think. And the same goes for- this was a really fascinating story with Nancy Sinatra for "Boots." It was- what's his name? Lee- I'm blanking on his name. Lee Hazlewood. He actually used to sing that song in his shows. He was a performer, as well. And she's the one who said, "No, this needs to be sung by a woman. You need to write me an extra verse." It comes off harsh and abrasive from a man's point of view, but when a woman sings it, it becomes an empowering song.
You know, some of the tunes are just pure infectious fun, bubblegum pop, but you take The Shirelles singing "Will You Still Love Me Tomorrow," the sound of it is so fun and infectious that you don't really realize you're listening to a group of women singing about a one-night stand. They're the first female group to get a number one hit with that tune, and it was a milestone, I think, for women at the time. And groundbreaking. I don't know if they recognized it at the time. But it certainly was.
"You Don't Own Me" and "These Boots Were Made For Walkin'" were two songs that I had made a note to talk about because who else do you associate "Boots" with other than with Nancy Sinatra? Again, it's making these songs their own.
Absolutely, and she completely did. I don't think anyone thinks (laughs) of Lee Hazlewood performing; maybe his mom does (laughs). You think of Nancy Sinatra, without a doubt, in that teeny little dress which could really only be called a shirt in my mind, but you look good in it, so. And that fabulous bass line.
That was the other thing. I watched that documentary THE WRECKING CREW about the session musicians of the '60s, and featured quite prominently was Carol Kaye, who was just this absolutely insane bassist. She didn't do the sliding bass on the upright; she played electric. All of those songs from '60s, she played on almost every single track and she came up with all of these amazing licks. Oftentimes, people would come in with just chord charts and The Wrecking Crew would really do arrangements on the spot, basically, and come up with what we really associate with the tunes today. I like to do a little feature of her because I think she's a bad-ass.
It's a show about bad-ass ladies!
Exactly, exactly!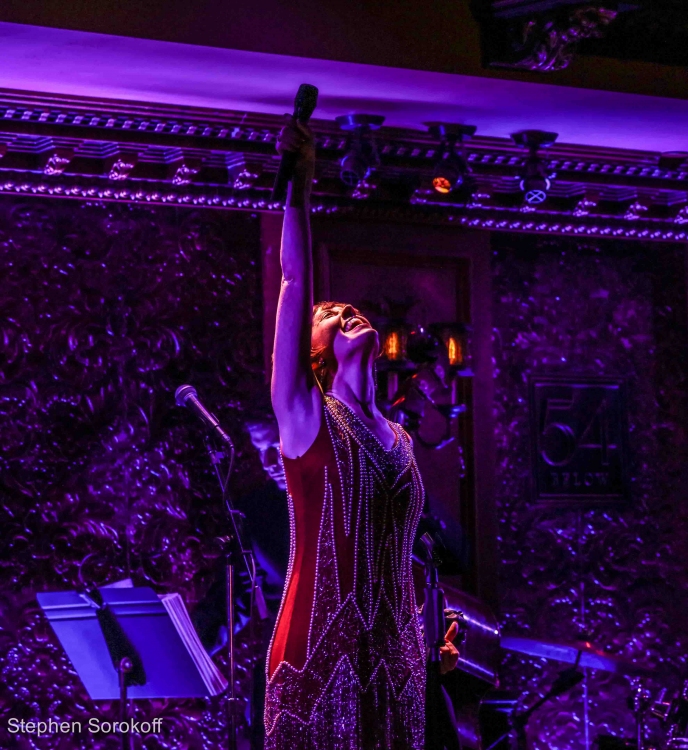 Did you try to emulate that with your own band for the show, as well?
I definitely wanted a specific sound. The main trio, Ian Herman on piano, Howie Gordon on drums, and Tom Hubbard on bass, I've worked with them a lot. We did a lot of shows at Birdland together and a bunch of others shows at 54 Below. Then Peter Calo, I've been dying to work with and I knew he was someone who could really capture that '60s sound better than anyone I could think of on guitar. So, these guys are such incredible musicians, to go from that hot jazz 1920s style to this '60s sound, and it's so authentic and so fun. They're incredible to work with. I'm very, very lucky.
AS: You've got no ladies in your band, Carole!
I know, there are no ladies! You know, it's so funny: I've got this fantastic drummer who's a wonderful lady in Florida, so I've already told her when I do this show in Florida, she's on it (laughs)!
You mentioned artists finding inspiration from other artists. You sing from the '30s and the '40s, and now you're doing this '60s show. How do you feel the women in that first group influenced the women in the second group, and how do you feel they all influenced the women today? And how do they all influence you (laughs)?
(Laughs) Well, they definitely all influence me. I loved going all the way back. As far as the women from the '20s/'30s/'40s influenced--- you know, it was their parents' music, or grandparents' music, depending on how far back they go, so you hear that music. I know, for instance, Janis Joplin was extremely influenced by Bessie Smith and a lot of wonderful blues singers and would actually do songs from the '20s---
More of those covers.
Exactly. I think, specifically, a lot of that blues had a huge influence in the '60s. But I also say in the show, the '20s and the '60s are so similar in many, many ways--- culturally, politically, but even, like, The Mashed Potato is essentially The Charleston, you know? Even the dances are really similar. And they're similar as far as what women were going through, asserting themselves more and being freer with their sexuality and just their general thoughts, basically, and having the ability to plant their flag.
Musically, I certainly think it's what they grew up listening to and it's in the music, but like any time, you always have to reinvent and create new songs on top of it. The '60s definitely did that. There's that authentic '60s sound. That's what I told Ian: I've never done a show with so much 12/8 in all my life (laughs). But that's quintessential '60s sound. You can't get away from it.
As far as how they affect current pop singers, (laughs) part of me wishes they maybe influenced them a little bit more, but I think it's there. There is great music being written right now. You may have to dig around a little bit more for it, but it's certainly there. Just going back to the very basic American music---blues---is just the root, to me, for all pop music that we currently have, and even the most inane, kiddy, tween pop I think is still somewhat rooted in that art form.
I was going to ask if you felt like this was a little bit of a step outside your comfort zone, but talking about it in that way, it sounds like it's not too far of a step, especially when you're working with great musicians.
That certainly always helps. I actually expected it to be more difficult for me, but I found that I just jumped right in and really embraced it and had a good time from the beginning and felt comfortable in it, shockingly. I've done some stuff from the '60s before---I've covered some Beatles tunes---and I've even done some more contemporary stuff, covered a couple John Legend songs and whatnot. But this was the first where I was really jumping into that specific sound, that style. Yes, it definitely has a lot to do with my musicians, specifically with Ian making sure, as I mentioned earlier, that arrangement still fits my style but had that '60s sound.
With the defiance that existed in that period with female singers and songwriters like Carole King coming into their own, when you do your show, how do you interpret that defiance, or, as you word it, "fearlessness?" Do you sing as yourself or do you dive into those different personalities to act a bit?
I'm not imitating any singers. I'm not trying to be them. But, to me, any song, lyrics are first and I'm trying to portray the song's lyrics and the character, what they're going through in that song. A lot of these, I mean, it's right there in the lyrics. It's black and white, plain as day: "You don't own me." The defiance is right there. So, it's up to me just to not screw it up, basically (laughs), and deliver that.
So, yeah, definitely a lot of the songs have a bit of that foot-stomping, "I'm here, dammit! I'm making my presence known!" and I think that's exciting. That's what I love seeing a performer do and that's why I respond so viscerally to these tunes.
I think that's important as a cabaret singer, too, to act into that because you're trying to make your presence known, and being that defiant woman yourself.
Oh, absolutely. I rarely sing very sweet ballads and sweet lovey-dovey songs. (Laughs) When I had to do a Valentine's Day show, the owner of the club was like, "What are you going to do? You don't ever sing love songs." And it's so true. I love singing angry, wailing, belting, screw you songs. They're just more fun. And it's the same way when I was a kid, like, watching Disney movies. I always wanted to be the Evil Queen. I had no interest in being the princess.
Me too, are you kidding me? I was Ursula.
Give me Ursula any day.
For your next Valentine's Day show, you could just sing "You Don't Own Me," like, 14 times in a row.
There you go! (Laughs) You know, it's so funny what some people consider to be love songs. When I was doing BODY AND SOUL, I sang the song "Cry Me A River" in it, and I had this couple who was sitting in the very front row. I started singing the song and he reaches over and grabs her hand and they look at each other so lovingly. And they come up to me after the show and told me that that was their song (laughs). I'm like, "...do you know what it's about?" They just heard that one line, "Now you say you love me" and they're like, "Oh, it's a love song!"
You've done a few shows already. How has it melded and changed throughout?
Little minor tweaks here and there, but we definitely made some changes. The show was a little bit on the long side the first time we did it. The thing is, too, the songs are shorter because the '60s was known for that perfect 2:30 song. So many of these songs, right to the second, [are] two minutes and 30 seconds. That helps timing wise, but there were so many stories that I wanted to share that I combined "Tell Him" and "I Only Wanna Be With You" to tell that Dusty Springfield story that I told you earlier.
Doing it at 54 Below is different than doing it, for instance, when I take this show to London. Budget-wise, I can just hire one musician, so I'm going to have this fantastic pianist there. But I'm going to change the show slightly because certain songs, they're not done justice unless they have the bass, or the drums. So, I'm going to add in some more Broadway to it because I think that those songs will still be served with just piano. I know for sure I want to do "What Did I Have That I Don't Have" from ON A CLEAR DAY YOU CAN SEE FOREVER. I like to always keep things ever-evolving in my shows. When I've done them two years later, I'll still be making little tweaks because if I know something about that audience and I know this is what they really like, then I try to tweak it to fit that audience.
I imagine at 54 Below and just, in general, at a cabaret venue, these songs are strong considering the time in history. A lot of people will connect with them because they're either hits that they were brought up on, or it's music that's still popular today. What have you seen as the audience reaction for these shows?
Oh, 100 percent, you're absolutely right. They sing along sometimes on the, "One of these days these boots are gonna walk over you." They're absolutely all on top of that, singing it with me, which is fine by me. It doesn't bother me at all. They're responding. They're excited. And then after the show, I have so many people coming up to me: "This is the music I grew up with!" "This was my childhood!" "This was me when I was a teenager!" And they'll tell me stories that they associate a certain song with: "When I was in blah-blah-blah grade and I met Harry Blah-Blah, we danced at the middle school dance---" I love hearing that! Because I do the same thing. Certain songs, I associate with memories that I have. You do that with smells and things like that [and] it'll immediately take you back to a place in time, but certainly songs, without a doubt, do that for me.
Do the women you're highlighting and the song choices allow you the opportunity to play with and also highlight historical and political context, both retrospectively and against the current era?
Yes. And some of them I chose specifically for that. I really wanted most of the stories in the show to focus on the women and their music, but if you're doing a show about the '60s, there are certain events that occurred that you can't just ignore, be it JFK's assassination, or, in general, the fights for civil rights.
So, there were certain songs I wanted. For instance, I use "Turn! Turn! Turn!" to address JFK's assassination. Judy Collins performed that on her second album. It was the last track on the album and she actually released it like a month or two before his assassination, and it seemed to almost predict, foretell what was to come. That, for me and a lot of historians and a lot of the things that I read was kind of a turning point, obviously for our country and for pop music. The sound changed after that. The big question that a lot of people have was, was that the catalyst? Was his assassination the catalyst for the change, or was it already going there and it just moved it forward a little bit? I don't really know the answer to that question. I don't know that we will ever know the answer to that question. But it's a fascinating thing to research.
I think that's definitely a large part of that, especially as you start seeing a lot more protest songs in the late '60s with Vietnam. John Lennon's career is a major example of flipping in such a significant way.
Absolutely, absolutely. But certain things that are happening before JFK's assassination, you can feel that's already coming about. But you're right. I definitely think it changed everything for America and that's why I wanted to include it in the show. You can't do a show about the '60s and just ignore certain political events that happened. I really wanted to make sure that the main focus was on the women and their music, but still capturing what that era was about.
---
Carole J. Bufford performs in YOU DON'T OWN ME: THE FEARLESS FEMALES OF THE 1960S at Feinstein's/54 Below on July 6. For tickets and information, visit www.54below.com.
Ashley Steves is BroadwayWorld's Cabaret Editor and an arts and entertainment writer based in New York. Follow her on Twitter @NoThisIsAshley.