54 Below Features WOMEN OF COLOR ON BROADWAY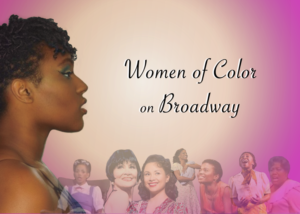 FEINSTEIN'S/54 BELOW, Broadway's Supper Club, presents Alexia Sielo and friends in Women of Color on Broadway on Monday, February 25, 2019, 9:30pm.
Alexia Sielo takes a journey down the history of Broadway to honor African American, Latin and Asian females who paved the way for future generations of women of color in musical theatre. We invite you to take part in this experience to hear the story, the impact, and most importantly, the music. Please join Alexia, and Music Director Kevin David Thomas, as they acknowledge these trailblazers and perform some of the greatest musical numbers in Broadway history. This special evening will also feature special performances by Aisha Jackson (Frozen), Arbender Robinson (Book of Mormon), and Alena Watters (The Cher Show), Majeste Pearson (The Four on FOX), Barbara Douglas, Felipe Joglar, and Genesis Collado.
Alexia Sielo in Women of Color on Broadway plays Feinstein's/54 Below (254 West 54th Street) on Monday, February 25, 2019, 9:30pm. There is a $35 cover charge and $25 food and beverage minimum. Tickets and information are available at www.54Below.com. Tickets on the day of performance after 4:00 are only available by calling (646) 476-3551.
Alexia, at 21 years old, will be opening the "54 Celebrates Aretha Franklin" concert just one week before headlining her own show "Women of Color on Broadway" at Feinstein's/54 Below.
Born of a R&B recording artist and opera singer, Alexia Sielo's earliest memories of life involve music. Her foundation in gospel music led her to 3 Stellar Award nominations with the Velazquez Family Singers. In pursuit of finding independence as an artist and young woman, Alexia delved into musical theatre and acting. She studied theatre performance at Circle in the Square Conservatory, and New York Film Academy- Professional Conservatory of Musical Theatre. She played lead roles in almost every production in her academic career, and has received accolades both regionally, and statewide. Along with being an all-round entertainer, Alexia is an advocate for child-development for youths with learning disabilities. Since being diagnosed with Dyslexia in 2008, she's worked to help others see their diagnosis as a unique characteristic to push individuality, rather than a weakness. Alexia aspires to break the boundaries of the entertainment industry by encouraging everyone to "think outside the box." Alexia wants to bring a new perspective to the roles she portrays on stage, film; and even in real life as her biggest goal is to help celebrate diversity.
Get a preview below:
Feinstein's/54 Below, Broadway's Supper Club & Private Event Destination, is a performance venue in the grand tradition of New York City nightlife. A few blocks from the heart of Times Square and just below the legendary Studio 54, Feinstein's/54 Below is a classically designed state-of-the art nightclub in the theatre district that hosts audiences with warmth and style. Feinstein's/54 Below presents iconic and rising stars from the worlds of Broadway and popular music and has set a new standard for culinary excellence worthy of the world-class entertainment on the stage.
In their description of the venue, The New York Times writes, Feinstein's/54 Below has the intimacy of a large living room with unimpeded views and impeccable sound; there is not a bad seat in the house. Its sultry after-hours ambience is enhanced by brocade-patterned wall panels planted with orange-shaded lanterns. And the atmosphere is warmer and sexier than in Manhattan's other major supper clubs.
Located at 254 West 54th Street, Feinstein's/54 Below features up to three shows nightly with cover charges ranging from $5-$105. 54Below.com/Feinsteins