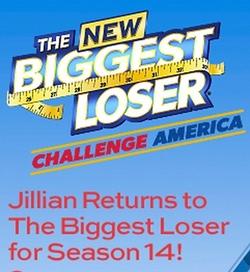 NBC'S "The Biggest Loser" kicks off in early January 2013 with the return of Jillian Michaels and a big, bold mission: to tackle the childhood obesity epidemic head-on by featuring kid participants (ages 13-17) for the first time ever in addition to adult contestants. Michaels will join popular returning trainers and top fitness experts Bob Harper and Dolvett Quince. Season 14 will also feature special celebrity guest stars and additional surprises that will be revealed closer to the premiere.
According to the Centers for Disease Control and Prevention (CDC), approximately 17% (or 12.5 million) of children and adolescents aged 2-19 years are obese, with obesity prevalence among children and adolescents almost tripling since 1980. With childhood obesity at an all-time high, jeopardizing the health of kids and future generations, "The Biggest Loser" is committed to fighting this epidemic by featuring children this season to serve as ambassadors of change who can inspire kids all over the country to get healthy.
Contestants will be divided into three teams in Season 14 - supervised by trainers Harper, Michaels and Quince. Each trainer/team will be paired with at least one child participant (age 13-17) who will compete with and contribute to their respective teams, but the kids will not be eligible for elimination. They will work at both the ranch and at home, and their progress will be featured in every episode. The trainers and Biggest Loser medical staff as well as behind-the-scenes childhood obesity experts will help the children get healthy, achieve their personal goals and transform their lives during the course of the season.
"The Biggest Loser" is a production of Shine America, 25/7 Productions and 3 Ball Productions. Dave Broome, Eden Gaha, Paul Franklin, Todd Lubin, Lisa Hennessy, Ben Silverman, JD Roth and Todd A. Nelson are the executive producers.
Latest Tweets
| | |
| --- | --- |
| 7/31 @ 12:59 PM | biggestlosernbc - Are you a single man, 18-29, with 100+ pounds to lose? Fill out an application TODAY to be on The #BiggestLoser! Ca… https://t.co/yr4mjv9NAm |
| | |
| --- | --- |
| 7/17 @ 10:37 AM | biggestlosernbc - The #BiggestLoser casting is still open! If you or someone you know is ready for an unforgettable health journey, y… https://t.co/Fgi9OYsQZe |
| | |
| --- | --- |
| 7/12 @ 4:45 PM | biggestlosernbc - Chicago, The Biggest Loser is headed your way TOMORROW! If you're ready to make a change, come down to our open cas… https://t.co/9lvLbIfd2D |
| | |
| --- | --- |
| 7/12 @ 3:49 PM | biggestlosernbc - Nashville, The Biggest Loser is headed your way TOMORROW! If you're ready to make a change, come down to our open c… https://t.co/OkLUjx5L4g |
| | |
| --- | --- |
| 7/11 @ 5:02 PM | biggestlosernbc - Casting has begun for #TheBiggestLoser and it's not too late to apply! If you or someone you know is ready to embar… https://t.co/dsQBMJxJ0n |
Latest Articles About The Biggest Loser on NBC