The 10th Annual Burbank International Film Festival Announces Program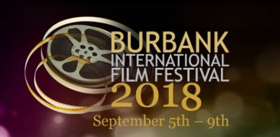 The Burbank International Film Festival today announced official program selections for the 10th Annual edition of the festival set for Wednesday, September 5th, through Sunday, September 9th, 2018.
More than 200 feature and short films representing 60 countries will be presented during the five-day event, along with artist tributes, panels, and festivities. Afterparties, red carpet, receptions, and networking opportunities will occur throughout Burbank, Media Capital of the World, with all of the screenings taking place at the AMC Burbank 16 in Downtown Burbank. For tickets, festival passes, and more, please visit www.burbankfilmfest.org.
The 2018 President's Innovation Award will go to opening night feature film, The Catcher was a Spy (2018). The 2018 Makeup Design Award is honoring Japanese special effects artist Kazuhiro Tsuji for his work on Darkest Hour (2017). Additional awards are to be announced shortly.
Representative categories include independent full-length films, shorts, special event movies, comedy, drama, student filmmakers, sci-fi, faith-based, animation, foreign language, and documentary films.
The 10th Annual Burbank International Film Festival is proud to highlight the following films and special events. For a complete listing, please visit www.burbankfilmfest.org:
Wednesday, September 5th
Opening Night Screening, 7pm
THE CATCHER WAS A SPY
Directed by Ben Lewin, 2018. Starring Paul Rudd, Jeff Daniels, Paul Giamatti, Mark Strong, Sienna Miller, and Guy Pearce. This gripping, stranger-than-fiction espionage thriller brings to life the incredible true story of Moe Berg, a professional baseball player who became a World War II spy. A Princeton-educated, multilingual catcher for the Boston Red Sox with a closely-guarded private life, the enigmatic Berg (Paul Rudd) was already a man of mystery when, in 1944, the US government's wartime intelligence agency enlisted his services. His mission: Go behind enemy lines in Europe to assassinate the Nazi's chief nuclear scientist before the Germans develop an atomic bomb. Trading in his catcher's MITT for a trench coat, Berg must rely on his formidable, steel-trap intellect in a high-stakes game of cat and mouse-with the fate of the world hanging in the balance. Immediately following the screening will be a gala reception at the newly renovated Castaway Burbank, 1250 E Harvard Road.
Thursday, September 6th
Sci-Fi Comedy, 9pm
ELEVEN ELEVEN
Directed by Chris Redish, 2018. Starring Charles Baker, Krista Allen, and Christina Rose. An out of this world comedy about a UFO fanatic who risks his family to fulfill a lifelong dream of being abducted.
Friday, September 7th
A Special Festival Sneak Preview, 8pm
FOLLOWED
Directed by Antoine Le, 2019. Starring John Savage, Sam Valentine, and Blanca Blanco. FOLLOWED trails an unseen internet user who clicks through the posts of a controversial vlogger, DroptheMike. When offered sponsorship if he can gain fifty thousand more subscribers, he recruits three friends to create a special Halloween vlog inside the Lennox Hotel, believed to be haunted. When sinister things happen to the crew, DroptheMike must figure out if it's just malicious fans of his vlog messing with him, or the hotel's evil spirits intent on murdering them all. Immediately following the sneak preview will be an after-party at the IATSE 80 Soundstage in Burbank, 2520 W Olive Avenue.
Saturday, September 8th
West Coast Premiere / Faith-Based Feature, 1:30pm
WILD FAITH
Directed by Jesse Low, 2018. Starring Lana Wood, Darby Hinton, and DJ Perry, WILD FAITH portrays life in 1800's Michigan, focusing on a Civil War vet trying to make peace with his losses and start a new life despite the world resisting change around him.
Feature Documentary, 3:30pm
BREAKING DOWN BARRIERS: THE C.R. ROBERTS STORY
Produced by Jeremy Sadowski, 2018. This documentary tells the story of a civil rights pioneer who was born in Mississippi in 1936 and grew up in Oceanside, California prior to attending the University of Southern California in the 1950s, where, as a running back for the USC football team, he paved the way for future generations of African American athletes. Exploring the beginning of the civil rights movement through the viewpoint of a little-known civil rights pioneer, the documentary relates how C.R. Roberts, a running back for the University of Southern California, blazed a trail for African American athletes in 1956 in a historic, record-setting game against the University of Texas in Austin.
Special Event, 7pm
2001: A SPACE ODYSSEY PANEL WITH ACTOR GARY LOCKWOOD
The Burbank International Film Festival honors the 50th anniversary of the Stanley Kubrick groundbreaking Science fiction classic with a Q&A panel featuring actor Gary Lockwood (Dr. Frank Poole) in person. Following the panel, Lockwood will be signing autographs and photos at the Galactic Sci-Fi Party at the IATSE Soundstage at 2520 W Olive Avenue.
Feature Film (Family) Science Fiction / Adventure, 7pm
F.R.E.D.I
Directed by Sean Olson. Starring Kelly Hu, Angus Macfadyen, and Lucius Hoyos. An intelligent, lovable robot known as F.R.E.D.I is stolen from a secret research facility by the project's lead scientist. The robot is found by a 15-year-old teenager James. Soon the two begin to communicate and create a bond in which F.R.E.D.I learns about teenage life and James acquires some new values.
World Premiere, 8pm
WHITE SPACE
Directed by Ken Locsmandi, 2018. Starring Holt McCallany, Zulay Henao, and Dave Sheridan. The Essex, a deep space fishing vessel for industry giant, AmberCorp, is ready to make its final harvest of the season. The ship brushes with a rare creature, mammoth in size and highly territorial. Could this be the same leviathan that killed Richard and Owen's father? To make matters worse, a VICIOUS band of scavengers intercept the transmission and infiltrate the Essex, leaving them with nothing. With no cargo and few supplies, the captain makes a daring decision, they will venture into uncharted territory, playing for keeps, to capture the creature for a large BLACK MARKET take. The premiere will begin with a media red carpet, screening and after party with open bar, DJ dancing and surprises.
Sunday, September 9th
Feature Drama, 1pm
DREAMS I NEVER HAD
Directed by Iyad Hajjaj and Mahmoud Kamel. Starring Malcolm McDowell, Iyad Hajjaj, and Robin Givens. Ayla is a 14-year-old girl captive and illegally working for a wealthy family. She lives in squalid conditions in a makeshift room in the garage of their million-dollar home. She speaks no English, does not attend school and is FORBIDDEN to leave the family's property. Layla is befriended by EMILIO, the pre-teen son of the Mexican gardener who is also in the country illegally. Emilio teaches Layla to speak, read and write English, even though he himself does not attend school. They meet secretly, and their friendship sets off a course of events that will change their lives forever.
Feature / Family, 1:30pm
THE ROCKET
Directed by Richard Blake. Starring Brady Tutton, Richard Blake, and Allison Belmont. THE ROCKET is a small-town story inspired by true events about a HIGH SCHOOL FOOTBALL star who suffers a severe head injury and loses his entire life plan. The heaviness of a broken relationship with his father and losing the identity of a football star push him to seek a new way to improve himself. Restricted from playing any sports and despite being an unlikely runner, the cross-country coach brings the young man aboard his high school team out of necessity and through much struggle, doubt, and determination, he finds a new way to push towards greatness.
Feature / Documentary, 3pm
TARZAN: THE STORY BEHIND THE LEGEND
Q&A Panel with director Robert DeYoung and actor Casper Van Dien
The super hero who never goes out of style...The son of British royalty, Tarzan is raised by apes in the African jungle and finds his true love Jane. This film recounts the birth of the character and how each generation has reinvented and reinterpreted him.
Closing Night Awards Gala, 5:30pm
LOS ANGELES MARRIOTT BURBANK AIRPORT HOTEL
Red Carpet arrivals followed by a cocktail reception, three course meal and Awards Show.
The Burbank International Film Festival is made possible in part through Gray Studios, First Entertainment Credit Union, Downtown Burbank Partnership, The Castaway, and the Los Angeles Board of Supervisors through the Los Angeles County Arts Commission. For further information, schedules, and tickets, please visit www.burbankfilmfest.org.
Special room rates at Burbank hotels are available for festival attendees at http://reservations.visitburbank.com/hotel/list/8324
The Burbank International Film Festival is a 501(c)(3) non-profit organization.