Stephen Dorff To Headline Embattled From Writer David McKenna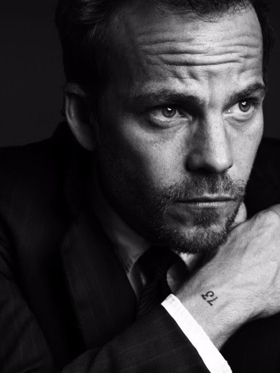 Blitz Films and Straight Up Films announce that Stephen Dorff ("True Detective," BLADE) has been signed to star in director Nick Sarkisov's English-language debut EMBATTLED. Written by David McKenna (AMERICAN HISTORY X, GET CARTER, BLOW), the film also includes McKenna's son, Colin, who was born with Williams Syndrome and inspired a supporting role for the film. Sarkisov is set to produce for Blitz Films, alongside Kate Cohen for Straight Up Films, and Scott LaStaiti, with Blitz co-founder Sergey Sarkisov and Dorff serving as executive producers. Eryl Cochran from Blitz Films will oversee production. The film is scheduled to shoot in Alabama this September.
The story follows a high school judo prodigy who steps into the MMA cage to face the ultimate rival in a battle for recognition and retribution - his father. Dorff is set to play the father, and will spend four weeks at a fight camp in Alabama to transform himself for the part. Dorff will next be seen in the highly anticipated season three of HBO's "True Detective." He is best known for his roles in BLADE opposite Wesley Snipes and SOMEWHERE directed by Sofia Coppola. "David McKenna has written an incredible script. I can't wait to work closely with Nick Sarkisov to bring David's intense and powerful story to life for audiences worldwide," said Dorff. Dorff is represented by Paradigm and Hansen, Jacobson, Teller, Hoberman, Newman, Warren, Richman, Rush & Kaller.
About Blitz Films:
Based in Los Angeles, CA, Blitz Films was created by Sergey Sarkisov and Nick Sarkisov with the intent to bring story-driven scripts to life. The company is currently developing films and TV series with Academy Award® winning writers, directors and actors including Al Pacino and Jeremy Renner. About Straight Up Entertainment Group:
Straight Up Entertainment Group is a Los Angeles based production company with a focus on telling compelling, character-driven stories. Founded in 2008 by Kate Cohen and Marisa Polvino, SEG specializes in visual storytelling through feature films, television, branded content, and digital experiences. The Company's motion picture division, Straight Up Films, has acquired a diverse slate of commercially viable projects by optioning top tier IP with a built in audience, partnering with producers with proven track records, and packaging every project with filmmakers and talent that can translate each story from its original medium to a major motion picture. Some highlights of Straight Up Films' current film slate include Merrick, based on Michael Howell's 1980 classic, "The True History of the Elephant Man", produced with Mike Medavoy and David Dobkin; Alex to be directed by Louis Leterrier, and based on an award-winning French book series by Pierre Lemaitre; Dissonance, an adaption of the YA sic-fi series by Erica O'Rourke and to be directed by Catherine Hardwicke; and Embattled, written by David McKenna and starring Stephen Dorff, which will go into production this fall. On the television side, Straight Up Film is producing a limited series with Anonymous content and starring Diane Kruger, based on Pultizer Prize-winning author Richard Rhodes' book, "Hedy's Folly: The Life and Breakthrough Inventions of Hedy Lamar, the Most Beautiful Woman in the World". They are also producing a TV series with all female powerhouse director, writer, producer trio - Nikki Reed, Lorien McKenna, and Straight Up Films - based on the YA novel, "How To Set a Fire and Why," by Jesse Ball. Some of Straight Up's more notable releases include Transcendence, distributed by Warner Brothers. The film was directed by Academy Award Winner, Wally Pfister, starring Johnny Depp, Paul Bettany, Morgan Freeman, and Rebecca Hall; the acclaimed Spanish language film, Manos Sucias, produced alongside Executive Producer, Spike Lee. Jane Got A Gun, which premiered in 2016, and stars Natalie Portman, Ewan McGregor, and Joel Edgerton; and Shot!: The Psycho Spiritual Mantra of Rock, produced alongside VICE Media, which was released by Magnolia Pictures.
Related Articles
View More TV

Stories
More Hot Stories For You