New Movie About Life And Folk Rock, KILLIAN AND THE COMEBACK KIDS Features Stars From Daytime, Theater And NYC Musicians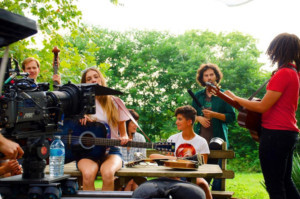 Killian and THE COMEBACK Kids is a movie about the power of music. It's the story of a bi-racial man who lands back in his hometown in rural America after an exorbitantly priced education. Back in his failing hometown, a chance encounter with a childhood acquaintance gives the summer new direction. The two throw together a rag-tag band of other "failed" locals for one shot to play the huge local music festival. It's a story of hopes, dreams and music.
The cast includes those from stage and screen. Taylor Purdee is a filmmaker from NYC, Nathan Purdee is an accomplished actor and soap icon, Kassie DePaiva currently plays Eve on NBC's DAYS OF OUR LIVES and is a county music singer, Shannon O'Boyle was in Kinky Boots on Broadway, Shane Andries was a member of Blue Man Group (NYC and touring), Yael Elishiva is a NYC actress, Andrew O'Shanick is an accomplished NYC musician, John Donchak is a NYC film actor and others. The movie is produced by Karmic Release Ltd.. There are two female producers, Roberta Morris (Baghdad ER) and Suzanne Ordas Curry (Equity Movie). It was shot in and around Easton PA as well as New York City.
The movie is currently holding an Indiegogo campaign to raise money for post-production and plans for the film to be completed end of 2018. The film has many perks including original music. To visit the campaign: https://www.indiegogo.com/projects/killian-the-comeback-kids-music-film#/
About the Actors:
Writer/Director: Taylor A. Purdee is the co-creator of the Yippie-Ki Ay! Do Cinema, interview series and has spent much of the last year overseeing the protection and re-release of screen legend Lee Grant's documentary work. Purdee's debut filmThis is Honduras, is a documentary exploration of the relationship between humanitarian aid workers and the post-coup government of Honduras, the "murder capital" of the world. The film recently premiered with the most financially successful screening of the 2016 Chagrin Documentary Film Festival. His work is seen by someone, somewhere, every day, and has been awarded by the Young Arts organization, New York University, Fordham University, The Friars Club, and SAG. Taylor is a graduate of Fordham University with a BA in Theatre. He plays Killian.
"Mrs. Raison" Kassie DePaiva is currently starring as Eve Donovan on Days of Our Lives. Kassie grew up deep in Kentucky, one of four children in a Southern Baptist family, where she studied dance and sang at school and church and 4-H talent shows. "Music has always been my strength," says the three-time Emmy Nominee, who has portrayed the character Blair Cramer on ABC's One Life to Live and appeared previously on CBS's The Guiding Light as Chelsea Reardon during the late-'80s. "It doesn't matter," she says, "what kind of camera you put in front of me, whether it's 35-millimeter or video or high-def: I'm going to try to present the most real and honest performance that I can."
"Tristan" Shane Andries born and raised in Houston, TX, hung up his baseball MITT and went on to attend The University of North Carolina School of the Arts receiving a Bachelor of Fine Arts from the School of Drama. Upon graduating, he was awarded the Kenan Fellowship at Lincoln Center in New York City and shortly thereafter landed a job with Blue Man Group where he performed with the show Off-Broadway (NYC), as well as shows in Boston, Orlando, and as a cast member of the National Tour. As a proud member of both SAG and EQUITY, he's worked in film and television (NBC, CBS, SHOWTIME), regional theater and commercials.
"Rose" Shannon O'Boyle is a Broadway actress and proud member of Actors Equity. Currently she can be seen on Broadway as Nicola in Kinky Boots. Most recently she has been seen on Broadway as Girl in Once the Musical, but she has enjoyed a wide range of roles from Shakespeare to axe-wielding rockstar. She has also worked regionally in such renowned companies as Playhouse Square, Berkeley Repertory Theatre, Great Lakes Theatre and Idaho Shakespeare Festival. Shannon received her BM in Music Theatre from The Baldwin-Wallace University Conservatory of Music under the direction of Victoria Bussert in May 2012.
"Sam" John Donchak is a NYC actor with Chicago roots. Since graduating Fordham's theatre program ('14), John enjoys incorporating his fluency in french, along with fight choreography, to his roles (when applicable, which didn't happen so much on this one). From theater to film, John enjoys finding the earnestness in the characters he plays, and is thrilled to call this his first leading role in a feature film. Recent leading experience in short films include The Many Adventures of the Jonathan's Higgin (Jonathan Higgin), Bedford Chase, Domestic, and Ice Cream. He Co-Hosts the Yippie Ki-Ay! Do Cinema interview podcast with Taylor Purdee and can also be seen on occasion walking with purpose in the background of various New York TV and Film productions.
"Melanie" Emily Mest is a Los Angeles based actress and singer-songwriter. She toured with the Broadway productions of Spring Awakening and Oliver and can be seen in upcoming Paramount film The Malibu Tapes. She released two singles and music videos in 2017 under her music pseudonym Harlie and will be releasing more music in 2018.
"Therese" Yael Elishiva is a New York based actress, director and activist. She is a teaching artist for Drama Club NYC and teaches improv and drama to incarcerated youth in New York City. You can catch her in the multi award winning scifi web series Here We Wait, as Siv the leader of the waitstaff. Some independent short film credits include Naomi in Waking Up, and Layla in When the Lights Go Out. She plays Ava in the mocumentary series MIRL that comes out this summer. Yael recently directed her first play as part of the New York Winterfest Theater Festival as well as a comedy short that will be released in the spring. Proud CAP21 Alum.
"Josh" Andrew O'Shanick is a classically trained baritone from Midlothian, VA. He most recently appeared as the Soldier and Bartender in the Huntington Theatre Company's Sunday in the Park with George. Andrew was seen performing at the Huntington last year as well, playing Mr. Lindquist in the critically acclaimed production of A Little Night Music. An avid performer of operatic repertoire, Andrew has performed roles in Britten's A Midsummer Night's Dream, The Magic Flute, Iphigénie en Tauride, The Rake's Progress, Dove's Flight, La Traviata, and Adamo's Little Women, among others. In addition to his vocal studies, Andrew is also an accomplished violinist and has performed at the KENNEDY Center, The Strathmore, and the Spoleto Festival.
About Karmic Release Ltd
Karmic Release Ltd. is an award winning multi-media production company specializing in independent films and Studio Features. Notable films/properties include Wallowitch & Ross: This Moment, (Oscar Short List 1999) Baghdad ER (4 Emmys. DuPont, Peabody Award) Tarnation (Cannes, Sundance) Walk Away Renee (Cannes Queer Palm Nominee) Our Heroes Ourselves. (Cine Golden Eagle) What Sex Am I? (HBO). A Father, A Son, Once Upon A Time in Hollywood (HBO). Down and Out in America (Academy Aw
Related Articles View More TV

Stories
More Hot Stories For You