Eclectic South Asian Film Festival Oct. 26-28 & Nov. 2-4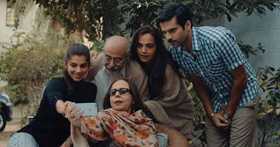 The Kabir Centre for Arts & Culture is pleased to announce the 8th edition of the South Asian Film Festival of Montréal (SAFFMontréal) in collaboration with the Mel Hoppenheim School of Cinema of Concordia University, taking place over two weekends, Oct. 26-28 and Nov. 2-4. A platform for filmmakers of South Asian origin worldwide, the Festival presents an eclectic choice of inspiring and thought-provoking films with a focus on the South Asian region and its diaspora. All screenings are subtitled in English or French, with original versions in various South Asian languages including Bengali, Urdu, Tamil, Dari, Nepali and Hindi, among others. A true kaleidoscope of selections, film enthusiasts can look forward to 26 award-winning films from Pakistan, India, Afghanistan, Nepal, Bangladesh, Sri Lanka, Australia, Germany, U.K., USA and Canada, including short, long, documentary and feature selections.
SAFFMontréal is committed to showcasing new works that foster discussion and explore the worlds we inhabit, aiming to entertain, inform and empower audiences. The Festival also organizes animated, post-screening audience talkbacks, discussions with distinguished panelists, and presentations by filmmakers, some travelling from South Asia and other parts of the world. For the second successive year, most of the films are in competition, with awards given to the best short, best documentary and best feature length films.
For Festival Director Dipti Gupta it is important to devote a whole day to diaspora filmmakers and their visions. During the second weekend, a panel of respected diaspora filmmakers will be present. Gupta adds, "The South Asian Film Festival brings a wide panorama of films from India, Bangladesh, Pakistan, Sri Lanka, Nepal and Afghanistan. The Festival gives film enthusiasts the opportunity to have an engaged discussion after each screening between filmmaker, film experts and audience. In continuation of our practice from 2017, we have a diaspora panel slated on 3rd of November 2018 in which the filmmakers will be in attendance to share their work with the Montreal audience. The festival is our attempt to expose a variety of issues and films from South Asia and its diaspora to our ever-growing audience in Montreal and Saguenay."
For TK Raghunathan, President of Kabir Centre for Arts & Culture, it is important to note that this is the only South Asian Film Festival in Quebec, with a mini version going to Saguenay in November. Says Raghunathan, "Over the course of the last eight years, this film festival has become more and more popular, with attendance not only from the South Asian diaspora but also from a wide cross section of people in Montreal (and Saguenay, where a mini-version is presented). The Festival showcases not only feature films which have already won many awards elsewhere but also beautiful artistic works-both documentary and fiction-from unknown and emerging filmmakers from South Asia or its diaspora. SAFFMontréal is an important occasion for Kabir Centre to further its social vision of uniting communities through culture, with the post-screening interaction between the audience and the panelists being a cornerstone of this festival."
SAFFMontréal showcases many awarded films and Canadian premieres. The wide range of stories include several about women struggling to break various barriers, in sport, in local politics, policy making and even in their own families: Afghan Cycles, Nude, Déchirements, Purdah, Perween Rehman-The REBEL Optimist, 3 Seconds Divorce, and more. This year we continue to showcase, through the Festival, the LGBTQ+ experience both in South Asia and its diaspora in films such as Sisak, Goddess and Priya.
The Festival has gained in popularity every year, receiving accolades from well-known filmmakers. Raghunathan is delighted with its ongoing success: "We are very happy that we are able to bring in films which have made a mark in festivals around the world and at the same time introduce new filmmakers."
Related Articles View More TV

Stories
More Hot Stories For You