BWW Opera Preview, Part II: Hot Time, Summer Outside the City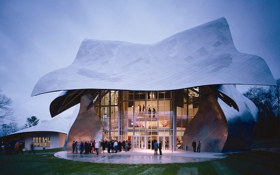 Who needs an excuse to leave NYC in the blistering days of summer? It's especially true if you head north to some of the bucolic opera and vocal venues within driving distance, in this second part of our seasonal preview.
Hudson Valley and Beyond
Bard SummerScape, July 28 - Aug 6
Annandale-on-Hudson, NY
While the theme of the 28th Bard Music Festival--at Bard College in NY's Hudson River Valley--is "Chopin and His World," the Franco-Polish composer (born near Warsaw in 1810, moved to Paris--his father was French--in 1821 and never returned to Poland) is not exactly known for his operatic work. So the premiere of the season is, instead, a neglected work by Antonin Dvorak: the American staged premiere of DIMITRIJ on July 28 (through August 6), a grand opera that resumes Russian history where Mussorgsky's BORIS GODUNOV leaves off.
Leon Botstein, festival co-artistic director and President of Bard College, conducts the American Symphony Orchestra in five performances of a new production by award-winning director Anne Bogart.
Opera Saratoga, July 1 - July 16


Saratoga Springs, NY
The first opera production of the season, opening July 1, is Verdi's comic masterpiece, FALSTAFF, directed by Chuck Hudson, and conducted by Craig Kier. Bass baritone Craig Colclough stars as Falstaff, with the stylish soprano Caroline Worra as Alice Ford.
Next will be a rarity, André Grétry's opera-ballet, ZÉMIRE ET AZOR (BEAUTY AND THE BEAST), opening July 2, directed by James Ortiz, in his opera-directing debut, whose production of THE WOODSMAN played several times off-Broadway in New York. This work was a favorite of Mozart and incorporates both dance and Ortiz's signature use of puppetry. Lidiya Yankovskaya conducts and Jill Echo choreographs.
At the heart of Opera Saratoga's season is a new production of Marc Blitzstein's THE CRADLE WILL ROCK, on July 9, conducted by John Mauceri-- who has been responsible for many significant operatic restorations--in his company debut. According to Lawrence Edelson, artistic and general director of the company and director of CRADLE, the musical theatre piece is "an attack on the abuse of political power by the wealthy and a paean to labor and poor people struggling to get by," an as timely now as it was when it premiered in 1937, 80 years ago. It stars mezzo soprano Ginger Costa-Jackson and bass Matt Boehler in their company debuts.
Glimmerglass Festival, July 7-August 22
Cooperstown, NY
Glimmerglass Festival opens its 2017 season with a couple of American originals. First, on July 7, there's George Gershwin's PORGY AND BESS, in its original version with full orchestra, directed by Francesca Zambello, Artistic & General Director of the Festival, presented in the Alice Busch Opera Theatre. Conducted by John DeMain, it stars Musa Ngqungwana as Porgy, the terrific Talise Trevigne as Bess, with Norman Garret as Crown, Frederick Ballentine as Sportin' Life and Meroë Khalia Adeeb as Clara (she gets to sing "Summertime").
The following night, the Festival turns to Rodgers & Hammerstein's OKLAHOMA!, conducted by James Lowe, directed by Molly Smith and choreographed Parker Esse. Vanessa Becerra and Jarrett Ott play Laurey and Curly, Michael Hewitt as Jud Fry, Judith Skinner as Aunt Eller and Emma Roos as Ado Annie.
On July 15, Handel's XERXES debuts,conducted by Nicole Paiement, Artistic Director, Conductor and Founder of San Francisco's Opera Parallele, and directed by Tazewell Thompson. The big attraction is the spectacular countertenor John Holliday as Xerxes with Allegra De Vita as Arsamenes and Emily Pogorelc as Romilda.
The final production of this season is a veritable rarity, Donizetti's THE SIEGE OF CALAIS, conducted by Joseph Colaneri and directed by the Festival's Zambello. Leah Crocetto's one to look for as Eleonora, with Aleks Romano as Aurelio, Adrian Timpau as Eustachio and Chaz-men Williams-Ali. (You might recognize the story if you're a fan of sculptor Auguste Rodin, whose "Burghers of Calais" is in homage to some of the characters.)
A bonus to the full-scale productions is a chamber work, SCALIA/GINSBURG, Derrick Wang's one-act comic opera inspired by the opinions of the Justices. They must navigate three cosmic trials to win their freedom--but might have to agree on the US Constitution to do it. There are two performances, on August 4 and 13, starring Mary Beth Nelson as Justice Ginsburg, Willian Burden (Artist in Residence) as Scalia and Brent Michael Smith as the Commentator.
Tanglewood Festival
Between Lenox and Stockbridge, MA
Granted, Tanglewood--the summer home of the Boston Symphony Orchestra, as well as a venue for all kinds of other music--is a little further afield from New York than some of the other music offerings we've covered, it's the only place in the Northeast where Wagner-lovers can get their fix this year. On July 15, the Boston Symphony takes on DAS RHEINGOLD, under music director Andris Nelsons, with bass-baritone Thomas J. Mayer as Wotan, mezzo Sarah Connolly as Fricka, tenor Kim Begley as Loge, tenor David Cangelosi as Mime, baritone Jochen Schmeckenbecher as Alberich. If you're not familiar with the opera, remember it's over 2 ½ hours with no intermission. (No bathroom break!)
Some other notable vocal performances at Tanglewood include:
- July 29, Charles Dutoit conducting the Berlioz TE DEUM with tenor Paul Groves and The Choral Arts Society of Washington Youth Chorus on a program that also features pianist Pierre-Laurent Aimard in Ravel's Piano Concerto for the Left Hand and the recently discovered Stravinsky "Chant funebre."
- July 30, Bramwell Tovey conducting Walton's Belshazzar's Feast with bass-baritone Ryan Speedo Green, and Pinchas Zukerman doing the Beethoven Violin concerto.
- August 3, a "Schubert's Summer Journey" program with the magnificent mezzo, Jamie Barton, and a stellar group of chamber players: Yo-Yo Ma, Emanuel Ax and Colin Jacobsen.
- August 5, Hans Graf conducting incidental music from Mendelssohn's A MIDSUMMER NIGHT'S DREAM, in a theatrical adaptation by Bill Barclay, featuring soprano Kiera Duffy, mezzo Abigail Fischer and singers from the Boston University Tanglewood Institute Chorus, Katie Woolf, conductor, along with a cast of stage actors, under stage director Bill Barclay. Also on the program is Garrick Olsen in the Chopin Piano Concerto No. 2.
- August 9, Harry Christophers conducting Purcell's THE FAIRY-QUEEN with countertenor Robin Blaze, bass-baritone Matthew Brook, sopranos Sarah Brailey, Margot Rood, and Sonja DuToit Tengblad, tenors Jonas Budris and Stefan Reed and baritone Woodrow Bynum, with The Handel and Haydn Society, Antonia Christophers, narrator.
- August 26, Andris Nelsons conducting Kristine Opolais, Sir Bryn Terfel (standing in for Dmitri Hvorostovsky) and the Tanglewood Festival Chorus in an opera gala program.
- August 27, Andris Nelsons conducting soprano Katie Van Kooten, mezzo Tamara Mumford, tenor Russell Thomas and bass-baritone John Relyea with the Tanglewood Festival Chorus in Beethoven's 9th; also on the program is Charles Ives' "The Housatonic at Stockbridge (from Three Places in New England)."
Tanglewood's Festival of Contemporary Music, from August 10-14, performed almost entirely by fellows of the Tanglewood Music Center, will include some vocal music, including selected songs by Gyorgy Kurtag.
Berkshire Opera Festival, August 26-September 1
Pittsfield, MA
This is the second year for this upstart festival, which performs at the historic Colonial Theatre in Pittsfield, not terribly far from Tanglewood. This year's production is Strauss's ARIADNE AUF NAXOS, directed by General Director Jonathan Loy, with soprano Marcy Stonikas as Ariadne, tenor Kevin Ray as Bacchus, soprano Nicole Haslett as Zerbinetta and mezzo Adriana Zabalo as the Composer, conducted by artistic director Brian Garman. There will also be two recitals: "Gods and Monsters," songs and operatic numbers about, yes, gods and monsters, at the Saint James Place Church in Great Barrington and a program of Richard Strauss songs at Ventfort Hall in Lenox on August 16.
Still Looking for More?
If none of these tempt you, there are other performances further afield that might. Those adventurous people at the Cincinnati Opera have a couple of unusual attractions up their sleeve this summer, along with the usual ZAUBERFLOTE and BOHEME. First, there's FRIDA, a new opera about artist Frida Kahlo by composer Robert Xavier Rodríguez and librettists Hilary Blecher and Migdalia Cruz, June 29, July 1, 6, 8. Then there's SONG FROM THE UPROAR on July 17-21, inspired by the salvaged journals of early-20th-century explorer Isabelle Eberhardt. While it's not new this year, the work is by composer Missy Mazzoli and librettist Royce Vavrek, who just won The Music Critics Association of North America (MCANA)'s inaugural Best New Opera Award for their BREAKING THE WAVES.
Going West? Maybe it's time to make the acquaintance of one of technology's masterminds, Steve Jobs, creator of the iPhone and other innovative machines that drive our lives, opening at the Santa Fe Opera on July 22 with performances to August 25. THE (R)EVOLUTION OF Steve Jobs is the work of composer Mason Bates and librettist Mark Campbell and, judging from some extended previews at the New York Guggenheim Museum's "Works & Process" series, it should be well worth the trip--not that going to Santa Fe is ever a hardship.