Richard Sasanow

Richard Sasanow has been BroadwayWorld.com's Opera Editor for more than five years, with interests covering contemporary works, standard repertoire and true rarities from every era. He is an interviewer of important musical figures on the current scene--from singers Diana Damrau, Peter Mattei, Stephanie Blythe, Angela Meade, Isabel Leonard, Lawrence Brownlee, Javier Camarena and Christian Van Horn to Pulitzer Prize winning composer Kevin Puts and icon Thea Musgrave, composers Ricky Ian Gordon, Laura Kaminsky and Iain Bell, librettist Mark Campbell, Kim Reed and Nicholas Wright, director Kevin Newbury and Tony-winning designer Christine Jones.

Earlier in his career, he interviewed such great singers as Birgit Nilsson and Martina Arroyo and worked on the first US tour of the Vienna State Opera, with Karl Bohm, Zubin Mehta and Leonard Bernstein, and the inaugural US tour of the Orchestre National de France, with Bernstein and Lorin Maazel.

Sasanow is also a long-time writer on art, music, food, travel and international business for publications including The New York Times, The Guardian, Town & Country and Travel & Leisure, among many others.
MOST POPULAR ARTICLES
LAST 30 DAYS
Review: Bring on the Jugglers, Philip Glass's AKHNATEN Finally Arrives at the Met
Posted: Nov. 16, 2019


Review: It's TRISTAN Interruptus Again, with Goerke and Gould at Lincoln Center's White Light Fest
Posted: Nov. 19, 2019


BWW Review: Tchaikovsky's QUEEN Reigns and a Star is Born at the Met
Posted: Dec. 4, 2019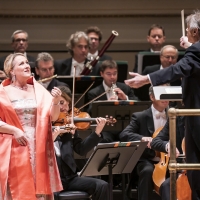 Review: Bavarians under Jansons with Damrau as Soloist Turn Back the Clock at Carnegie
Posted: Nov. 12, 2019


LAST 365 DAYS
Review: Bring on the Jugglers, Philip Glass's AKHNATEN Finally Arrives at the Met
Posted: Nov. 16, 2019



BWW Overview: Opera's Many-Colored Dream Coat of Performance Highs in 2018
Posted: Dec. 27, 2018



Fireworks from Met's New ADRIANA LECOUVREUR with Netrebko for New Year's Eve
Posted: Jan. 2, 2019


Review: The Met's MANON a Showcase for the Charms of Tucker Award-Winner Lisette Oropesa
Posted: Sep. 26, 2019


BWW Review: A PRISM of PROTOTYPE's INFINITE PSYCHOSIS for 2019
Posted: Jan. 9, 2019


BWW Review: [Opera] Star Trek - The Next Generation from Met National Council Finals Concert
Posted: Apr. 2, 2019



BWW Interview: Kim Reed Is Inspiration and Co-librettist of AS ONE at City Opera
Posted: May. 28, 2019


BWW Review: Tchaikovsky's QUEEN Reigns and a Star is Born at the Met

December 4, 2019

I know it takes a leap of faith for the Met to schedule something outside the ABC operas--AIDA, BOHEME, CARMEN plus a TOSCA, TURANDOT and a few others--and go for something a little more off the beaten track. Tchaikovsky's QUEEN OF SPADES certainly falls into that category, even though it isn't exactly an unknown. The current production by Elijah Moshinsky, which still looks like new and opened the other day for the season's run, is not just well-sung and beautiful to see but makes a very good case for doing it more often.
---
BWW Review: It's TRISTAN Interruptus Again, with Goerke and Gould in Act II of the Wagner Epic

November 19, 2019

When New Yorkers last saw a concert performance of Act II of Wagner's TRISTAN UND ISOLDE--in the spring of 2018 with the Boston Symphony under Nelsons--a major singer was trying on one of the title characters for size. That was tenor Jonas Kaufmann. This time, it was Isolde who was ready for her closeup, with soprano Christine Goerke in a can't-wait-for-the-whole-opera performance, under Gianandrea Noseda with the Washington Symphony at Lincoln Center's White Light Festival.
---
BWW Review: Bring on the Jugglers, Philip Glass's AKHNATEN Finally Arrives at the Met

November 16, 2019

It has taken 35 years for Philip Glass's AKHNATEN to get to the Met, since its premiere at the Staatsoper in Stuttgart in 1984. If you're an acolyte of Glass, Phelim McDermott's production, designed by Tom Pye, made it well worth the wait; if you're not, there's enough going on to keep you occupied during the 3 ½-hour performance.
---
Review: Bavarians under Jansons with Damrau as Soloist Turn Back the Clock at Carnegie Hall

November 12, 2019

According to the Carnegie Hall program, the Bavarian Radio Symphony Orchestra was founded just a year after the most modern pieces on last Friday's program were written. Those were Richard Strauss's "Four Last Songs," composed in 1948, some of the most gorgeous music he wrote. Though I came for the songs and excerpts from Strauss's opera, INTERMEZZO, as it turned out, the symphony, Brahms' Fourth, was what made the evening.
---
BWW Review: All-Star RICHARD TUCKER GALA is a One-of-a-Kind Treat at Carnegie Hall with Winner Oropesa

October 29, 2019

It's hard to imagine the logistics in putting together a complex program like the one that the audience at Carnegie Hall was treated to on Sunday evening for the 2019 RICHARD TUCKER GALA. But New York-born conductor James Gaffigan pulled it off wonderfully with the help of members of the Met Orchestra and the New York Choral Society--and a gaggle of amazing singers, beginning with this year's winner of the Tucker Award, Lisette Oropesa.
---
BWW Review: Jamie Barton Shines in All-Singing, All-Dancing Gluck ORFEO from Mark Morris at the Met

October 27, 2019

With apologies to Gluck, "Che faremmo senza Jamie Barton?"—'Where would we be without mezzo Jamie Barton?"--in the revival of Mark Morris's production of ORFEO ED EURIDICE at the Met, under Mark Wigglesworth's firmly rhythmic baton. ORFEO, written in the mid-18th century, was an opera of a different stripe for its time. (The Met uses the 1762 Vienna version, one of many.) It leans heavily on dance and choral singing, as well as recitative.
---
BWW Review: Giving in to Hannah Lash's DESIRE at Columbia's Miller Theatre

October 19, 2019

It's easy to give yourself over to the music--and the musicians--that Lash has created (both music and libretto) from the very first notes of the devastatingly beautiful score. It is performed by three bold singers--the commanding mezzo Kirsten Sollek, the determined baritone Christopher Dylan Herbert and eerie yet forceful countertenor Daniel Moody. In addition--and very much integral to its success--there is the dazzling string quartet known as JACK (Christopher Otto and Justin Wulliman, violins; John Pickford Richards, viola; and Jay Campbell, cello). Surprisingly and successfully, there is no conductor.
---
BWW Review: Double, Double, Netrebko's Got No Trouble with MACBETH's Lady, in a Take-Charge Performance

October 11, 2019

Five years ago, Anna Netrebko unveiled her take on Verdi's Lady Macbeth at the Met and wowed audiences from here to eternity. But since the first week of the Met season, she's brought her sexy, ebullient and take-no-prisoners Lady Macbeth back and showed that she's even better than ever--singing the pant (and the spots) off the role.
---
BWW: Apples, ORANGES--Opera Philadelphia's O19 Shows Us What the Difference is

September 29, 2019

If you can imagine Rossini's IL BARBIERE DI SIVIGLIA with all its comedy but without any of its great arias, you can begin to imagine why Sergei Prokofiev's LOVE FOR THREE ORANGES isn't only anyone's top-ten list of favorite operas. Yet Alessandro Talevi's wild-eyed production at Opera Philadelphia's O19 Festival somehow manages to make the audience laugh itself silly and tap its foot with glee at the famous march that was such a big hit in the composer's time, that he grew sick of it.
---
BWW Review: The Met's MANON a Showcase for the Charms of Tucker Award-Winner Lisette Oropesa

September 26, 2019

Lisette Oropesa, where have you been all my life? Of course, I've heard her before--she's appeared 100 times or so at the Met so one could hardly miss her--but never in a showpiece like the title role of Jules Massenet's MANON, opposite tenor Michael Fabiano's Chevalier des Grieux on the second night of the Met's new season.
---
BWW Review: Forget Brooklyn. Opera Philadelphia World Premieres Show Only the Dead Know Philadelphia

September 24, 2019

Thomas Wolfe--famed for his novels including "Look Homeward, Angel"--is also remembered for the quotable title of one of his short stories: "Only the Dead Know Brooklyn." Judging my weekend at Opera Philadelphia's O19 opera festival, and its two world premieres, DENIS & KATYA and LET ME DIE, he could have also written "Only the Dead Know Philadelphia" (though it might have missed the priceless Brooklyn accents used in the story by this southern writer).
---
BWW Interview: Getting a Kick from Keckler at Opera Philadelphia's O19 Festival

September 18, 2019

Last January, Joseph Keckler seemed to burst forth, fully blown, like Athena from the head of Zeus, at New York's Prototype Festival (though his emergence was, in fact, no such thing, having already been a staple of the Downtown scene for several years). This month, Philadelphia's got him, at the Opera Philadelphia O19, running from September 20-28, with LET ME DIE. It's a genre-bending performance piece for the baritone, whose voice ascends to tenorial heights, that peppers famous operatic death scenes (with some singing collaborators) with video from Lianne Arnold, his own music and signature comedic je ne sais quoi.
---
BWW Review: Am I BLUE at Glimmerglass? You Bet. But There Are Also Some Guilty GHOSTS, and, Oh that Notorious RBG!

August 2, 2019

A summer's trip to Cooperstown, NY, is for two distinct audiences: Those who come for the Baseball Hall of Fame and those, like me, who come for the opera--the Glimmerglass Festival, under General Director Francesca Zambello, where i caught up with the John Corigliano-William Hoffman THE GHOSTS OF VERSAILLES, the brand-new BLUE by Jeanine Tesori and Tazewell Thompson and a program with Supreme Court Justice (and opera buff) Ginsburg commenting on some of her favorite works.
---
BWW Interview: No Clowning Around for Bass-Baritone Davone Tines in Mostly Mozart's THE BLACK CLOWN

July 23, 2019

The first time I heard bass-baritone Davone Tinesa?"he of the sensual, resonant voice and startlingly vivid stage presencea?"it was in Handel's ACI, GALATEA E POLIFEMO (described as a?oea spectacular, streamlined, Cliff-Notes version of a Handel operaa??), at Brooklyn's National Sawdust. Tines wowed me and I thought that I wanted to hear more of him. He opens July 24, 2019 at Mostly Mozart in THE BLACK CLOWN at the Gerald Lynch Theatre of John Jay College, near Lincoln Center.
---
BWW Review: Mostly Mozart's MAGIC FLUTE versus Teatro Nuovo's STRANIERA, Ingenuity Outdoes Purism

July 22, 2019

This week's opera performances--Teatro Nuova's LA STRANIERA by Bellini and Mostly Mozart's MAGIC FLUTE--proved that opera can be considered alive and well (and living in New York), as long as those producing it believe in it and give us some voices worth hearing.
---
BWW Review: Gordon-Artman ACQUANETTA is No Grade-B Horror at Bard, Directed by Tony-winner Fish

July 15, 2019

ACQUANETTA, which just opened at Bard's SummerScape, was the piece that opened 2018's edition of PROTOTYPE festival in New York. Musically and dramatically, written by Michael Gordon, composer (of 'Bang on a Can' fame), Deborah Artman, librettist (ditto), the piece is very much in a class of its own.
---
BWW Preview: Summertime and the Singing is Easy at Opera and Vocal Festivals in the Northeast

June 28, 2019

Something old, something new…there's still plenty going on for fans of opera and classical vocal music in the Northeast now that summer is upon us. Here's a taste of what to look for.
---
BWW Review: No Stonewalling the Message of the Bell-Campbell STONEWALL at City Opera Premiere

June 25, 2019

If there's nothing colder than yesterday's news, the Stonewall riots--that cornerstone of the gay rights movement, 50-years-old this month--should be the equivalent of a frozen Margarita. Instead, it's hot as New York in August, in Leonard Foglia's nonstop production of STONEWALL, the opera by Iain Bell and Mark Campbell that had its world premiere production by New York City Opera at the Jazz at Lincoln Center Rose Theatre, last Friday.
---
BWW Review: Reshaping Beethoven's FIDELIO into Lang's PRISONER OF THE STATE at the Philharmonic

June 12, 2019

The New York Philharmonic finished up its season with a powerful performance of a new version of the FIDELIO story by composer David Lang, which he neatly titled PRISONER OF THE STATE, summing up a key part of the story. Lang's score and the staging by Elkhanah Pulitzer—and the pulsating performance of the score by the Philharmonic under music director Jaap van Zweden--were triumphs, keeping the audience on the edge of their seats as the 70-minute work unfolded.
---
BWW Review: Forget 'Games of Thrones,' DiDonato's Got a Grip on AGRIPPINA in Barcelona, and Heading to the Met and Covent Garden

June 6, 2019

For those of us who couldn't wait to hear mezzo Joyce DiDonato in a fully staged performance of Handel's AGRIPPINA—heading to Covent Garden in September and the Met in February in different productions next season—she has given us a first-class preview at the Liceu in Barcelona. For a couple of weeks at the end of May, she tootled around major cities in Europe giving concert performances of the opera, one of Handel's first hits, from Christmas 1709 in Venice when he was finishing his sojourn in Italy.
---
...
1