Richard Sasanow - Page

Richard Sasanow has been BroadwayWorld.com's Opera Editor for more than five years, with interests covering contemporary works, standard repertoire and true rarities from every era. He is an interviewer of important musical figures on the current scene--from singers Diana Damrau, Peter Mattei, Stephanie Blythe, Angela Meade, Isabel Leonard, Lawrence Brownlee, Javier Camarena and Christian Van Horn to Pulitzer Prize winning composer Kevin Puts and icon Thea Musgrave, composers Ricky Ian Gordon, Laura Kaminsky and Iain Bell, librettist Mark Campbell, Kim Reed and Nicholas Wright, director Kevin Newbury and Tony-winning designer Christine Jones.

Earlier in his career, he interviewed such great singers as Birgit Nilsson and Martina Arroyo and worked on the first US tour of the Vienna State Opera, with Karl Bohm, Zubin Mehta and Leonard Bernstein, and the inaugural US tour of the Orchestre National de France, with Bernstein and Lorin Maazel.

Sasanow is also a long-time writer on art, music, food, travel and international business for publications including The New York Times, The Guardian, Town & Country and Travel & Leisure, among many others.
MOST POPULAR ARTICLES
LAST 365 DAYS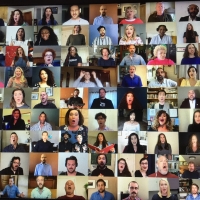 BWW Exclusive: 107 Opera Singers Bring Some LIGHT from Moravec, Campbell and OPERA America
Posted: May. 13, 2020


BWW Interview: Lisette Oropesa, the Met?s Courtesan of the Moment, Brings Her TRAVIATA to Town
Posted: Feb. 25, 2020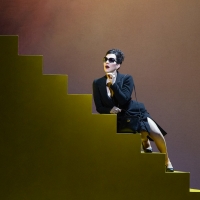 BWW Review: DiDonato and McVicar?s Take on Handel's AGRIPPINA Have the Met Audience in Their Grip
Posted: Feb. 8, 2020


BWW Review: Met?s Round-the-World, At-Home Gala Proves ?Music is Nutrition for Our Souls?
Posted: Apr. 26, 2020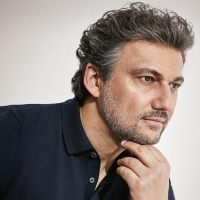 BWW Review: The Met?s Back, with a Live Concert Series Kicked Off by Jonas Kaufmann
Posted: Jul. 19, 2020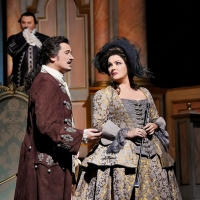 BWW Interviews: In RUSALKA or RIGOLETTO, ADRIANA or an Almost-WERTHER, Piotr Beczala's Got Style
Posted: Apr. 14, 2020


BWW Review: Damrau Goes for Broke, Calleja Plays It Safer in 'Met Stars Live in Concert' from Italy

October 27, 2020

In the latest installment of the Met Stars in Concert Series, soprano Diana Damrau and tenor Joseph Calleja took center stage in the Royal Palace of Caserta, a UNESCO World Heritage site in Italy, with the grand assistance of pianist Roberto Moresco. The performing space—the palace's spectacular Palatine Chapel—is neoclassically elegant. So much for the architecture: What about the music? The performing space—the palace's spectacular Palatine Chapel—is neoclassically elegant. So much for the architecture: What about the music?
---
BWW Feature: Bring on the PAGLIACCI, as Tomer Zvulun and The Atlanta Opera Still Connect with Live Audiences, Starting Oct. 22

October 19, 2020

When the Ringling Brothers Barnum & Bailey Circus folded its tent for the last time, I'm not sure whether they held on to its title of "the Greatest Show on Earth." But Atlanta is showing that there's still a big tent around with some great shows to be seen. It's the Atlanta Opera, headed by General & Artistic Director Tomer Zvulun, which starts its six-opera season with I PAGLIACCI on October 22.
---
BWW Review: Like Fine Wine, DiDonato Keeps Getting Better, as her Unusual 'Met Stars Live in Concert' from Germany Shows Aplenty

September 20, 2020

Mezzo Joyce DiDonato set a new standard for the Met's Live concert series (hosted by Christine Goerke) with a gorgeous recital from the Jahrhunderthalle in Germany that was broadcast live on September 12 and will be available on demand through the Met's website, now extended through October 23.
---
BWW Review: Star Light, Star Bright – Here Comes Norway's LISE DAVIDSEN, One of the MET STARS IN CONCERT

August 31, 2020

By the time Lise Davidsen appeared in the Met's December revival of Tchaikovsky's QUEEN OF SPADES, the company had already scheduled the soprano for five other major roles in seasons to come. One opera they didn't schedule was TANNHAUSER, with its spectacular aria for Elisabeth--"Dich teure Halle"--which Davidsen has made it something of a calling card. She did, however, use it to kick off her recital in the MET STARS IN CONCERT series at Norway's Oscarshall palace, which can be heard on demand through September 9.
---
BWW Review: Today's Biggest Stars plus Pavarotti, Price, Sutherland, Battle and Others Make MET ON DEMAND Indispensable

August 26, 2020

It's hardly a secret that during the Met's shutdown, the company has been treating audiences with nightly telecasts of everything from the company's current 'Live In HD' series to some scratchy videos that still had decent sound. All of them, however, can also be found on the Met's online subscription series, THE MET OPERA ON DEMAND, along with some audio highlights of extraordinary Saturday afternoon broadcasts. It's worth shelling out the money for this kind of quality.
---
BWW Review: Fleming Continues to Surprise in Met Stars Live in Concert at Washington's Dumbarton Oaks, August 1

August 2, 2020

Even though soprano Renee Fleming had a big farewell to her role as the Marschallin in DER ROSENKAVALIER in the Met's recent production premiere, she seems far from the end of her career, not only continuing to concertize but even in opera. So, it was no surprise that she showed up on the roster of the Met's pay-for-view concerts series, Met Stars Live in Concert.
---
BWW Review: The Met's Back, with a Live Concert Series Kicked Off by Jonas Kaufmann

July 19, 2020

When was the last time you heard a concert at the Met for $20? It could have been Saturday afternoon--with Jonas Kaufmann kicking off an online, live concert series, MET STARS LIVE IN CONCERT. It helped to remind us what we're missing without live opera and stars worth going out of the way for.
---
BWW Exclusive: 107 Opera Singers, a Conductor plus Tech Magic Bring Some LIGHT from Moravec, Campbell and OPERA America

May 13, 2020

Here's a look at how 'Light Shall Lift Us; Singers Unite in Song' (for OPERA America), a video project featuring 107 opera singers in "a song of hope and solidarity" by Paul Moravec and Mark Campbell, came together to help raise up the spirits of their communities as we deal with COVID-19. It went 'live' on May 14 at 1:30 pm EST.
---
BWW Preview: Welcome to the 21st Century (and 1816) at Opera Philadelphia's Digital Festival, including BREAKING THE WAVES

April 30, 2020

Over the last five years, Opera Philadelphia has presented an impressive group of new operas it has commissioned, along with some classics from the standard rep. Starting tomorrow, we'll get a look at some of the best of them, with the company's Digital Festival running through May 29, available on YouTube and the company's website.
---
BWW Review: Met's Round-the-World, At-Home Gala Proves 'Music is Nutrition for Our Souls'

April 26, 2020

In the midst of this COVID-19 crisis that is gripping the world--and keeping so many people in quarantine--the Metropolitan Opera managed to pull off a brilliantly executed music coup. It connected stars, chorus members and orchestral musicians in an "At-Home Gala"--a combination fund-raiser for the Met with wonderful entertainment. And the technology worked!
---
Preview: Virtually Fabulous--or Fabulously Virtual--Met's Gala In-Home Event from New York to Tbilisi, Paris to Moscow at 1pm EDT, April 25

April 24, 2020

For all you lovelorn, "live opera"-lovers, the Met is coming to the rescue from COVID-19 this afternoon, Saturday April 25, at 1pm New York time, with a gala concert featuring over 40 artists performing direct from their homes around the world.
---
BWW Review: Giggles Galore at the Met? You Bet—from PASQUALE and FALSTAFF on Demand

April 12, 2020

Luckily for viewers on the Metropolitan Opera's "Met on Demand"—with selections available free in this time of COVID-19, on your laptop or as apps for your phone or tablet—there were a couple of knee-slappers thrown in among the drama of AIDA, PARSIFAL and ROMEO ET JULIETTE this week. Two of my favorites were there: Donizetti's DON PASQUALE and Verdi's FALSTAFF.
---
Preview/Interview: To FRAU or Not to FRAU in 2021? Stemme's the Met's Dyer's Wife, with Some Words from Birgit Nilsson

April 9, 2020

Some people dream of a White Christmas--or at least an end to the horrors of COVID-19 and a semblance of life returned to normal. I'll drink to that. But high on my list of events I'm hoping to hear in a world turned back on its feet, is the return of Richard Strauss's DIE FRAU OHNE SCHATTEN to the Met.
---
BWW Reviews: A Great Week for Haircuts at the Met, from BARBIERE to NIXON

April 2, 2020

The Met on Demand had another week of exciting performances, from the divine [Rossini's IL BARBIERE DI SIVIGLIA] to the, well, the divine [Adams's NIXON IN CHINA].
---
BWW Review: Paris Opera Gives Us a Look at the Met's New DON GIOVANNI from the Palais Garnier

March 29, 2020

Thanks to the French online service, France.tv, opera-goers in New York have had a chance to see what lies ahead with the new production of Mozart's DON GIOVANNI by Ivo van Hove, that, health crisis be willing, will make its debut at the Met next March.
---
BWW Review: Is the Met's TURANDOT Different on PBS' Great Performances Than in the Opera House?

March 22, 2020

In these crazy days when no theatres are open to the public, the Live in HD series on PBS is a lifeline to the Met; last Friday, on PBS' Great Performances (on WNET in New York, at least) there was this fall's TURANDOT with a first-rate cast.
---
Best of BWW Interviews: In RUSALKA or RIGOLETTO, ADRIANA or an Almost-WERTHER at the Met, Piotr Beczala's a Tenor with Style

April 14, 2020

It's a busy week for Piotr Beczala, at least on the Met on Demand. It started with Monday's free broadcast of 2014's RUSALKA, opposite Renée Fleming (when the interview that follows was conducted) to Saturday night's free ADRIANA LECOUVREUR performance opposite Anna Netrebko, from January 2019. You can also hear him in excerpts from WERTHER, opposite Joyce DiDonato, which was scheduled for last month at the Met, but sidelined by COVID-19. The arias were recorded in JDD's living room, to give audiences a glimpse of what they might have missed in the complete performance.
---
Best of BWW Interviews: Tenor Javier Camarena - High Cs and 'High Fives' at the Met

March 18, 2020

The Met's first cancellation due to coronavirus concerns was the revival of Rossini's LA CENERENTOLA, the opera retelling of the Cinderella story, set to star mezzo Tara Erraught in the title role and one of its biggest tenor stars, Javier Camarena as Don Ramiro, her prince. The opera holds a particular place in Camarena's history at the Met: It made him an overnight sensation when he was tapped to replace Juan Diego Florez and blew the roof off--a real-life Cinderella story.
---
BWW Review: Girard's Disappointing New DUTCHMAN Drops Anchor at the Met

March 4, 2020

The Met had a wonderfully conducted performance of Wagner's DER FLIENGENDE HOLLANDER with a marvelous singer in the title role. Unfortunately, that was in 2017, when the Met's Music Director Yannick Nezet-Seguin was on the podium and Michael Volle was the forceful Hollander. This time around, when Francois Girard's new Expressionist production had its premiere the other night, with Valery Gergiev at the helm and Evgeny Nikitin as the Dutchman, things did not go so smoothly.
---
BWW Review: A Marvelous Oropesa is Definitely Not 'Lost' in Met's TRAVIATA

March 2, 2020

When I recently interviewed Lisette Ororpesa, just before her first Violetta at the Met, she told me that people are always asking her "Isn't TRAVIATA an opera for three different sopranos? One soprano per act?" and her answer is: "Yeah, if you want to look at it that way...' She proved that she didn't need any help from a doppelganger in pulling off all the varied aspects of Verdi's courtesan, with a stellar performance.
---