BWW Review: Winter Opera brings Remarkable Voices to the Druidic World of NORMA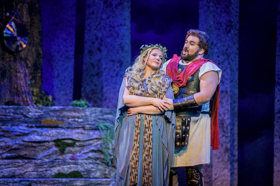 Set in Gaul under the Romans the story has strong overtones of Medea (and echoes of Madam Butterfly). Norma, the Druid high priestess, has broken her holy vows by having an illicit liaison with Pollione, the Roman proconsul. She has borne him two children. Now Pollione has fallen in love with a younger priestess, Adalgisa, Norma's friend and protégé. He plans to abandon Norma and take Adalgisa with him to Rome. Adalgisa knows nothing of Norma's love for Pollione, and innocently confesses her own love for him to Norma. Well, we find, of course, that hell hath no fury like a soprano scorned. Will the enraged Norma, Medea-like, slaughter her children in vengeance? Will Adalgisa flee with her lover? Will Pollione be sacrificed to the Druid god? And will the Gauls, deeply bitter over their conquest by Rome, rise in triumph to cast out their overlords?
All these passions swirl dramatically on the stage of Winter Opera against another gorgeous set by Scott Loebl. We are in a sacred Druidic oak grove. Rough stone steps surround the broken stump of a huge oak tree. Loebl presents the forest abstractly, with many slender columns reaching aloft. Are they trees? They look rather more like white marble. Whatever they are they give a wonderful verticality to this scene; surely they touch the pagan gods in the skies. And those skies are filled with huge romantic threatening clouds. At times there's a great haunting crescent moon. Graceful scene-changes take us to Norma's nicely detailed wattle-and-daub dwelling.
Natali Arco provides lighting that perfectly accentuates the drama unfolding before us.
The company has gathered superb voices to tell us this story. Now these are immensely challenging roles. Norma was Maria Callas's favorite showcase for her legendary voice. Renata Scotto once called the role of Norma "the Everest of opera". Well, Soprano Christine Lyons climbs that peak with banners flying. She's a true virtuosa, dazzling us with her mastery of all those Bel Canto coloratura fireworks-all the runs, trills and staccato arpeggios and cadenzas that decorate the long, free-ranging melody lines. And she's wonderfully supported by the other singers in this tragic love triangle.
Last season Peter Scott Drackley was an adorable Nemorino in L'elisir d'amore. Now he brings his strong dramatic tenor to the role of Pollione; it's a voice that fills the hall. Bernadetta Orsi gave us a splendid Carmen two years ago; now, in the role of Adalgisa, she simply stuns us with the sheer beauty of her voice; with remarkable easy power and perfect diction, she accomplishes a magic thing-she lets us clearly perceive the very details of her performance. We of a certain age know the blessings of eye-glasses; they transform vague beauty into crystal clear beauty. (I first felt the need for glasses when as an undergraduate I could no longer clearly see the co-eds across campus.) With miss Orsi it's as if the gods had given us spectacles for our ears-she's in such complete control of her remarkable instrument that each syllable, each semi-quaver is a lucid gem.
These are Olympian singers. They train for Norma very like the finest athletes train for their ultimate games. In this Winter Opera production (a kind of "Winter" Olympics, if you will) they bring home the gold. When they join together in duets or trios the interplay of such amazing voices-the minutely precise synchrony of arpeggios-will delight and astonish you.
Supporting roles are all impressively strong. Bass-baritone Neil Nelson is a favorite on the Winter Opera stage, having delighted us as Leporello, Escamillo, Baron Scarpia and Count di Luna. Now he is the Druid high priest, Oroveso-a role that demands and displays the power and depth of his voice. Grace Fisher sings Clotilde, Norma's confidante, with a lovely pure soprano and a strongly-expressed sense of compassion for her mistress. Tenor Thomas Taylor shines as Pollione's companion, Flavio; I would love to hear him in a larger role.
Young Elle and Josi Saleeby are charming as Norma's children.
Miss Orsi was also the Chorus Master and her charges perform beautifully. The male chorus will stir your blood with a couple of rousing songs expressing their lust for Roman blood.
Maestro Darwin Aquino again draws wonderful work from his large orchestra, always maintaining perfect balance with the voices.
Let me again praise the sublime acoustics in the Viragh Center. One can distinguish the timbre of each instrument in the orchestra; one can locate individual singers in the chorus; not an iota of the fine diction of the principals is wasted in this space.
Costumer J.C. Krajicek once more does exemplary work. The primitive Gaulish villagers are all in earth tones; the Romans are, well, Romans, and Norma, as high priestess, is blessed with a gorgeous gown as white as moonlight.
Stage Director John Truitt manages the cast well, though occasionally a scene seemed rather static. Now I readily accept what I call "the highwayman convention", where a director places his singers front and center and commands them to "Stand and deliver!" This is an old tradition and is sometimes appropriate-especially with marvelously complex songs like these. To hell with realistic movement; we want to present these voices to the audience on a silver platter. But in a world where high passions are exploding around us there really must be more movement.
And finally (now I'm picking nits) there are times when it seems no-one paid attention to the text. For example
-When Adalgisa sings, "See, o Norma, at your knees, these dear, dear children," the kids are in fact far across the stage from Norma.
-And where was the dagger? Now I know that the Druids supposedly harvested their sacred mistletoe with a golden sickle, so it's not inappropriate for their high priestess to have access to such a tool. But when Norma contemplates killing her children--and later when she accuses and threatens Pollione--the lyric explicitly states (again and again) that she carries a "dagger". Now with a dagger you can stab; with a dagger you can point dramatically; a dagger serves as an exclamation point to a threatening gesture. For Norma to threaten with a sickle just won't do.
These are mere peccadilloes-tiny sins. But they are distracting irritants--and so easy to remedy.
But never mind that. The lavish vocal riches in this production make it a very memorable musical experience.
Bellini's Norma is another glowing triumph for Winter Opera.