BWW Review: Verdi Reigns at JUILLIARD-MET LINDEMANN Concert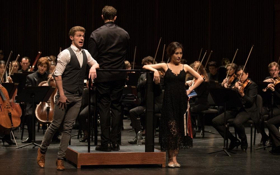 When I first heard soprano Hyesang Park and tenor Kang Wang--two of the bright young singers featured in last weekend's Juilliard and the Met's Lindemann Young Artist Program concert--they were leads in a charming production of Bellini's LA SONNAMBULA at the school. On Friday evening, they were two of the stellar performers in "An Evening of Verdi"--extended excerpts from four operas with the Juilliard Orchestra doing a fluid job under Maestro Evan Rogister, who was also particularly attentive to the needs of the singers.
In the Bellini, Park had been a charming, silver-voiced Amina, who I wanted to hear more of, while Wang was an adroit Elvino, though one I thought in search of heavier rep. I got my wish in this all-Verdi concert, with Park showing her growth as an artist and range of her dramatic chops, in excerpts from RIGOLETTO (Gilda)--alongside the smooth baritone of Kidon Choi as her father--and FALSTAFF (Nanetta). Wang deftly portrayed Oronte in I LOMBARDI and, even better, was the Duke in RIGOLETTO, where he tossed off "La donna e mobile" and "Bella figlia...," two of Verdi's "greatest hits."
Park has been at the Met as the Dew Fairy in HANSEL UND GRETEL and Barbarina in NOZZE DI FIGARO, while I'd just heard Wang a few nights earlier in the small but well-fitting role of Mitrane in SEMIRAMIDE. (He'd also had the plum opportunity to step in for Jonas Kaufmann in the New Year's Eve concert at the Moscow Conservatoire.) Again, I look forward to hearing more from both of them.
That's not to say that they were the whole concert--far from it.
I LOMBARDI may not be one of Verdi's best operas--or even close to it--but that didn't stop soprano Michelle Bradley from showing off her big dramatic voice to good effect in the trio that opened the evening's program, alongside tenor Wang's Oronte and bass David Leigh as Pagano. (Leigh had a busy, successful night, also showing up as Jorg in STIFFELIO, Pistola in FALSTAFF and, best of all, Sparafucile in RIGOLETTO, opposite mezzo Rihab Chaieb's earthy Maddalena). Also notable in LOMBARDI was the sweet tone and fleet fingerwork of concertmaster Brian Hong.
While Bradley may still have some way to go in developing her subtlety--that's something that can be learned, of course--her flexibility here and in STIFFELIO's Act II, showed that there's a great deal to like in her voice. Filling out the STIFFELIO ensemble was baritone Adrian Timpau, as the strong-voiced (and -willed) Count, father-in-law of Stiffelio and tenor Gerard Schneider as Raffaele, Lina's lover, who the Count challenges to a duel.
Next on the bill was Act I's second scene of FALSTAFF, which is a pip (even if it doesn't give us a chance to relish the title character's pomposity in person) and most clearly showed the sure hand of the evening's director Stephen Wadsworth. As the other characters plot their revenge on the "fat knight", Verdi has give them delightful music and they made the most of it.
Soprano Gabriella Reyes de Ramirez, as Alice Ford, showed a sizeable, dramatic voice, with more than enough flexibility to put across the patter demanded of her. Soprano Park and tenor Petr Nekoranec were perfectly matched as the young lovers, charming in their interaction, without forcing their sweet voices.
Baritone Timpau as Ford added heft to the ensemble, as he vigorously opposed the relationship of the lovers, while tenor Ian Koziara (who had also been a dramatically strong Stiffelio) gave good support as Dr. Caius. The group was nicely rounded out by tenor Charles Sy (Bardolfo), mezzo Sara Couden (Mistress Quickly) and the lively presence of mezzo Emily D'Angelo (Meg Page).
The Lindemann Young Artist Development Program was created in 1980 to identify and develop extraordinarily talented young artists in the realm of opera. Those fortunate enough to be in the audience the other night had a good idea of where all the program's investments are going--and to relish in it.
Related Articles View More Opera

Stories