BWW Review: Finally, Netrebko Gives Us a Gala Opening at the Met, with Spectacular AIDA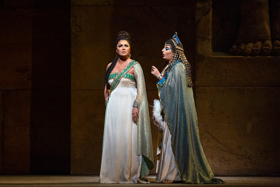 The synopsis of Verdi's AIDA, with Ghislanzoni's smart libretto, places it in "Egypt, during the reign of the pharaohs." For the first performance of the opera this season, on Wednesday, they should have changed that to "during the reign of soprano Anna Netrebko," because she owned the stage from the moment she entered.
While theoretically the Met's season opener was Monday's new production of SAMSON ET DALILA, the fireworks didn't go off until this performance, Netrebko's first local AIDA, the Ethiopian princess enslaved to the Pharoah's daughter. She tore up the stage in a portrayal that will grow even better with time--she debuted the role just last year in Salzburg--but even right now it was exciting and nuanced as could be, her soprano dark yet thrilling.
I hope her voice doesn't outgrow the role before the Met's new production of the work is mounted for her in 2020-21--because it seems bigger and surer with every year. Right now, she can open her voice up to be heard over the combined forces of the Met's chorus, orchestra and colleagues--or tone it down for the Nile scene (with its show-stopping "O patria mia") and the tomb scene at the tail end of the piece, or mix it up with her "Ritorno vincitor" in Act I.
Of course, Netrebko didn't do it alone: This is no one-horse-shay of an opera, with many of the principals coming from Russia and the former Soviet republics.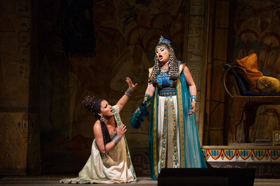 Under the whip-smart baton of Nicola Luisotti--and the ranks of the Met's amazing orchestra and chorus under chorus master Donald Palumbo--she had some wonderful colleagues on stage. In particular, there was the amazing mezzo Anita Rashvelishvili, who plays second fiddle to no one, as Amneris, Aida's love rival. Her huge voice--clarion yet distinctive--with perfect high notes and an earthy bottom, was a terrific match for Netrebko, as they blossomed together and competed with one another in their duets.
Other standouts were the stalwart Ramfis (the high priest) of Dmitry Belosselskiy, with his rolling bass and bass-baritone Ryan Speedo Green as the King of Egypt, who was the voice of authority. Soprano Gabriella Reyes made a notable impression in her extended solo as a priestess.
Then, there was the amazing baritone Quinn Kelsey, as Aida's father Amonasro, king of Ethiopia, who has stage presence and voice to spare. Often, his is the biggest voice on stage--I recall a particularly overwhelming Germont in TRAVIATA--though it wasn't that way here, with all the huge Slavic voices surrounding him like Superman: "more powerful than a locomotive."
Unfortunately, there was a big hole where the star tenor role should have been: Aleksandr Antonenko. Granted, these days, there seems to be a shortage of singers with the chops for the role, which is known as a "tenor killer," but Antonenko is no answer.
With no time to warm up before having to dive into his big aria right at the start of Act I (it comes with the territory in this role), he barked his way through "Celeste Aida." By Act II, he was marginally better, with some of the edge taken off his vocal delivery, but was never up to the company he kept. (It's too bad that Rashvelishvili doesn't have a better match for her Samson when she takes over as Dalila later in the run.)
It's hard to believe that the production, by Sonja Frisell (staged now by Stephen Pickover), with the monumental scenic design of Gianni Quaranta, lighting by Gil Wechsler and Dada Saligeri's costumes, is 30 years old. At least on this occasion, it seemed freshly minted and ready to last another decade or two. With its cast of thousands, live horses, chariots, ballets by Alexei Ratmansky and you-name-it, it was a fabulous spectacle that also happened to work wonderfully in the quiet moments.
So it was hip-hip hurray for La Netrebko--long may she wave.
Related Articles View More Opera

Stories