Interview: Bruce Stasyna of MARIA DE BUENOS AIRES at Lyceum Theater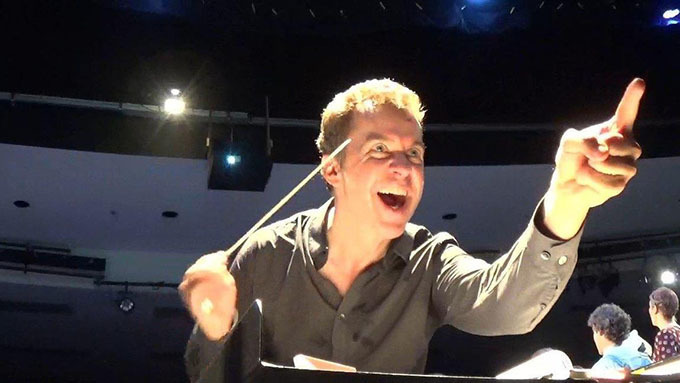 Bruce Stasyna, San Diego Opera's chorus master, will lead the orchestra in the company's upcoming production of Astor Piazzolla's Maria de Buenos Aires. We met in the Civic Center's Copper Room recently to discuss that, his career, and more.
I arrived early and heard Piazzolla melodies as I entered the hall outside the room. Stasyna was at the piano as mezzo-soprano Audrey Babcock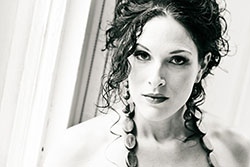 and others practiced tango dance-steps for the coming performance. It wasn't surprising to see the conductor at the keyboard for choreographic rehearsals. He has an advanced degree in piano performance and has accompanied several well-known opera singers in recital performances.
Entering the Copper Room, I noticed a small, well-behaved terrier was one of those enjoying the music. I learned that "Chewy" often travels with Stasyna, and helps him relax during breaks and after a demanding day. Chewy was nearby, often comfortably in Stasyna's lap, during our conversation.
The chorus master said his musical experience began with "requisite" piano lessons. When I asked what "requisite" meant, he laughed, "My mother made me take piano lessons!"
Since piano wasn't an option in high school, he chose the trumpet. "I played in the swing band, the jazz band and the concert band. And it was addictive, playing with cool guys who were already at a high level." The school had a strong music program. He learned to play trumpet and other instruments in several musical styles. That made it possible for him to earn his way through college by playing in Jazz and Caribbean bands.
Stasyna's first job with an opera-company was as a rehearsal pianist, or répétiteur to those in the trade. As his experience and reputation grew, he was asked to coach individual singers. Coaching allowed him, "To get inside the heads of the people who have to be on stage, and to understand what it is to breath well and sing beautiful lines while running around wearing 17 pounds of clothing under hot lights." Empathy and understanding led to relationships with singers, and he began to be asked to conduct backstage choruses. That led to chorus master, then banda conductor leading smaller ensembles on or backstage.
Stasyna said there were many influences and mentors among the conductors, singers, chorus masters and directors he has worked with. "Everyone good has an influence. The effect is cumulative. I wouldn't want to put one person on a pedestal at the expense of someone else." But he did mention a few people he has worked with whose artistry he admires. "Working with the conductor of the English Consort Harry Beckett a few times was a fantastic experience in my development." The MET's Chorus Master Donald Palumbo is another role model. "Watching the way he works
has helped me formulate my own approach." And from Bel Canto singers Maureen O'Flynn and Brenda Harris at the Minnesota Opera he "learned a lot about what it is to be an opera singer, and how to inhabit a role, but also how to be a fantastic colleague ... You absolutely must be part of the team."
I wondered if Stasyna had a favorite among the many types of positions he has held. He said, "I love all the hats I wear," but it was clear he Loves chorus mastering. "I've worked with some great choruses in Washington, New York City, San Diego and Minnesota."
His experiences as chorus master have ranged from humorous to inspiring. He recalled rehearsing the singers before his debut with New York City Opera's North American premiere of Anna Nicole. The libretto is replete with slang terms and references to Anna's physical attributes. He and the chorus laughed when he had to direct them to sections of the text that said things like, "Let's take it from 'You need yourself a new pair of &#%s!'"
The North American premiere of A Hand Maid's Tale, on the other hand, "Was an intensive, visceral, exhausting experience for everyone involved, and truly an exhilarating piece of theater. At the end of every production, when the curtain came down you could feel that the entire company had lived through something very unifying. It was an incredible bonding experience."
Though "terrified" when first asked to step in as orchestra conductor, after discussing it with many others Stasyna quickly became comfortable in the role. I commented that conductors seemed to have changed their approach to managing over the years. The autocratic 20th-Century conductor Artur Rodzinski was rumored to have carried a loaded revolver to Cleveland Orchestra rehearsals!
Stasyna said things have changed. "These days conductors are much more collegial, more inviting." And musicianship is strong among orchestra players. "These are people who are playing all the time every day in high-level orchestras ... You don't have to teach them. It's more about showing them what you want stylistically and getting them to go with you."
Stasyna's career has taken him up and down both coasts, and many places in between. He was in Denmark in November, and he and his wife Abigail recently spent their honeymoon in Argentina where he was able to research Piazzolla and tango for the upcoming opera. He said he loves travel, but it is stressful. "The idea of having a semi-permanent home to go to is pretty delightful ... I have two headquarters now, New York on the East coast and San Diego on the West." His wife has appeared as an actor and singer on the East coast and is scheduled to appear in a San Diego production in June.

Maria de Buenos Aires is a part of the company's "Detour Series" and will be performed four times at the Lyceum Theater, which seats a little over 500 people. The series features smaller-scale productions at various venues around the city. Stasyna said it has been an exciting success and is enticing a new audience. The San Diego Symphony is taking a similar approach with yearly "festivals" and has collaborated with the opera company to include Maria de Buenos Aires as part of this year's "It's About Time" festival.
Rehearsals are scheduled for roughly two weeks, but planning has been going on for months; it's a new production, and the work poses an unusual interpretative challenge. Piazzolla, himself a terrific jazz musician, neither expected nor wanted a literal interpretation of what is more typically the sacred score. That makes Stasyna's early experience in jazz bands invaluable. He said with Piazzolla, "Not all the notes are written out for the musicians. There's a certain amount of improvisation expected, and an understanding of how to perform tango." He is molding jazz-like performances that depend on the emotions of the musicians and vary from one night to the next. He is confident the orchestra and singers will master the idiom. "We're all excited about this production. We're doing long rehearsal days, and there's an energy here that is infectious." Three performances are sold out and few tickets remain for the fourth.
The bandoneon is the mandatory heart of a Piazzolla tango, and the conductor is pleased to have David Alsina as part of the orchestra. Alsina, a first-call choice for Piazzolla performances, was born in Buenos Aires.
Mezzo-soprano Audrey Babcock seems an excellent choice for the lead role. She has often given fiery interpretations of Carmen, and her irresistible laugh as she practiced tango dance-steps indicated she will enjoy being an equally fiery Maria.
Chewy was getting a lot of attention from singers and dancers as the interview wound down. Thanks to that, and days spent on Del Mar's Dog Beach, he appears to be happy in San Diego, as are Bruce Stasyna and his wife. They love the cultural scene, the restaurants, and the ocean, and are working on DIY projects for a recently purchased home in the area. Chorus master and conductor Stasyna is committed to working with the San Diego Opera as it continues to evolve and expand its audience.
For ticket and calendar information visit the San Diego Opera website.
Uncredited photos courtesy San Diego Opera.