Pop Barbarella Nova Miller's TURN UP THE FIRE Video Hits One Million Views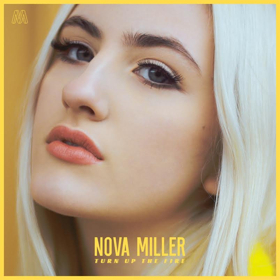 Pop barbarella NOVA MILLER's (21:12 Entertainment / BMG Records) gorgeous video for her new single "Turn Up The Fire" hit ONE MILLION views - watch HERE; The cinematic video for the new single was filmed on location in Iceland in 3 degree fahrenheit and directed by Nikeisha Andersson.
Released February 13th of this year, Nova Miller's dreamy video is a mesmerizing visual that plunges you into the middle of a winter wonderland. Nova shows off her dance artistry as she owns the icy backdrop in a ring of fire, and captivates with gorgeous water shots.
"Turn Up The Fire" is about passion, and having a burning desire for someone or something you can't live without. It's a fearless and strong love song that you won't be able to stop thinking about because it's so catchy." - Nova Miller
Watch the video here!
Nova Miller is an teen pop singer/songwriter from Sweden. She is signed to BMG Records/21:12 Entertainment and powerhouse agency UTA. Her interest in music began at an early age with both of her parents being tour musicians. Nova boasts an impressive five octave vocal range and plays multiple instruments including guitar and piano. Nova's retro style, soulful vocal and storytelling lyricism separate her from other teen comparisons, and she cites her musical influences as Aretha Franklin, James Brown, and Diana Ross. Nova's previous single and video "Anything For U" was released in August of last year. Outside of music, Nova is passionate about acting, and has appeared on the Disney Channel and plays the new fourth Powerpuff girl "Bliss" on Cartoon Network. She is also a vegan and activist for anti-bullying.