Joey Alexander New Recordings, High Profile Performances, New Videos & More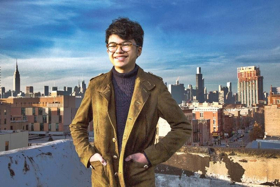 Following the release of his critically acclaimed Spring album Eclipse, three-time GRAMMY® nominee Joey Alexander embarks on an exciting fall that includes the release of new music, some high-profile U.S. performances and the unveiling of three compelling in-studio videos from his Eclipse sessions. Alexander shares his musical voice via two unique new jazz releases evoking themes of Faith, Goodwill and Peace. All showcase different facets the 15-year-old's expanding artistic depth and versatility.
Despite universally familiar traditions, Christmas has always been a holiday celebrated by each family and individual in their own personal style. On October 19, Alexander will unveil his own distinctive way to celebrate the holidays with his soulful and uplifting interpretations of the Christmas carol "O Come All Ye Faithful" and the beloved Gospel hymn "What A Friend We Have In Jesus."
Alexander refers to the Christmas season as "simply the best time of year," and as an artist who has routinely cited his faith as a central source of inspiration, the opportunity to record and release this music holds deep meaning for him. "My faith in Christ has helped keep me grounded," says Alexander. "I chose 'What A Friend We Have In Jesus,' because Christmas is really about our relationship with Jesus, above all the usual Christmas season traditions." As Alexander first experienced this Gospel song on Aretha Franklin's iconic 1972 recording, he comments that his new recording of the classic also doubles as a tribute to the Queen of Soul, who he has loved since childhood and considers a key influence.
Also in the spirit of creating music with deeper meaning, Alexander chose this year to participate in Legion of Peace, a jazz-based Children's music album with musical profiles of eight of our the world's greatest peacemakers, namely the Nobel Peace LaureatesDesmond Tutu, Malala Yousafzai, Leymah Gbowee, Jimmy Carter, Jody Williams, Ralph Bunch, Wangari Maathai and Muhammad Yunus (who provides the spoken word introduction to Legion of Peace.) Written and sung by GRAMMY®-nominated children's music artist Lori Henriques, Legion of Peace comes out on Motema on September 21 (to celebrate the U.N. International Day Of Peace) and also features fellow Motéma artists Pedrito Martinez and Oran Etkin.
"I became interested participating in Legion of Peace band after hearing the project's goals to promote peace, hope, and justice," reflects Alexander, who also included his own songs with similar inspiration titled "Peace" and "Faithful" on his Spring release, Eclipse. "I think musicians have to be a force for good in the world. I hope my music brings people together and touches them in many ways: encouraging them, bringing them joy and peace, and reaches them spiritually." Alexander, who anchors Henriques' quintet from the piano chair, also improvises four almost Ravelian solo-piano preludes on the project which reveal yet another side to his creativity.
June 2018, when Alexander turned 15, also marked the fourth year since he burst onto the New York jazz scene by performing at the Jazz at Lincoln Center's 2014 Gala at the Rose Theater in New York City. At the gala, then ten-year-old Joey Alexander performed his astonishing rendition of Monk's 'Round Midnight which inspired a spontaneous ovation from the astute audience, the Jazz at Lincoln Center Orchestra and the host Billy Crystal. After that momentous occasion, word spread quickly about the young family who had brought their extraordinary son to New York, so he would be able to progress further as an artist by 'playing with the best musicians.' What transpired next was one of the most rapidly ascendant careers ever seen in jazz. Now, four years, four releases and three GRAMMY® nominations later, the question of whether Alexander is the real deal, is no longer raised; the only question is, what will he do next? This year he returns to Rose Theater to perform with strings for the first time on October 19-20. "Joey Alexander with Strings" will showcase Alexander's original compositions from Countdown and Eclipse, as well as perhaps some Monk and some spiritual offerings (collaborating with acclaimed composer/arranger Richard DeRosa on string arrangements).
Alexander also looks forward this fall to unveiling three never before seen in-studio videos from his Eclipse sessions this fall: a five camera shoot of the recording of his composition "Faithful," featuring saxophonist Joshua Redman just released; a fascinating single camera video that witnesses the 'birthing' of the title-track "Eclipse" - a nine-minute opus of fiery creative improvisation recorded in reaction to the trio's experience of the August 21, 2017 solar eclipse which took place on the first day of the sessions (PREVIEW THE VIDEO BELOW); and on Thanksgiving day, the in-studio video of Alexander's soulful solo rendition of the Beatles' "Blackbird," in honor of the 50th Anniversary that day of that beloved classic.
Alexander will close out his fall schedule with a return to SFJAZZ's Miner Auditorium, December 13-16, where his trio will premiere new original compositions, Christmas songs and other surprises.
All in all it's been a highly productive year for the young artist, who in addition to a packed U.S. performing schedule has been honored internationally with invitations to perform at special events for the Louis Vuitton Foundation in Paris, The Asian Games in Jakarta, and for the 60th anniversary of relations between Indonesia and Japan taking place in Tokyo on September 25. The recording and release of Alexander's video "Bali" - filmed in his homeland and set to his composition of the same name - was also a highlight of the year for the young artist, who has emerged not only as an astonishing young player, but as a developing composer of note and a particular favorite at Jazz Radio. (Eclipse, which included six original compositions, spent a nearly unprecedented nine weeks at #1 on JazzWeek Radio Chart). When asked what's next, Alexander humbly responds: "As I play more of my original music, I enjoy and feel inspired to write even more." It's clear that the world can look forward more pleasing surprises from this dedicated young man.
Since coming to the United States in 2014, the response to Joey has been astonishing. The Bali-born 15-year old has experienced one of the most rapidly ascendant careers in jazz history. Since releasing his chart-topping albums, My Favorite Things (2015),Countdown (2016), Eclipse (2018), Joey has earned a combined three GRAMMY® Award nominations, making him the youngest jazz artist ever nominated for a GRAMMY® Award. His musical adroitness earned him appearances on the GRAMMY® Awards, The Today Show, CNN, as well as CBS 60 Minutes profile by Anderson Cooper, fueling a rare level of public notoriety for Joey as a jazz musician, both within the jazz community and among the public at large.
Photo Credit: Jimmy Katz
Related Articles
View More Music

Stories
More Hot Stories For You