Into The Valley 2018 Announces New Location and First Wave Of Acts Including Peggy Gou, Omar-S, Young Marco And Many More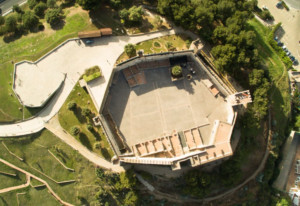 Into the Valley festival 2018 will take place next 28th to 30th September in Andalusia, Spain, with the amazing and ancient Castle of Sohail in the town of Fuengirola as main location. The ITV concept has been evolving through the years, and after last year's experience, we decided we needed a fresh start. This comes in the shape of a move, from the cold and rainy North to the sun at the very southernmost end of Europe. This is why the home to the next chapter of the Into the Valley legacy will be the bright and sunny Andalusian coast of Spain, with its breath-taking beaches, wonderful cuisine and warm exuberant people. The festival venue is the 1000-year-old Castillo Sohail.
A truly dreamy and mesmerising landscape, featuring historical castle ruins by the beach, next to the small town of Fuengirola - a remote but still accessible ocean paradise nestled in the Mediterranean coast. Just 30 kilometres from Malaga, the festival is easily reached by daily direct flights from most European countries. Castillo Sohail will be the center for the daytime program curated on the three stages open from noon until 23hs: The Castle, The Theatre and The Beach.
We will soon be presenting the night program, which will be equally amazing, but will be held in an industrial setting and will run be open nonstop to provide round the clock fun. Afterhours on Sunday, while the Beach Stage, which is the link between the festival and the local community, will open daily to the general public.
The first 13 artists from a total of 40 that will be announced today are: Acid Pauli, Amelie Lens Anastasia Kristensen, Charlotte Bendiks, Elena Colombi, Fatima Osman, Jessie Granqvist, Licaxxx, Natasha Diggs, Omar-S, Peggy Gou, Ulwhednar (Anthony Linell & Varg), Young Marco Together, Fuengirola City and the ITV family that extends over more than 70 countries, we aim to make ITV Spain 2018 the beginning of a new chapter, redefining culture in the beautiful Costa del Sol
Into the Valley - main festival with three stages
Open from 12.00 - 23.00 The Castle, The Theater, The Container
Into the Valley by Night:
From 23.00 - 07.00 venue tbc
Afterhours on Sunday 07.00 - 20.00, more details TBA
The Beach Stage is the link between the festival and the local community and will be open to the general public.
First tickets release (limited amount of tickets)
-ITV festival pass 28 - 29 September 12.00 - 23.00Price: First release tickets 69 euro + service charge
-ITV night pass 28 - 30 September 23.00 - 07.00Price: First release tickets 39 euro + service charge
-ITV festival and night pass 28 - 30 september 12.00-07.00Price: First release tickets 99 euro + service charge
-ITV plus tickets - day, night 12.00-07.00 + afterhours 30 september 07.00-20.00Price: First release tickets 139 euro + service charge
The second ticket release we will include day by day tickets.
Tickets: https://pulseradio.net/events/view/14902