Indian Pianist Utsav Lal Comes to Brooklyn This November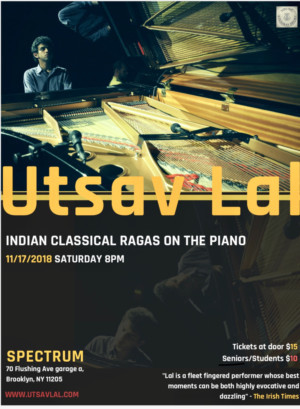 Young Steinway Artist and Yamaha Jazz Scholar, creative pianist/ composer Utsav Lal is a musician extraordinaire who has set a precedent with his innovative handling of Indian Classical Music.
Choosing to perform on an instrument traditionally considered unsuitable for Hindustani Classical Music, the 26 year old classical and jazz pianist blends his diverse influences in his expression and interpretation of Indian ragas and has performed at top global venues and festivals. The music is delivered with soul, sincerity and depth and has a powerful intensity that sweeps listeners into a transcendental journey. Lal has several albums available on a worldwide distribution including a historic solo recording on the worlds first ever Fluid Piano, released by the Fluid Piano Tuning label.
A disciple of Indian Dhrupad legend, Ustad F Wasifuddin Dagar, Lal completed his Bachelor of Music in Jazz from Royal Conservatoire of Scotland, Glasgow and a Masters in Contemporary Improvisation from New England Conservatory of Music, Boston. Lal's career spans over a decade with substantial solo performances and impressive collaborative work with well known Irish, Scottish and Indian musicians.
Solo piano rendition of Indian Classical Ragas by UTSAV LAL
Venue: SPECTRUM, 70 Flushing Avenue Brooklyn, New York, NY 11205
Date: Nov 17,2018
Time: 8-9 PM
Tickets: $ 15 ( Available at the door)