Cris Jacobs Releases Acclaimed New Album COLOR WHERE YOU ARE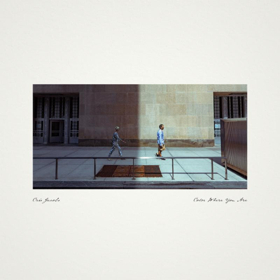 Today, Cris Jacobs releases his acclaimed new album Color Where You Are via Blue Rose Music. After years of extensive touring with diverse acts like Greensky Bluegrass and JJ Grey, as well as bigger headliners like Sturgill Simpson and Steve Winwood, Color Where You Are weaves Jacobs' soulful, signature blend of rock and Americana with lyrics that illustrate Jacobs' new place in life, personally and professionally. Thematically, Color Where You Arespans from Jacobs learning to recognize the divisive nature of the current socio-political climate to the joys and challenges of becoming a husband and new father; the album's title references Jacobs no longer having the luxury of waiting for inspiration to strike and learning to write "between tours, coming home, changing diapers, fixing things around the house... whenever I could." The album has received praise from Relix, JamBase, Glide Magazine, and The Washington Post, who commented that the album, "might be his finest yet."
As the follow up to his critically-acclaimed 2016 album Dust to Gold, Color Where You Are is Jacobs' most focused effort to date. Recorded in Richmond, Virginia, the album came together as a collaborative effort between Jacobs and band members Todd Herrington (bass), Dusty Ray Simmons (drums/percussion), and Jonathan Sloane (guitar), as well as guest keyboardist Daniel Clarke (k.d. lang, Ryan Adams), who also played a major role in the album's creation. Mixed by multi-GRAMMY winner Ryan Freeland, Color Where You Are is a deeply soulful delivery of styles, feels, and subject matter from a changed-for-the-better Cris Jacobs; still true to what his fanbase has grown devoted to, but with a confident step in a fresh direction. When asked what he wants to do with his music, Jacobs thoughtfully responds, "I'm trying to connect with people. To express real-life human emotions and make people feel things. To hopefully have people walk away feeling lighter or happier or more inspired to be a better person in some way after listening."
"Painted Roads", Jacobs' groovy meditation on "finding the magic in the ordinary, everyday miracles and not getting caught up in any race to the finish line" opensColor Where You Are. Like most of the album's songs, "Painted Roads" fleshed out in the studio; something Jacobs has usually not done in the past. "I booked the studio time with very little written and put a gun to my head," Jacobs says. "I had no choice but to just tap whatever emotional spaces I was in and whatever was going on around me and create as honestly as I could." While Color Where You Are is not a political album, per se, current events certainly played an inspirational role in the songwriting. Tracks like "Afterglow" and "Under the Big Top" explore that environment with encouraging, thoughtful criticism, never allowing the listener to stew on the negative. Through each song and narrative, the album never loses the soulful, jovial feel that is evident in songs like "Rooster Coop" and "We'll Act Like Strangers". "I just wanted some country funk on that one," Jacobs says of "Rooster Coop". "We started grooving on this lick I had and the first line that popped into my head was, 'There's something funky in the barnyard'. It wrote itself from there."
More on Cris Jacobs:
After a decade, five records, and 200 shows a year as principal songwriter and frontman for beloved Baltimore-based band The Bridge from 2001-2011, Jacobs wasted no time continuing to write music of his own and exploring different configurations for his craft. He released his debut solo album, Songs for Cats and Dogs, in 2012, and continued to perform relentlessly, both with his new band and as a solo artist. In doing so, he quickly garnered the admiration of a variety of predecessors and peers: rock legend Steve Winwood saw Jacobs perform in 2014 and soon invited him to open his national tour. The following year, Sturgill Simpson extended the same invitation. Never limited by genre, Jacobs and New Orleans heavyweight Ivan Neville recorded a collaborative album under the name "Neville Jacobs". As an adapting, evolving, versatile musician who has survived on his own merit, Jacobs continues to win over audiences of many tastes, as he brings his characteristic authenticity and soul to every set.
Catch Cris Jacobs on tour:
April 12 - Baltimore, MD - Union Craft Brewing
April 13 - Washington, D.C. - Pearl Street Warehouse
April 18 - Harrisonburg, VA - Golden Pony
April 19 - Richmond, VA - Broadberry
April 20 - Ardmore, PA - Ardmore Music Hall
April 27 - Baltimore, MD - Charm City Bluegrass Festival
April 28 - New Orleans, LA - Blue Nile
May 2 - New Orleans, LA - Maple Leaf Bar
May 3 - New Orleans, LA - Instrumenthead Exhibit at The Art Garage
May 9 - Raleigh, NC - Lincoln Theatre
May 10-11 - Aiken, SC - Aiken Bluegrass Festival
May 14 - Atlanta, GA - Smith's Olde Bar
May 15 - Nashville, TN - The Basement
May 16 - St. Louis, MO - Old Rock House
May 17 - Chicago, IL - Tonic Room
May 18 - Jasper, IN - Astra Theatre
May 25 - Thornville, OH - Dark Star Jubilee
June 6 - San Diego, CA - The Observatory North Park
June 7 - Monterey, CA - Golden State Theatre
June 8 - San Francisco, CA - Blue Rose Benefit at The Fillmore
July 4-7 - Quincy, CA - High Sierra Music Festival
July 11 - Snowshoe, WV - 4848 Music Festival