Charlie Farley's 'Hard Pills And Heartbreak' Album Coming Jan. 8
An autobiographical 11-track album.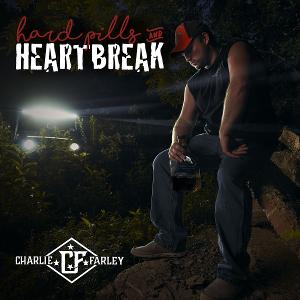 "Hard Pills And Heartbreak," an autobiographical 11-track album from country rap/hip hop artist, Charlie Farley, is set for release January 8, 2021. Produced by Phivestarr's Jared Scuillo and Justin "DJKO" Spillner the new album will be available on all online retail outlets via Charlie Farley Entertainment/Average Joes Entertainment. Pre-order/pre-save "Hard Pills And Heartbreak" today and instantly get the long-awaited new single, "Save Tonight For Me."
"I'm excited about this new album. The title itself, "Hard Pills And Heartbreak," says it's personal, and it is - very," commented Farley. "It's also a testament to how I've evolved as both a writer and singer. I think both my day-one fans and those who have never heard of me will find something to love about the new record."
"Hard Pills And Heartbreak" is a collection of songs that give insight into Farley's life over the past year. From hardship and heartbreak, to the emotional rollercoaster that has been 2020, Farley shares his life, struggles and journey to begin anew. Each song was co-written by Farley and features the Arkansas native's unique blend of country rap/hip hop. Themes of Farley's rural lifestyle are woven throughout and also reflect those of his dedicated fan base.
"This album embodies all of the highs and lows that go with a relationship," said producer Jared Scuillo. "Working with Charlie is always a great time. He is so quick and efficient in the studio and his talent is endless," said producer, Jared Scuillo. "We already have the next album after "Hard Pills And Heartbreak" written and, hopefully, we can get that out sometime early next year. We just want to keep the songs coming."
"Hard Pills And Heartbreak" Track List:
01 - Sick Of This Place
02 - Moments Like This (feat. Ryan Miller)
03 - Save Tonight For Me
04 - Made Me This Way (feat. Ryan Miller)
05 - Loving All Summer Long
06 - Boat In The Back
07 - A Little Too Far (feat. Ryan Miller)
08 - Begin Again
09 - Dixie Diamonds (feat. Ryan Miller)
10 - Hell And Heaven
11 - Hard Pills And Heartbreak
DeQueen, Arkansas native, Charlie Farley, has come a long way from making his own mix tapes and now finds himself one of the top streaming artists. Consumption of Charlie's music is in excess of 500 million streams across digital radio platforms and 100 million views on YouTube. His music was a staple on CMT's most popular show ever, "Party Down South." His songs mirror the carefree southern lifestyle as popularized by the highly rated show. In addition, his song, "Exposed," was the theme song for ProPatterns popular fishing show, "Exposed: Pros on Tour," broadcast on NBC Sports. Charlie appears on compilations and other Average Joes Entertainment releases with sales in excess of 500,000 units.