Award-Winning Singer/Songwriter Mark Wayne Glasmire's New CD Drops Today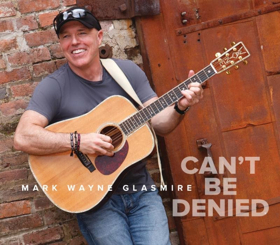 Mark Wayne Glasmire's new CD, CAN'T BE DENIED, drops today. The award-winning singer/songwriter's latest 12-track offering, co-produced by Glasmire and John Albani (Steve Azar, Monty Holmes, Randy Boudreaux), can be purchased from Amazon and CD Baby.
The new music is now resonating with fans of the popular Texas troubadour. This past weekend Glasmire celebrated the CD's upcoming release and previewed songs from the disc at Poor David's Pub in Dallas. Joining Mark onstage for the acoustic set were legendary keyboardist Brian Piper (Cab Calloway, Lou Rawls, Ella Fitzgerald, Jerry Jeff Walker) and talented multi-instrumentalist and in-demand session player Brady Redwine on mandolin, dobro, and guitar.
If audience response is a predictor of success, Mark's new single, "I've Got A Feeling" should shoot straight to the top of the charts. The mid-tempo sing-along is already impacting the International charts, riding the Top 5 this week, while the well-received companion music video is airing on The Country Network (TCN), the HOTDISC TOP 20 TV SHOW in HD, Sky TV Channel 376, "Keep It Country" and FreeSat.
Since the release of his 2009 CD, LIFE GOES ON, Mark has enjoyed hits on the MusicRow Chart and earned international acclaim with a string of #1s. His "I Like You" spent nine weeks in 2012 at the top of the Hotdisc International Chart and solidified his global fan base. He has shared the stage with Gordon Lightfoot, Dierks Bentley, Guy Clark, Kathy Mattea, Tracy Chapman, Jessie Winchester, Al Stewart, Bruce Robison, Rick Vito, Verlon Thompson, Roger McQuinn, Tom Paxton, Suzanne Vega, John Gorka, and more. Glasmire has performed at venues ranging from the CMA Music Fest to intimate night clubs, and he has toured on the national level for years. He has taken home first place honors in the B.W. Stevenson Memorial Songwriting Competition in Dallas, the Dallas Songwriters Association International Songwriting Competition and the GINA/LAWIM Songwriting Competition in Los Angeles, as well as the Grand Prize in the Country Song division of the 2010 Chris Austin Songwriting Contest at Merlefest. The Bethlehem, Pennsylvania-born native now lives in Arlington, Texas.