Aracely Arambula, Becky G, Gloria Trevi, Leslie Grace And Roselyn Sanchez to Host the LATIN MUSIC AWARDS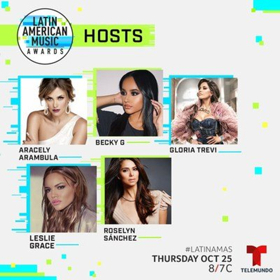 This year, Telemundo's Latin American Music Awards (Latin AMAs) will celebrate the contributions of Latinas in music. The three-hour special will present a series of vignettes that will feature singers who have paved the way for new generations. Through key performances of the evening, the show will also focus on those artists who are reaching new heights and creating an impact in today's music world not just by themselves but through innovative collaborations. In addition, in an unprecedented move, the entire show will be hosted by a formidable group of women, as Aracely Arambula, Becky G, Gloria Trevi, Leslie Grace and Roselyn Sanchez take center stage as the official emcees of the coveted awards show that will broadcast live on Thursday October 25, 2018 at 8pm/7c, preceded by the one-hour carpet pre-show "La Alfombra de Latin AMAs" at 7pm/6c. The show will also air simultaneously on Spanish-language entertainment cable network, Universo and in 20 countries throughout the Americas via Telemundo Internacional. Tickets to the awards show are on sale via Ticketmaster and the Dolby Theatre box office.
As part of this celebration, the hosts will also form part of a panel about the contributions of Latinas in music, which will take place October 23 at the Los Angeles Film School and will be moderated by Leila Cobo, Executive Director, Latin Content and Programming for Billboard. This movement seeks to inspire today's female artists, so that they can continue to be true agents of change in the industry, as well as those students that are entering the field and want their voice to be heard and their own stories told.
Internationally-acclaimed Mexicanstar Aracely Armbula has an artistic career that spans over 18 years as an actress, host and singer. She has starred in dozens of highly-rated novelas in Mexico and around the world, such as "Acapulco, Cuerpo y Alma" "Caaveral de Pasiones" and "El Alma no Tiene Color." She garnered her first leading role in "Pueblo Chico Infierno Grande," playing the young Veronica Castro. This was followed by an antagonist role on "Rencor Apasionado" and months later the successful teen telenovela "Soadoras," which gave way to her leading role on "Abrzame muy fuerte" that consolidated her as an actress. "Las vias del amor" reaffirmed her success and her launch as a singer since she interpreted the theme song. Arambula launched her first album "Solo Tuya" in 2002, ranking on the Billboard Latin Music Albums chart. She joined Telemundo in 2013 with "La Patrona", which became the highest rated 9pm series in Telemundo history. She then starred in "Los Miserables" in 2014 and "La Doa" in 2016, and she has interpreted the theme songs for each one. In 2018 she hosted "MasterChef Latino," which garnered worldwide success.
At twenty-one years old, singer, songwriter and actress Becky G has a long list of successes in her multifaceted career, including two No. 1 hits on the Billboard Latin Airplay Charts ("Mayores" and "Sin Pijama"), starring roles in "Power Rangers" and "A.X.L.", and guest-starring in Fox TV's Emmy-winning"Empire" series.Becky G has toured alongside Katy Perry, Demi Lovato, J Balvin, Fifth Harmony and Jason Derulo and has recorded collaborations with Pitbull, Daddy Yankee, Bad Bunny, Yandel, and CNCO, among others.The Mexican-American recording artist is working on two upcoming albums, one in Spanish and the other in English. Becky was recently honored by her home city of Inglewood, California for her contributions to the Hispanic community. Recognized as one of Rolling Stone's,"18 Teens Shaking Up Pop Culture" and one of Billboard's "21 Under 21," Becky's singing, acting, writing and production talents make her a major force to be reckoned with.
Mexican singer and composer Gloria Trevi is one of the most renowned names in Latin entertainment. Known for her unique and intense voice, as well as passionate lyrics, Trevi has released 13 albums and composed over 500 songs. Gloria Trevi has had 12 songs on the Billboard Hot Latin Songs chart. Four of Trevi's albums went No.1 on the Billboard Top Latin Albums chart, Gloria in 2011, El Amor in 2015, Immortal in 2016 and Versus in 2017. In 2017, BMI recognized her with "The President's Award" celebrating her career as a composer. At the heels of her record-breaking "Versus World Tour", on October 18th, Gloria Trevi will be inducted into the Latin Songwriters Hall of Fame at the 2018 La Musa Awards to be held at the James L. Knight Center in Miami.
Since her professional debut at 16, multi-talented singer and songwriter Leslie Grace has made a significant impact in the music industry, becoming the youngest female Latin artist to reach No. 1 on Billboard's Latin Airplay chart in 2012 for her self-titled album's lead track "Will You Still Love Me Tomorrow." This year, gearing up for the release of her second full-length album, Leslie released her new single, "Duro y Suave" featuring Noriel, which received two Platinum Record Certifications in Spain and the U.S., and its video boasted more than 100 million views. Leslie received her first RIAA Platinum Certification for her collaboration with Becky G, "Diganle," which exceeded 110 million views on YouTube. She is the first Latin artist to collaborate with a KPop band with the single, "Lo Siento," with Super Junior, and she has also joined forces with Becky G once again, this time recruiting Latin boy band CNCO to give fans the remix of the hit "Diganle," which became an instant favorite and grossed over 70 million views in YouTube in its first month.
Renowned Puerto Rican actress, singer and producer Roselyn Sanchez made her movie debut in 1992 with "Captain Ron," filmed in Puerto Rico, and starring Martin Short and Kurt Russell. Her break on TV came the same year as one of the leading dancers in variety show "Qu Vaciln." Her extensive Hollywood career includes acting roles in blockbusters "Rush Hour 2," "Boat Trip," "Basic," "Chasing Papi," "The Game Plan," and "Act of Valor," among many others. On TV she personified FBI agent Elena Delgado in "Without a Trace" in 2005. Her other TV roles include "As the World Turns," "Kojak," "Dragnet," and a starring role as Carmen Luna on all four seasons of Lifetime comedy-drama series "Devious Maids." In music, Sanchez earned a Latin Grammy nomination for "Amor Amor" in 2003, the first single of her first album Borinquea. Most recently she was seen in a starring role in indie thriller "Traffik," and will soon star as Gigi Cardenas in the upcoming ABC drama "Grand Hotel."
The Latin AMAs features performances by artists that are relevant to Latinos, regardless of language, including Alvaro Soler, Anitta, Banda MS de Sergio Lizarraga, Becky G, Christian Nodal, CNCO, Daddy Yankee, Flo Rida, Farruko, Gloria Trevi, Joss Favela, La Arrolladora Banda El Limon de Rene Camacho, Lele Pons, Leslie Grace, Ludacris, Maluma, Nacho, Pitbull, Prince Royce, Tini, Wisin y Yandel and Zion & Lennox.
Top nominees this year include J Balvin (9), Ozuna (9), Nicky Jam (8), Daddy Yankee (6), Bad Bunny (5), Banda MS de Sergio Lizarraga (5), Christian Nodal (5), Luis Fonsi (4), Maluma (4), Romeo Santos (4), Shakira (4) and Wisin (4). Produced byTelemundo and Somos Productions, the fourth annual Latin AMAs pays tribute to today's most influential and iconic Latin artists, as voted by the fans in the tradition of the "American Music Awards," the world's largest fan-voted award show. The complete list of nominees can be found at LatinAMAs.com - the official website of the 2018 Latin AMAs.
For the latest news, be sure to follow the Latin AMAs on social and join the conversation by using the official hashtag #LatinAMAs.
About dick clark productions
dick clark productions (dcp) is the world's largest producer and proprietor of televised live event entertainment programming with the "Academy of Country Music Awards," "American Music Awards," "Billboard Music Awards," "Golden Globe Awards," "Dick Clark's New Year's Rockin' Eve with Ryan Seacrest" and the "Streamy Awards." Weekly television programming includes "So You Think You Can Dance" from 19 Entertainment and dcp. dcp also owns one of the world's most unique and extensive entertainment archive libraries with over 60 years of award-winning shows, historic programs, specials, performances and legendary programming. dcp is a division of Valence Media, a diversified media company with divisions and strategic investments in premium television, wide release film, specialty film, live events and digital media. For additional information, visit www.dickclark.com.
About Somos Productions
SOMOS Productions, LLC is an independent audiovisual content production company led by professionals with decades of experience producing talk shows, soap operas, dramas, specials and variety shows, among other genres. SOMOS Productions guarantees its clients reasonable production costs and top quality, supported by flexible structures, access to suitable facilities, equipment and with operational experience in handling complex products. The company has successfully delivered and is active in important production projects in the United States and Latin America.
About NBCUniversal Telemundo Enterprises
NBCUniversal Telemundo Enterprises is a world-class media company leading the industry in the production and distribution of high-quality Spanish-language content to U.S. Hispanics and audiences around the world. This fast-growing multiplatform portfolio is comprised of the Telemundo Network and Station Group, Telemundo Deportes, Telemundo Noticias, Telemundo Global Studios, Universo and a Digital Enterprises & Emerging Business unit. Telemundo Network features original Spanish-language entertainment, news and sports content reaching 94% of U.S. Hispanic TV households in 210 markets through 28 local stations, 51 affiliates and its national feed. Telemundo also owns WKAQ, a television station that serves viewers in Puerto Rico. Telemundo Deportes is the designated Spanish-language home of two of the world's most popular sporting events: FIFA World Cup through 2026 and the Summer Olympic Games through 2032. Telemundo Global Studios is the company's domestic and international scripted production unit including Telemundo Studios, Telemundo International Studios, Telemundo International, as well as all of the company's co-production partnerships. As the #1 media company reaching Hispanics and millennials online, the Digital Enterprises & Emerging Business unit distributes original content across multiple platforms, maximizing its exclusive partnerships with properties such as BuzzFeed, Vox, and Snapchat. Through Telemundo Internacional, the largest U.S.-based distributor of Spanish-language content in the world; and Universo, the fastest growing Hispanic entertainment cable network, the company reflects the diverse lifestyle, cultural experience and language of its expanding audience. NBCUniversal Telemundo Enterprises is a division of NBCUniversal, a subsidiary of Comcast Corporation.