Click Here for More Articles on FOOD & WINE
THE BOWERY BEER GARDEN in Chinatown Serves Up a Great Drinking and Dining Experience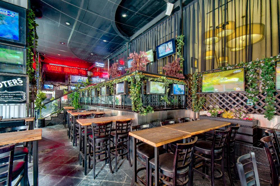 Editor's Note: This article is by Broadwayworld.com's guest contributor, Matt de Rogatis.
The Bowery Beer Garden, located at 93 Bowery in Manhattan, is a beautiful open air, indoor/outdoor space equipped with 80 high definition televisions and over three-dozen rotating on-tap beers. On an August Monday, a friend and I had an opportunity to sit down and try out some items on the menu at this sleek Chinatown eatery. It's a year-round neighborhood hotspot for dining and drinking.
Greeted by Michael Honors, the Manager of Bowery Beer Garden, we immediately were made to feel at home. Mike took us to our table and spent some time talking to us about the place, when it was built, what they were known for (try the Oysters) and what their vision for the future was.
To get things started we went straight to the cocktail menu and ordered the "Fall off the Tramcar" which is comparable to a mojito with a twist of watermelon. It was a light and refreshing summer drink with enough kick for the party crowd. But act fast, summer is almost over and in this city of ever changing seasonal cocktails, The Tramcar will soon be leaving town.
Next came the app. The Bowery NYC chicken nachos had great, creamy cheese with a little bit of spice but the most important element was that they were incredibly crisp throughout. Come on, you know what it's like to eat nachos at most other restaurants. The top ones are nice and crunchy, then as you make your way to the bottom, the chips are soft and the meat is gone. The Bowery Beer Garden has cracked the code on the soggy nacho epidemic that has plagued us all since Ignacio Anaya invented them in 1943. Chef Hector de los Santos takes giant tortillas, expertly cuts them into sections and deep-fries them to create an endless sea of crunchy chips. The Bowery Beer Garden Nachos definitely deserve an A+.
For the main course, my friend ordered the Southern Fried Chicken burger and tater tots. He was impressed that it was lightly fried, yet still tender and crispy. I'm a burger connoisseur and so I went right for one of their best sellers, The Bowery Burger. I can't tell you how many times I have gone out to a restaurant, ordered a burger rare and got it back medium and just ate it anyway. Congrats to the The Bowery Beer Garden for getting it right. With delicious Pat LaFreida beef, this burger is a winner.
After our meal Michael gave us a tour of the restaurant and then brought us downstairs to their nightclub, Mr. Wu's Basement. Every Tuesday to Sunday night live DJ's spin the hottest tunes. Wednesday nights are particularly special. That's when Eminem's DJ, The Green Lantern, plays for a crowd of over 200. And you never know if Slim Shady himself might show up.
Mr. Wu's has two giant projection screens in the basement too so you can drink and dance and still watch the all the big games of the upcoming NFL Season. With 15 cable boxes and the DIRECTV Sunday ticket, The Bowery Beer Garden is capable of showing every NFL game, every week. And all the top college games too.
Here's some great news for out-of-towners. The Bowery Beer Garden is located at the bottom of the Wyndam Garden Hotel so book that trip to the Big Apple and check out one of the coolest new spots on the Bowery!
As for the tried and true New Yorker, give this spot a chance. There's something for everyone.
The Bowery Beer Garden is located 93 Bowery, New York, NY 10002. Contact them by calling 212.343.8111, e-mail TheBoweryBeerGarden@gmail.com and visit their web site http://thebowerybeergarden.com/. Check their web site for events and specials. The venue is also available for group gatherings. You can follow The Bowery Beer Garden on Facebook, Twitter, Instagram and YouTube.
Meet our Guest Contributor, Matt de Rogatis
Matt de Rogatis is a stage actor based in New York City. When he is not performing, he enjoys reading, writing, and collecting vintage baseball cards. His interest in food spans a wide range of tastes and experiences, but Italian and Indian are two of his favorites. You can follow Matt on Twitter and Instagram @themightydero.
Photo Credit: Courtesy of Bowery Beer Garden
Related Articles
More Hot Stories For You