Master Mixologist: Alex Mouzakitis of HandCraft Kitchen & Cocktails
Alex Mouzakitis is the Beverage Curator of HandCraft Kitchen & Cocktails in the Gramercy Neighborhood of Manhattan. As a Long Island native, Alex discovered that he liked tending bar while working behind it at TGI Fridays in 2006. He has been bartending ever since - from high-volume bars to quiet "old man" watering holes - delving into the world of cocktails and honing his skills in the craft.
Alex credits his time as the bar manager and cocktail menu creator at William Hallet, a small bistro in Astoria, as being the first time he "really started doing some weirder stuff with cocktails," and perfecting his technique. Since he was living in Astoria at this time (2013), he had more access to the wealth of cocktail bars in the city and says that opened his mind to the limitless nature of creating cocktails. It also offered him the opportunity to explore the world of craft beer, which is a large part of HandCraft Kitchen & Cocktails' beverage program.
In addition to his many talents for crafting the perfect cocktail, Alex is a master of infusions, always experimenting with new flavor combinations. Recent pairings include pineapple and Thai chili infused bourbon that he uses in a spicy lemonade, and chocolate and habanero infused mezcal that he's mixing with espresso. He is also a fan of the classics, working them into HandCraft's beverage offerings. "I like classics that work really well with multiple spirits, such as sours and Negronis. I've never met a sour I didn't like!"
While HandCraft Kitchen & Cocktails aims to elevate the overall bar experience for its customers, Alex personally sees to it that every guest feels as comfortable sitting at the bar as he and his fellow bartenders do serving them from behind the bar. "This business is about hospitality. When you make a guest feel comfortable, they are more likely to return and try a cocktail that may be out of their comfort zone."
Alex holds a Bachelor's Degree in Psychology from Stony Brook University and currently lives in Astoria.
Broadwayworld.com had the pleasure of interviewing Alex Mouzakitis of HandCraft Kitchen & Cocktails for our "Master Mixologist" feature.
When did you first become interested in the cocktail culture?
I really became interested in cocktails when I first moved to NYC. I had been tending bar for a long time but it was mostly high volume. Living in NYC working at a very small cocktail forward bistro introduced me to a world I didn't know existed. It was the first time I realized that people actually appreciated a well-crafted cocktail.
What innovations in mixology and bartending do you find fascinating? (This can be new products, liquors, seasonal ingredients, etc.
It's not a totally new product and I may be behind the times a bit. But I have been playing with an iSi whip creamer a lot. The ability to make a flavorful infusion very quickly has proven to be invaluable when experimenting with new flavor combinations.
How do restaurant and bar guests encourage your creativity?
Bar guests contribute a very good amount of inspiration probably without realizing it most of the time. I have always been very attentive to what people are saying. Whether its fine tuning a recipe's sweetness, or coming up with a completely new cocktail, my customers are usually pretty honest. This is why I usually run new cocktails as a special before I add them to the list. Customer feedback is vital to my creative process. Sometimes I'm not sure what element a cocktail is missing and many times a guest has helped me fill in that blank.
What are your preferred "classic cocktails" and why?
Really any sour I would consider my favorite. It is such a flexible drink. I like classics that work really well with multiple spirits. I've never had a sour I didn't like. Negronis are big in my book too for the same reason. I like the flexibility of subbing out the gin for something else.
What are some of your favorite infusions and how you like to use them in drinks.
Two of my all time favorites are actually both spicy. First was a pineapple and thai chili infused bourbon. Sounds odd, but it made an excellent summertime spicy lemonade that was surprisingly refreshing. Just recently I made a chocolate and habanero infused mezcal that I'm mixing with espresso.
Tell us about a few of your signature cocktails and why they are distinctive.
I like to have fun with my signature cocktails. One of my favorites right now is the Endless Summer. When we were changing over to the fall cocktail list it was unseasonably warm in NY. I made a very tiki-esque blue drink. Really didn't want it to be super sweet, which is the usually criticism of blue drinks. Everyone remembers a blue drink on vacation that gave them a killer hangover. The fact that our Endless Summer is balanced and a little funky helps change the guests' perception. When you are expecting super sweet and you get balanced and little weird it's a fun surprise. My other favorite cocktail right now is hands down the House Punch. We make a somewhat traditional clarified milk punch. It's always changing depending on time of year. At this moment it's pretty much a milk washed veux carre, but in a couple of weeks we are going to change it over to mezcal and absinthe based. t's fun to have a cocktail on the menu that is always there but always changing.
Give us your perfect pairing for a cocktail and a culinary selection.
I'm not sure I would call this a perfect pairing but I made a gin based cocktail with watermelon basil and balsamic vinegar that I thought paired perfectly with caprese salad. So much so that I ended up creating a snack like a garnish in the form of a grape tomato and a small fresh mozzarella cheese ball.
Tell us a little about your company or restaurant.
We opened the doors to HandCraft Kitchen & Cocktails about 3 years ago. Like the name implies, we have tried to be true craft across the board while still remaining approachable. The cocktail and craft drink world can be intimidating. strive to make every guest feel as comfortable sitting at the bar as we do serving them from behind the bar. Hospitality is what drives this industry. If you make a guest feel welcome they are more likely to return by try something outside of their comfort zone at HandCraft Kitchen & Cocktails.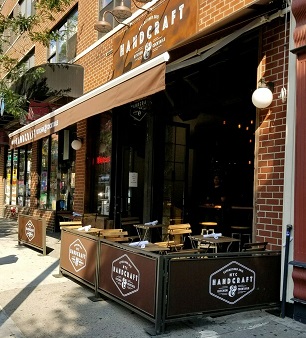 HandCraft Kitchen & Cocktails is located at 367 3rd Ave. (between 26th and 27th St.) New York, NY 10016. They are in the center of the Gramercy neighborhood with convenient subway lines nearby. Call them at 212.689.3000 or visit http://handcraftnyc.com/.
Photo Credit: Courtesy of HandCraft Kitchen & Cocktails