Click Here for More Articles on FOOD & WINE
JONES WOOD FOUNDRY on the UES Presents Special for St. Patrick's Day on 3/16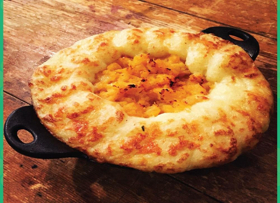 Jones Wood Foundry, the popular restaurant on 76th Street between 1st Avenue and York Avenue, will weigh in with something that stands out from the common boiled corned beef and cabbage fare.
Their Corned Beef & Cabbage Pie, the St. Patrick's Day de rigueur culinary duo, is encased in Chef/Owner Jason Hicks' signature rich savory suet crust and topped with buttery mashed potatoes. This truly singular dish will be served on parade day, Saturday March 16 starting at 11 a.m. until closing for $19. Of course Guinness is always on tap at Jones Wood Foundry as the ideal Hibernian accompaniment.
Jones Wood Foundry is located at 401 East 76th Street. For more information, please visit https://www.joneswoodfoundry.com/.
Photo Credit: Courtesy of Jones Wood Foundry