Click Here for More Articles on FOOD & WINE
CHAPEL DOWN English Sparkling Wine for Champagne Enthusiasts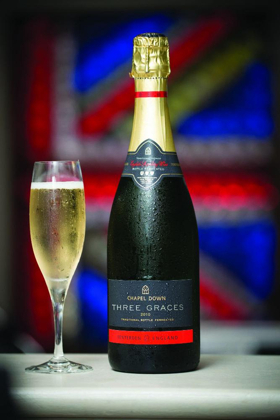 Chapel Down is the sparkling wine for champagne enthusiasts and the brand is the leading bubbly produced in England. English sparkling wines are gaining a lot of attention as their quality has reached a new level of excellence. Chapel Down is a superb sparkling wine that you can enjoy on special occasions, with your favorite cuisine, and as an anytime sip.
The success of the Chapel Down sparkling wine can be attributed to the fine growing conditions for grapes. The terroir in the Southeast regions of England is very similar to that of Champagne with its chalky soil, gentle rolling hills, and a temperate climate.
Chapel Down has been awarded "Chairman Trophy" in the "Champagne & Sparkling Wine Category" at the Ultimate Wine Challenge competition in New York City in June of 2017. It earned 94 points for Chapel Down Three Graces 2010, and 92 points for Chapel Down Brut.
We also like that Chapel Down actively supports the arts. It is the official sparkling wine of London's Donmar Warehouse, a theater that has brought productions to Broadway including Les Liaisons Dangereuses last fall and The Tempest earlier this year. In fact, Chapel Down was served at the opening party of The Tempest in New York City.
Frazer Thompson, Chapel Down CEO stated, "We passionately believe that there is no point in just trying to be the best. You have to be the only people who can do what you do. We want to be better, but we also want to be different."
Chapel Down is now available in New York, Connecticut, Massachusetts, and Pennsylvania. Other states in the South and in the West will follow in the coming months.
In New York, Chapel Down is available in restaurants including The Shakespeare at the William Hotel, Jones Wood Foundry, Grand Central Oyster Bar, Buddakan, Indochine, and in retail stores including Union Square Wines & Spirits, Crush, and Bottlerocket.
Chapel Down Three Graces 2010 is made from 60% Chardonnay, 33% Pinot Noir, and 7% Pinot Meunier and it retails for $49.99. Chapel Down Brut Non-Vintage is made from 44% Chardonnay, 38% Pinor Noir, 11% Pinot Blanc and 7% Pinot Meunier and it retails for $39.99.
ABCK Corp is the official representative for Chapel Down in the United States. For more information, contact info@abck-corp.com.
Photo Credit: Courtesy of Chapel Down

Related Articles
Marina P. Kennedy writes articles and reviews for Broadwayworld.com on productions in New York City and New Jersey. She is the Editor in Chief of (read more...)