Click Here for More Articles on FOOD & WINE
BWW Review: VANILLAMORE in Montclair, NJ for a Creative Cafe Experience
You'll love Vanillamore. This charming café in the heart of downtown Montclair serves savory menu items, luscious desserts, and so much more. They are open Tuesday through Sunday for lunch, dinner, weekend brunches, specialty beverages, and afternoon tea.
Vanillamore's inviting menu has been created by owner and chef, Risa Boyer whose creativity is evident in every dish that is served. And guests will enjoy the attentive and helpful service that makes your visit a total pleasure.
We stopped by Vanillamore on a Wednesday for lunch with a few friends and ordered an array of small plates. It's a wonderful way to relax and enjoy a taste of the house. There are customer favorites that can always be found on the menu but there are also daily and seasonal specials. Vanillamore sources the finest and freshest ingredients.
A great starter is their Cured Meat & Artisanal Cheese board with a choice of 3 or 6 items. Choices include meats like Sopressata, Duck Salami, or Prosciutto de Parma and cheeses like Manchego, Brie de Meaux, or Red Dragon Cheese. It can be a meal in itself, but don't stop there. You'll want to try the moist, flavorful Turkey Meatballs with Ginger Scallion Sauce. We especially enjoyed the Dips & Spreads with White Beans, Romesco & Roasted Eggplant.
There's nothing better than toasts for a light meal or for table sharing. Vanillamore offers some of the best we've ever had like Curried Chicken Salad with grapes & scallions, the Brie & Fig with Lavendar and Honey or the Roasted Cauliflower with Romesco Sauce and Sunflower Seeds. The Farro Bowl is a house specialty with spinach, butternut squash and lemon. Add some tasty snacks to your meal like Sweet Potato Chips or Smoked Paprika Popcorn. And for people on the go, lunch items are available for take out.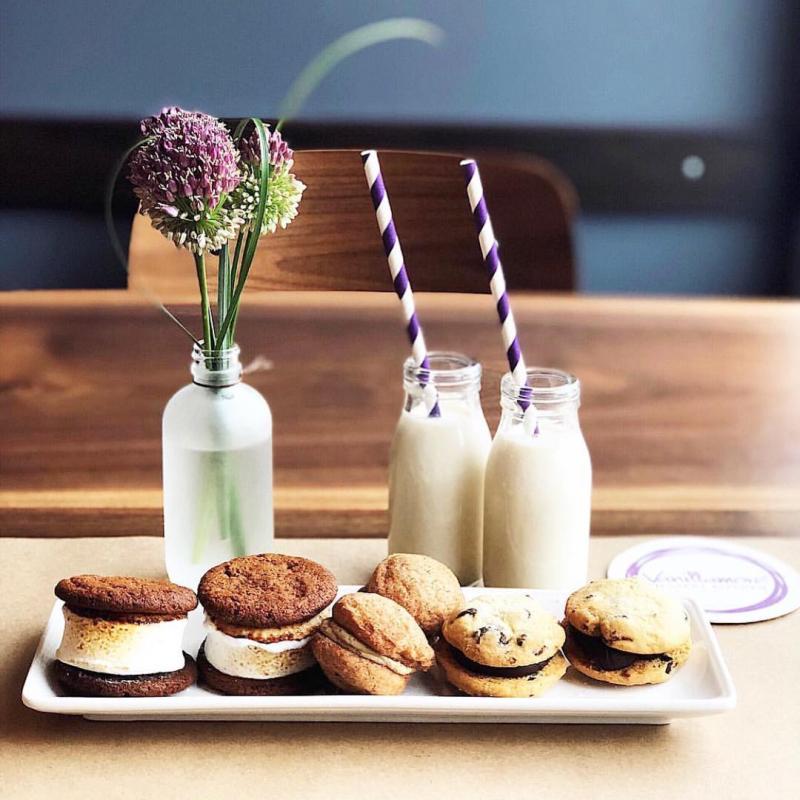 Vanillamore is renowned for their desserts and we love they way they are served with Dessert "Charcuterie" Boards, Dessert Tapas, and Dessert Flights. We indulged in their Chocolate Charcuterie. It had an ideal selection of delectable choices that included their Dark & Milk Chocolate "Salamis," Espresso Caramel, Candied Almonds & Hazelnuts and Chocolate Shortbread. We plan to come back for the S'mores tapas and the Ginger & Spice flight.
Beverages are so tempting. Hazelnut Hot Chocolate, Hot Vanilla, Coffee. Espresso, Cold Brew, a selection of teas, and specialty drinks that include Fever Tree Ginger Beer or Saratoga Sparkling Water will round out your meal experience. They are also BYOB establishment so customers can bring their favorite beer or wine to pair with their food.
Vanillamore slogan says that they are "Sweet, Savory, and Social." After a delightful lunch, we completely agree. Their location in Montclair is great for entertainment buffs, just a block away from Wellmont Theatre and a short walk from the Montclair Train Station.
Be sure to stop by the Vanillamore Shop whenever you are in town to pick up some treats and gifts. They also have special events that are great for food lovers of many tastes. On June 2nd they are having "Spring Cheese Tasting and Pairings" with Marie. Private parties can be accommodated and special occasion cakes can be ordered.
Vanillamore is located at 349 Bloomfield Avenue, Montclair, NJ 07042. Call them at 973.707.5373 and visit https://www.vanillamore.com/. Follow them on Facebook and Instagram.
Editor's Note: Meet Risa Boyer, Vanillamore's owner and chef. /bwwfood-wine/article/Chef-Spotlight-Risa-Boyer-of-VANILLAMORE-in-Montclair-NJ-20180125.
Photo Credit: Courtesy of Vanillamore
Related Articles