BWW Preview: 2nd ANNUAL TASTE OF EAST VILLAGE 9/16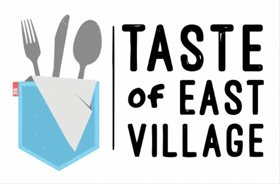 On Saturday, September 16th, the 2nd Annual Taste of East Village is taking place on East 7th Street (between Cooper Square and 2nd Avenue) from 12pm to 5pm.
The event is a celebration of the neighborhood's diverse local cuisine and a tasting of local eats from Luke's Lobster, Porsena, Veselka, Porchetta, Insomnia Cookies, Brick Lane Curry House, Jimmy's No. 43, Le Petit Parisien, and more. Many of last year's participating restaurants and eateries are returning and new ones are joining the event.
The festival benefits the Cooper Square Committee, one of the city's strongest advocates for tenant rights and affordable housing. CSC has developed over 500 low-income apartments in the East Village/Lower East Side community, and is about to open the Bea Arthur Residence for homeless LGBT youth. They have also worked in coalition with other housing groups to win passage of a dozen bills in the City Council to strengthen tenant protections.
You can buy your ticket at the ticket booth the day of the event, but it's less expensive to buy it advance. Each ticket is now $25 or $30 at the door. To purchase tickets and for more information, visit: https://coopersquare.org/.
Photo Credit: Courtesy of Cooper Square Committee