POSTPONED: Updated CHAPLIN is Coming to Nazareth College in April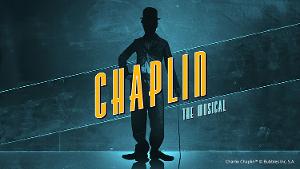 *Due to COVID-19, this event has been postponed, with plans to reschedule for Fall 2020.*
CHAPLIN, the musical based on the life of silent film star Charlie Chaplin, is getting an update! Creators Christopher Curtis and Thomas Meehan reworked Chaplin as it toured seven countries around the world starting in 2015 before Meehan's passing in 2017. The show continues to evolve for the upcoming performances at Nazareth College of Rochester, April 16-19 2020. Nazareth College is the first college to perform the new version of the musical. Broadway actress Valerie Wright is set to direct. Some of her credits as a performer include Broadway's TUCK EVERLASTING, ELF, ANNIE GET YOUR GUN, and a 1994 Helen Hayes winner Outstanding Lead Actress THE WORLD GOES ROUND) is set to direct, with musical direction by Corinne Aquilina program director for musical theatre at Nazareth College, (Broadway pit for THE BOYS FROM OZ; ANNIE, musical director for North American tour of FROM HERE TO ETERNITY).
"It's a newly updated script with seven new songs," said Christopher Curtis. "Charlie's story is universal. We all have identities we create to deal with the hardships of childhood and we don't let people see beyond those identities. It's about learning to let someone love you for who you really are."
CHAPLIN spans the comic's entire career, from his first performance as a child in 19th-century London to his tearful acceptance of an honorary Academy Award in 1972. Featuring an original score by Curtis, including "Look at All the People," "Just Another Day in Hollywood" and "This Man," Chaplin tells the touching story of the man who makes the world laugh as his legendary screen persona, the Tramp, but struggles to find happiness in his own life.
"Charlie Chaplin knew almost immediately upon his arrival in Hollywood that films could do more than chase, kick and throw pies," said director Valerie Wright. "At a time when he seemed to be a lone voice, his deep instinct and endless talent drove him to create and enrich and eventually comment on life, humanity and the social sorrows we so easily are capable of inflicting on one another."
CHAPLIN premiered on Broadway at the Ethel Barrymore Theatre in August 2012 and closed in January 2013 after 136 performances. Under co-creators Christopher Curtis and Thomas Meehan, the original Broadway production starred Rob Mclure, who was nominated for a Tony Award for his performance. In addition to his work on CHAPLIN, Christopher Curtis is writing songs for Pearl Studio's Over the Moon with Marjorie Duffield, and Helen Park (KPop), a world premiere animated film exclusively for Netflix, by Academy Award-nominated animator Glen Keane. The film will be released in 2020, theatrically in China, and to Netflix members around the world.