The OMNI Ensemble Continues Its 36th Season With Trios Plus!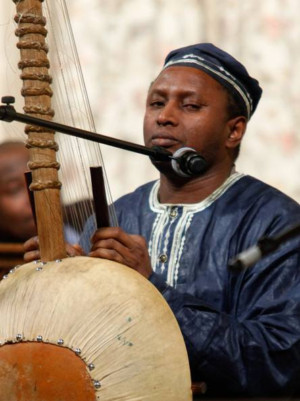 The OMNI Ensemble will continue its 36th season of concerts at the Brooklyn Conservatory of Music on Saturday, March 23, 2019 at 8:00 pm. The program will feature music for flute, cello and piano. Also being performed are improvisations by The OMNI Ensemble featuring the Kora, an indigenous African string instrument. Music will be Ludwig van Beethoven's Piano Sonata op. 28, arranged for trio by Jim Lahti, Bohuslav Martinu's Trio for flute, cello and piano, Peter Schickele's Summer Trio, Michael Sirotta's Emanations Of Blue Light-A Rhapsody for Flute and Piano, and electronic and acoustic improvisations by The OMNI Ensemble featuring the Kora. Musicians are David Wechsler - flutes, John Cheek - keyboards, with guest artists Eric Cooper - cello and Salieu Suso - Kora.
Continuing as the chamber music group in residence at the Brooklyn Conservatory, the OMNI Ensemble will continue to perform concerts of enormous variety all designed to provide their audience with a musical diversity not ordinarily encountered by one chamber music group. Throughout the season they perform in the recital hall at the Brooklyn Conservatory of Music.
Tickets at the Brooklyn Conservatory of Music are $15.00, $10.00 for students and senior citizens. Tickets for BCM are available in advance or at the door prior to the performance. For direct purchase of tickets on line please visit our web site: www.theomniensemble.org or purchase tickets directly from https://omnimarch23.eventbrite.com
The Brooklyn Conservatory is located at 58 Seventh Ave. at the corner of Lincoln Place in Park Slope, Brooklyn. It is in easy access of public transportation, Q or B train to Seventh Ave., or IRT #2 and 3 to Grand Army Plaza. For further information and ticket reservations, call 718 859-8649.
The OMNI Ensemble is a chamber music created to perform programs of enormous variety, with music ranging from the Renaissance to the 21st century, including Western classical music, jazz, and electronic and improvised music, all designed to provide their audience with a musical experience not ordinarily encountered in a single music event. Since its inception in 1983 the group has featured many guest artists including multi instrumentalist/composer David Amram, performance artist John Kelley, Singer Erika Banks, Kumongo player Jin Hi Kim, Saxophonist Roy Nathanson, Mezzo Sopranos Catherine Ciesinski and Charlotte Hellekant, Harpsichordists Gerald Ranck and Rebecca Pechefsky, and keyboardist Marco Benevento. The group has commissioned works by David Lang, Lee Hyla, Allen Shearer, & Michael Bushnell, and performed new pieces by Jim Lahti, Eric Klein, David Wechsler and John Cheek.
This concert is supported, in part with public funds from the The New York State Council on the Arts, The New York City Department of Cultural Affairs in partnership with the City Council, and Con Edison.