The Chase Brock Experience Begins Performance Of 10th Anniversary Season Tonight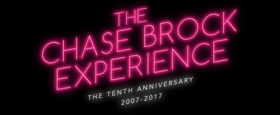 The Chase Brock Experience, the Brooklyn-based contemporary dance company now celebrating its 10th season, is excited to begin performances for their two-week engagement, tonight, Monday, November 27. The engagement is set to run through December 9, at Theatre Row's Clurman Theatre (located at 412 W 42nd Street). All tickets are $29.00 and can be purchased on-line at Telecharge.com, by phone at 212-239-6200 or at the Theatre Row Box Office. A special student rate of $19.00 is available at the box office with a valid student ID.
To further commemorate the occasion, the December 1st performance will serve as CBE's 10th Anniversary Gala, featuring a post-performance reception and honoring longtime CBE supporters and friends of the company, Mary Jo and Ted Shen.
Founded in 2007, The Chase Brock Experience has premiered 30 dances and six commissioned scores in New York seasons at Joyce SoHo, Abrons Arts Center, Dance New Amsterdam, Baruch Performing Arts Center and The Connelly Theater, as well in concert with The Pit Stop Players at Symphony Space. CBE has appeared in La MaMa Moves!, Hudson Valley Dance Festival, Fire Island Dance Festival, Downtown Dance Festival and Dance from the Heart, and at The Joyce Theater, Jacob's Pillow, PS21 Chatham, 92Y, Broadway's New Amsterdam Theatre and on tour from North Carolina to Maine. CBE has been in residence at Robert Wilson's Watermill Center, The Orchard Project and Catskill Mountain Foundation.
In addition, CBE created the dance numbers and served as the animation references for Ubisoft's bestselling video game Dance on Broadway for Nintendo Wii and PlayStation Move. Chasing Dance, a documentary about the company by filmmakers Mathieu Mazza, Tracy Mazza and Stephanie Slewka, was nominated for two New England Emmy Awards and is available on DVD.
For its 10th Anniversary, CBE will present a mixed bill program featuring revivals of audience favorites. The earliest work on the program is Mr. Brock's 2007 creation Slow Float. Performed on the opening night of the company's debut season and set to a five-song folk-rock suite by Laura Nyro, Slow Float is a lyrical and jangly Bohemian frolic. From 2009 the company will perform Curious Episode, a duet for women that playfully mirrors a piano and flute score by Claude Bolling. The company will perform The Song That I Sing; Or, Meow So Pretty (2014), a democratic dance mashup of tap dance, step dance, flatfooting, finger tutting, jumpstyle and jazz set to the songs of famed folk revival group The New Christy Minstrels and commissioned by La MaMa Moves!, and will give the New York premiere of the colorful Splendor we only partially imagined (2015), a zen yet kinetic work to songs by Kishi Bashi, commissioned by Dancers Responding to AIDS for their Hudson Valley Dance Festival.
Finally, the evening will be rounded out with the world premiere of Mr. Brock's 30th CBE creation, Men I've Known. Created in residence at Catskill Mountain Foundation this past May, this elegiac new work features the oldest and newest men of the company in a striking movement poem set to Erik Satie's Ogives, four piano pieces from the late 1880s.
Performances of The Chase Brock Experience will be Monday through Saturday, November 27- December 9, at 8:00pm at Theatre Row's Clurman Theatre (located at 412 W 42nd Street). Tickets start as low as $29.00 and can be purchased on-line at Telecharge.com, by phone at 212-239-6200 or at the Theatre Row Box Office.
ABOUT CHASE BROCKCHASE BROCK (Artistic Director/Choreographer): Called "prolific" in both The New Yorker and The New York Times, Brock is a 34-year old choreographer working in concert dance, theater, ballet, opera, television and video games. In addition to 30 dances for The Chase Brock Experience, Brock's choreography includes Broadway's Spider-Man: Turn Off the Dark and Picnic; the stage adaptation of Disney's The Hunchback of Notre Dame currently playing in long-running German and Japanese productions; The Blue Flower (Second Stage, Lortel nomination for Outstanding Choreography), Tamar of the River (Callaway Award finalist for Choreography) and A Midsummer Night's Dream (Shakespeare in the Park); "Last Week Tonight with JohnOliver" (HBO) and "Late Show with David Letterman" (CBS); the bestselling video game Dance on Broadway for Nintendo Wii and PlayStation Move; Bartlett Sher's production of Gounod's Roméo et Juliette (The Metropolitan Opera, Lyric Opera of Chicago, Salzburger Festspiele); and Misfit Motion Makers (New York Theatre Ballet). Teaching includes The Juilliard School, Yale School of Drama, Barnard College/Columbia University, University of the Arts, Marymount Manhattan College, Montclair State University, Pace University, UNC-Wilmington. Brock made his Broadway debut at 16 in Susan Stroman's revival of The Music Man, and is a proud alumnus of Spark Camp at Harvard. chasebrock.com
ABOUT THE DANCERS
TRAVANTE S. BAKER (Miami, FL) attended New World School of the Arts and Syracuse University for Musical Theater. He just performed in The Music Man at Flat Rock Playhouse; directed and choreographed by the one only Chase Brock. Travante joined The Chase Brock Experience in 2016.
Cameron Burke (Littlestown, PA) Matilda The Musical (1st National Tour), In The Heights (2nd National Tour). Regional: Chicago (NSMT). Broadway Bares 23. National campaign for TARGET. Fire Island Dance Festival '14, La MaMa Moves! Dance Festival '14.Marymount Manhattan College '10. Cameron joined The Chase Brock Experience in 2013.
KENDRICK D. CARTER (Atlanta, GA) trained at the Atlanta Ballet Centre for Dance Education and at The Juilliard School in New York. Concert dance work includes engagements with The Metropolitan Opera, Florida Dance Theatre, The Chase Brock Experience and Michael Mao Dance. Kendrick joined The Chase Brock Experience in 2007.
DEAN DE LUNA (Fort Worth, TX) Favorites from CBE rep are Slow Float, Whoa, Nellie! and What a Wonderful World. Proud graduate of the Boston Conservatory in dance and humbled to have performed on Broadway and toured the world in West Side Story. Dean joined The Chase Brock Experience in 2009.Ashley Eichbauer (Ft. Myers, FL) is elated to return to CBE, dancing her favorite piece made in the past ten years! Credits: Paper Mill Playhouse, Pittsburgh CLO, Baltimore Center Stage, Temple University, Barnard College, So You Think You Can Dance, Dance on Broadway (Wii & PlayStation Move Video Game), Chasing Dance (documentary). Teaching Artist: Lincoln Center Education. Graduate: NYU (B.F.A. Theatre); Bank Street College (M.S. Ed.) CAP21 faculty since 2006. Vinyasa yoga teacher. Beyond thrilled to be here and sharing the stage with some of her "Life-Savers." Ashley, a founding member of The Chase Brock Experience, helped establish CBE in 2007, and serves as CBE's Director of Education.
Ryan Jackson (Long Island, NY) has been touring the country with Broadway's biggest blockbuster, Wicked, as a Broadway Connection Teacher for four years. A proud member of Actors Equity, Ryan holds a B.F.A. from Marymount Manhattan College and studied on full-scholarship with The Joffrey Ballet and The School at Jacob's Pillow. Theater credits include national tours of CATS, Dr. Dolittle, West Side Story, Paper Mill Playhouse, Houston T.U.T.S., Atlanta Theater Of The Stars, Goodspeed Opera House, Westchester Broadway, Walnut St. Theater, Portland Center Stage, Ford's Theater, Wolf Trap, Kansas City Starlight, New York City Center Encores! and Radio City Music Hall. Ryan, a founding member of The Chase Brock Experience, helped establish CBE in 2007.
Yukiko Kashiki (Hakodate, Japan) joined CBE in 2008, originated much of CBE's repertory and worked as Assistant Choreographer for Salzburg Festival production of the Gounod opera Roméo et Juliette. Theatre: Eliza in The King and I (West End, Asian tour); Disney's The Lion King (The Netherlands, Germany); Mamma Mia!, CATS, The Phantom of the Opera, Joseph And The Amazing Technicolor Dreamcoat, Disney's The Hunchback of Notre Dame (Germany); New York Theatre Ballet; CATAPULT from season 8 of America's Got Talent. Yukiko is currently a Master Trainer / Creative Assistant at Ballet Beautiful. Yukiko joined The Chase Brock Experience in 2008.
Alicia Lundgren (Oakland, CA) began dancing at the Ann Davlin School of Dance, and also trained under the direction of Reginald Ray-Savage. After graduating from the Ailey School/ Fordham University BFA program, she toured internationally with Ailey II. Alicia was a member of Dallas Black Dance Theatre, and went on to perform with Philadanco. She is in her fourth season as a Radio City Rockette, and recently made her Broadway debut in Shuffle Along. Alicia joined The Chase Brock Experience in 2013.
COURTNEY ORTIZ (Baltimore, MD) is a 2007 youngARTS award winner for Modern Dance. Some of her favorite credits include: The Radio City Christmas Spectacular, Ray Mercer's Pure Motion presented by BC/EFA, Broadway Bares, and West Side Story - International Tour. She has been seen on TV back up dancing for PSY, Chris Brown and Heidi Klum. Most Recently, Courtney returned from the 1st National Tour of Finding Neverland and this summer, performed in her dream musical In The Heights at Pittsburgh CLO. Courtney joined The Chase Brock Experience in 2016.
Amber Pickens (Dallas, TX) is a graduate of The Juilliard School. Amber has performed works by artists such as Pina Bausch, Camille Brown, Martha Graham, Lar Lubovitch, Jose Limon, Chase Brock, Monica Bill Barnes, Murray Louis and Larry Keigwin. She made her Broadway debut in Cirque du Soleil's first Broadway show, Paramour. Amber joined The Chase Brock Experience in 2015.
Macy Sullivan (Camas, WA) is based in New York City and also dances for Dance Heginbotham and Caleb Teicher & Company. Since 2013, she has performed annually in The Guggenheim's Peter & the Wolf with Isaac Mizrahi. Prior, she originated the role of Marie in Chase Brock's The Nutcracker and was a featured tap dancer in Tyne Rafaeli's The Poor of NewYork (Off-Off-Broadway). As a teaching artist, she frequently works with Juilliard Global Ventures, Dance for PD, and Together in Dance. Sullivan holds a BFA in Dance from The Juilliard School (Martha Hill Prize, John Erskine Prize, Choreographic Honors). Macy joined The Chase Brock Experience in 2013.
Caleb Teicher (Mahopac, NY), a 2011 Bessie Award Winner for Outstanding IndividualPerformance, one of Dance Magazine's 2012 "25 to Watch", and 2016 Winner of Dance Magazine's "Best Emerging Choreographer" Readers Choice Award, has danced with Dorrance Dance, The Chase Brock Experience, The Bang Group, the International Tour of West Side Story, Sally Silvers, and others. He also makes dance work as the Artistic Director of Caleb Teicher & Company. www.CalebTeicher.net / @CalebTeicher Caleb joined The Chase Brock Experience in 2013.
Micki Weiner (Buffalo, NY) returns to NYC after two and a half years with the Phantom of the Opera National Tour, as an original cast member. Other credits include Zorro (Dance Captain/ International Tour), How To Succeed in Business (Ensemble/Goodspeed Opera), and New York Theatre Ballet. Micki has worked with Chase on numerous projects including The Tempest (Associate Choreographer/The Public Theater), The Nutcracker (Assistant Choreographer & Dance Captain/Flat Rock Playhouse), Dance On Broadway (Dancer/Nintendo Wii & PS3), and Pippin (Assistant Choreographer/Kansas City Repertory Theater). Micki joined The Chase Brock Experience in 2008.
For more information please visit: www.chasebrockexperience.com