The Brick Theater Presents THE HOLLOW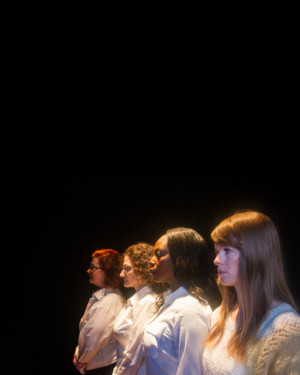 Written and directed by Matthew Freeman (writer of the acclaimed The Listeners and That Which Isn't), The Hollow is an evening of expressionist short plays that, in Freeman's inimitable style, dive into landscape of our vast interior lives.
In the great expanse of space there is nothing to see but More, More, More follows seven women through the fractured experience of a foreboding diagnosis; a hand emerges from the water is a portrait of harrowing memory; and The Language dramatizes the excavation of an secret, lost language. The cast includes Moira Stone (2017 NYIT Award for Outstanding Actress in a Leading Role) and Matthew Trumbull ("a downtown treasure" - Time Out New York; 2015 NYIT Award for Outstanding Actor in a Leading Role).
The Hollow will play at The Brick (579 Metropolitan Ave at Lorimer Street, Williamsburg, Brooklyn) Wednesday May 23rd, Thursday May 24th, Friday May 26th, Saturday May 27th, Wednesday May 30th, Thursday May 31st, Friday June 1st and Saturday June 2nd. $25 Tickets may be purchased online at www.bricktheater.com or by calling 866-811-4111. Performances are Wednesday - Saturday at 7:30pm. Runtime: 90 minutes.
Matthew Freeman's (Playwright/Director) plays have been seen on stages throughout New York City. His plays and monologues have been published by Samuel French, Applause, Smith & Kraus, the New York Theatre Experience and Playscripts, Inc. His plays include That Which Isn't, When is a Clock, The Listeners (Nominee: Best Performance Art Production - New York Innovative Theatre Awards 2015), and Why We Left Brooklyn. As a director, Freeman has staged The Zebra Shirt of Lonely Children by Matthew Trumbull at the NY International Fringe Festival 2012 (Encore Series; Award, Overall Excellence in Solo Performance) and the Minnesota Fringe Festival 2013. He is a current resident playwright at New Dramatists and a MacDowell Colony Fellow.
The Brick is located at 579 Metropolitan Avenue (between Union Avenue and Lorimer Street) in Williamsburg, Brooklyn on the L & G subway lines (L: Lorimer stop; G: Metropolitan stop). For more detailed directions & further information, visit www.bricktheater.com. The Brick and its non-profit company, The Brick Theater, Inc. were founded in September of 2002 by Robert Honeywell and Michael Gardner. Formerly an auto-body shop, a storage space and a yoga center, this brick- walled garage was completely refurbished into a state-of-the-art theater complex, with a large sprung floor and professional lighting and sound package.
Winner of THE 2009 CAFFE CINO FELLOWSHIP AWARD, The Brick is Williamsburg, Brooklyn's destination for subversive theatrical experiences. Home to the critically acclaimed premieres of Bouffon Glass Menajoree (NY IT Award Winner-Outstanding Play), Samuel & Alasdair: A Personal History of the Robot War (NY IT Award Winner-Outstanding Play), Greed: A Musical Love $tory (NY IT Award Nominee-Outstanding Musical), Red Cloud Rising, Theatre of the Arcade and Suspicious Package (NY IT Award Nominee-Outstanding Play), The Brick has hosted some of downtown theater's most innovative artists, including award-winners Young Jean Lee, Lila Neugebauer, Leah Nanako Winkler, The Debate Society, Little Lord, Nellie Tinder, Target Margin Theater, New Georges, Jason Grote, Annie Baker, The Mad Ones and Thomas Bradshaw.