The Billie Holiday Theatre Presents A Two-Day Festival Of Cutting-Edge Revolutionary Dance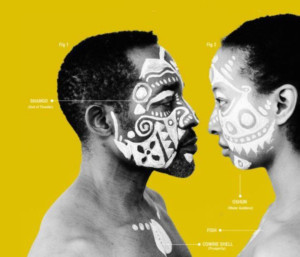 RestorationART presents Afro Pas De Deux, a two-day festival, featuring award-winning 2018 ChoreoQuest choreographers-in-residence as they innovate within the algorithm of a pas de deux on Friday and Saturday, June 22 - 23, 2018. The Afro Pas De Deux Festival is a collective of seven choreographers, exploring the complex and artificial binaries of gender, sexuality, nationality and more. The festival will also feature a conversation with renowned guest choreographers, a master class, and post-performance reception.
MASTERCLASS
Sat, Jun 23
12 - 2pm - Nathan Trice (Contemporary Modern)
2pm - 4pm - Sekou McMiller (Afro-Latin Jazz)
Conversation with Renowned Choreographers and Masterclass
RestorationArt's New Dance Space | 247 Herkimer St, BK | $10
AFRO PAS DE DEUX CONCERT
Fri, Jun 22 - Sat, Jun 23
7:30pm
Join ChoreoQuest choreographers Germaul Barnes, Angel Chinn, Davalois Fearon, Rosamond S. King, Sekou McMiller, Johnnie Mercer, Nathan Trice and Edisa Weeks. Post-Performance Reception with choreographers to follow.
The New Billie Holiday Theatre | 1368 Fulton St, BK | $15
Tickets are available at: RestorationART.org
RestorationART's ChoreoQuest, a Choreographer-in-Residence program in its 16th-year, which provides choreographers of African descent from the five boroughs of NYC the opportunity to innovate, incubate and present new works at our contemporary and dynamic rehearsal and presenting spaces. This program is made possible, through the generous support of New York Community Trust, Kenan Charitable Trust and Mertz Gilmore Foundation.
RestorationART is located at Restoration Plaza, 1368 Fulton Street (between New York Avenue and Brooklyn Avenue) in Bedford Stuyvesant, Brooklyn, New York 11216. The new ground floor community studios are located at 247 Herkimer as part of Restoration Plaza (located adjacent to the celebrated Foodtown Grocery Store).
Subway: A/C to Nostrand Avenue; Long Island Railroad to Nostrand Avenue; B25 to Marcy Avenue and Fulton Street Stop; Commercial parking lot is located adjacent to 1368 Fulton Street.
Visit RestorationART.org for information.
RestorationART (formerly branded The Center for Arts & Culture), the cultural centerpiece of Restoration, is a dynamic 21st century creative complex that is committed to folding our community into world-class artistic discovery and storytelling in dance, music, theater, visual arts and conversation in the epicenter of Black culture, Central Brooklyn. RestorationART reaches a diverse audience of more than 67,500 annually through dance concerts and choreographic showcases, music festivals and salons, theater performances and a new works reading series, as well as talks & films; a Youth Arts Academy; the Skylight Gallery; institutions-in-residence, including The Billie Holiday Theatre, Frank Silvera Writers' Workshop, Ronald K. Brown/Evidence, Cumbe: The Center for African and Diaspora Dance, Noel Pointer School of Music and Brooklyn Youth Chorus Academy.