Photo Flash: First Look! Carl Holder's CHARLESES at The Brick for The Tank's Save & Print Series
After directing The Tank's critically acclaimed production of The Offending Gesture, director Meghan Finn returns to helm the world premiere of CHARLESES by Carl Holder. Part of The Tank's Save & Print series, CHARLESES runs through Saturday, April 29. The performance schedule isMonday, Wednesday - Sunday at 8 PM. Please note, the performances on Saturday, April 29 are at2 PM & 6 PM. Performances are at The Brick (575 Metropolitan Avenue, at Lorimer). Tickets are $25 for general admission. ($15 for students with a valid ID.) To purchase tickets, visit www.thetanknyc.org.
Charles's son, Charles, has a son named Charles. In the present, three generations of fathers and sons struggle to communicate as their family line grows and ages across a vast ocean of time. How do individuals continue to exist through the passing of the years? Do I eat pickles on my sandwich because my great great grandpa did? A curious look at three generations of Charleses, and the expectations they have of each other. What happens when one of them is...different? The trio of Charleses are performed by Richard Toth ("House of Cards,"
St. Joan of the Stockyards
, dir
Lear deBessonet
, at PS 122), Mike Shapiro (
Ruben Carbajal
's
The Gifted Program
at
Soho Rep
), and Fernando Gonzalez (
Omega Kids
at Access Theater, Little Lord's
Now is the Time...
at Abrons Arts Center). Balancing out the creative team is a group of female designers including
Peiyi Wong
(set design); Sarah Johnston (lighting design);
Andrea Hood
(costume design); and
Emily Auciello
(sound design). The stage manager is Kate Shelton. Carl Holder (playwright) is a playwright and actor. He grew up in North Florida, now he lives in Brooklyn with three roommates and his dog. He has developed and/or performed his work with Incubator Arts Project, EST, The Tank, FringeNYC, Standard Toykraft, The Gym at Judson, House of Yes, Allegra LaViola Gallery, The
Gene Frankel
, Ice Factory and The New Ohio. Carl is also the Artistic Director of Glass Bandits Theater Company. He's written, acted, and directed on both sides of the East River for GB in various festivals, basements, warehouses, and loft apartments. He studied with
Lisa Benavides
at The Actor's Center and
Reed Birney
at The Freeman Studio. BFA SUNY Purchase.
www.carlholder.com
Meghan Finn (director) is a director based in Brooklyn, NY. Most recently she directed DOOMOCRACY by artist Pedro Reyes for Creative Time at the Brooklyn Army Terminal. Recent credits include:
Sam's Tea Shack
by Ben Gassman and Sam Soghor (The Tank at STK),
The Offending Gesture
by
Mac Wellman
(The Tank/3LD at the Connelly Theater, NY Times and Time Out NY Critics' Pick);
American Power
performed by photographer Mitch Epstein and Composer/Cellist Erik Friedlander at the V&A London and The Wexner Center, Columbus, Ohio;
Gary Winter
's
DAREDEVIL
at The Brick;
The Downtown Loop
by Ben Gassman (3LD/3D+ Productions/Teeth of Tooth Atelier);
Take Me Home
by Alexandra Collier set in a taxi cab (Incubator Arts Project/LPR). Other recent credits include:
The Service Road
by
Erin Courtney
(Adhesive Theater Project/NY Times Critics' Pick),
Motel Cherry
by Peggy Stafford (Summerworks Clubbed Thumb/New Georges
HERE Arts Center
Huffington Post Top 10 of 2012) and
3 2's; or AFAR
by
Mac Wellman
(Dixon Place),
Relative Value
by
Jesse Long
man (3LD),
Saturn Nights
by
Jess Barbagallo
(Incubator Arts Project),
Waltz
by Corina Copp (CSC -Weasel),
Blue Dress Reduction
featuring
Eliza Bent
(PS122),
HIM
by
E.E. Cummings
(Walkerspace),
The Fake History of George the Last
by Misha Shulman (the longest lunch/TNC),
A Week at the NJ Shore
by Valerie Work (the longest lunch/The Bushwick Starr, and others). Finn holds an MFA in Directing from Brooklyn College and a BA in Theater from the University of Southern California. She was a member of the 2009 Lincoln Center Director's Lab, 2009/10
Soho Rep
Writer/Director Lab, New Georges' The Jam, a 2014 & 2016 New Georges Audrey Resident and co-founder of the longest lunch (2002-present).
About The Tank The Tank is a Manhattan-based non-profit arts presenter and producer. We serve emerging artists engaged in the pursuit of new ideas and forms of expression. Our goal is to foster an environment of inclusiveness and remove the economic barriers from the creation of new work for artists launching their careers and experimenting within their art form. The heart of our services is providing free performance space in the 62-seat blackbox that we operate in Manhattan, and we also offer a suite of other resources such as free rehearsal space, promotional support, and artist fees. Our programming is multi-disciplinary, representing disciplines including theater, music, dance, comedy, film, and storytelling. We keep ticket prices affordable and view our work as democratic, opening up both the creation and attendance of the arts to all and positioning the arts within civic and socio-political discourse. Founded in 2003 by nine emerging artists, The Tank has since provided an artistic home for tens of thousands of New York City-based performers. Recent successes produced by The Tank as part of Flint & Tinder include Manual Cinema's
Ada/Ava
(Drama Desk nomination for Unique Theatrical Experience, New York Times Critics' Pick),
Mac Wellman
's
The Offending Gesture
(New York Times Critics' Pick),
Andrew Schneider
's
youarenowhere
(Drama Desk nomination for Unique Theatrical Experience, New York Times Critics' Pick), and Torry Bend's
The Paper Hat Game
(New York Times Critics' Pick). Artists who have presented work at The Tank early on in their careers include
Alex Timbers
(Tony-nominated theater director),
Reggie Watts
(theater performer/comedian/ musician currently the bandleader on
The Late Late Show with James Corden
),
Amy Herzog
(Pulitzer Prize-nominated playwright),
Lucy Alibar
(whose one-act play Juicy and Delicious premiered at The Tank and was adapted to be the Oscar-nominated Beasts of the Southern Wild), Andrew Bujalski (film director, Computer Chess), and We Are Scientists (rock band). The Tank also presented the premiere of
A Very Merry Unauthorized Children's Scientology
Pageant
by
Kyle Jarro
w, which won an Obie Award and went on to a national tour. The Tank has been honored with an official City Council proclamation, chosen for the WNYC *STAR* initiative, and featured on CNN, BBC, the New York Times, and more.

Mike Shapiro in CHARLESES by Carl Holder, directed by Meghan Finn, at produced by The Tank at The Brick. Photo by Josh Luxenberg
L-R: Fernando Gonzalez and Mike Shapiro in CHARLESES by Carl Holder, directed by Meghan Finn, at produced by The Tank at The Brick. Photo by Josh Luxenberg
L-R: Richard Toth, Fernando Gonzalez and Mike Shapiro in CHARLESES by Carl Holder, directed by Meghan Finn, at produced by The Tank at The Brick. Photo by Josh Luxenberg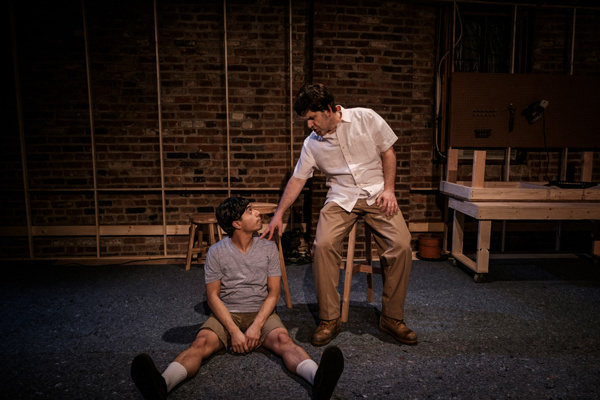 L-R: Fernando Gonzalez and Mike Shapiro in CHARLESES by Carl Holder, directed by Meghan Finn, at produced by The Tank at The Brick. Photo by Josh Luxenberg
L-R: Richard Toth and Mike Shapiro in CHARLESES by Carl Holder, directed by Meghan Finn, at produced by The Tank at The Brick. Photo by Josh Luxenberg
L-R: Richard Toth and Mike Shapiro in CHARLESES by Carl Holder, directed by Meghan Finn, at produced by The Tank at The Brick. Photo by Josh Luxenberg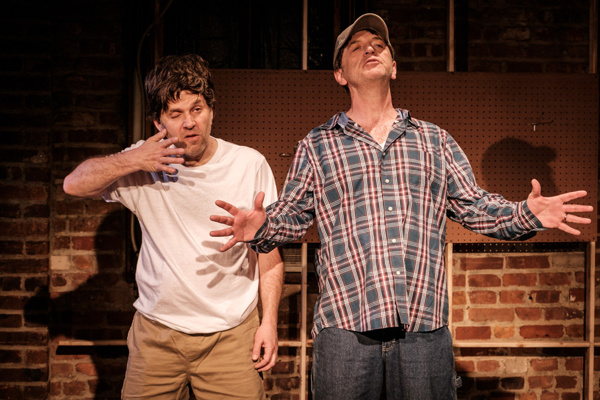 L-R: Mike Shapiro and Richard Toth in CHARLESES by Carl Holder, directed by Meghan Finn, at produced by The Tank at The Brick. Photo by Josh Luxenberg
L-R: Mike Shapiro and Richard Toth in CHARLESES by Carl Holder, directed by Meghan Finn, at produced by The Tank at The Brick. Photo by Josh Luxenberg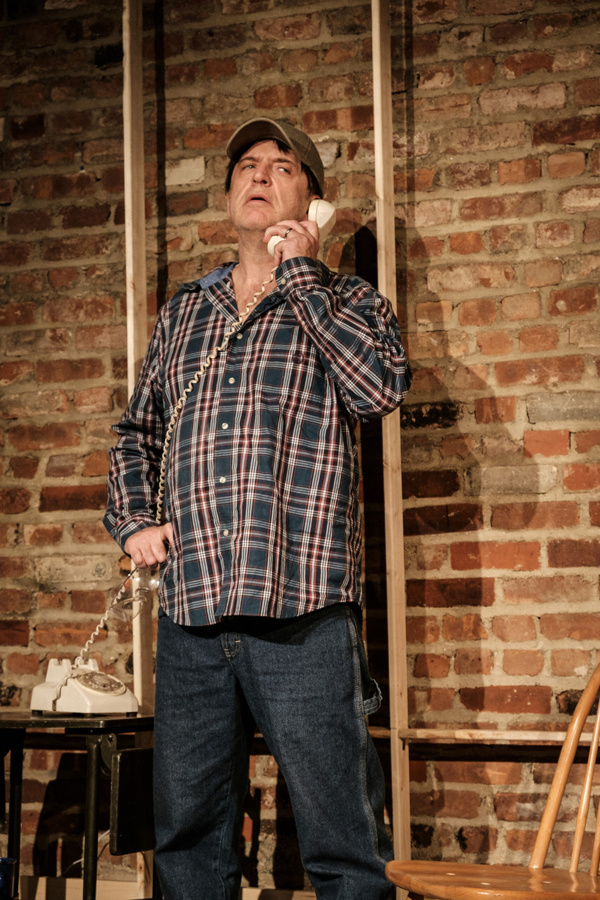 Richard Toth in CHARLESES by Carl Holder, directed by Meghan Finn, at produced by The Tank at The Brick. Photo by Josh Luxenberg