Littlefield presents GENEROUS LAUGHS A Pride Fund Benefit Show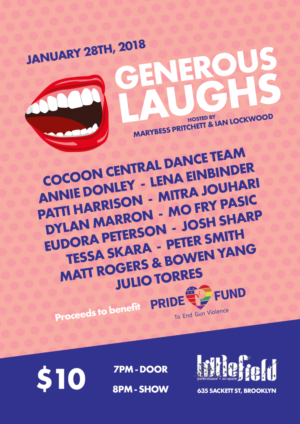 Littlefield is proud to present " Generous Laughs, " a charity comedy show benefiting the Pride Fund to End Gun Violence, a political action committee organized for the purpose of raising and spending money to elect political candidates at the national level who support sensible gun reforms and LGBTQ equality and protections. www.pridefund.org
At 8 : 00pm on Sunday January 28th, 2018 the littlefield stage will be buzzing with some of the most exciting comedians in New York City including Dylan Marron, Julio Torres, Lena Einbinder, Peter Smith, Mitra Jouhari, Patti Harrison, Josh Sharp, Tessa Skara, Matt Rogers, Bowen Yang, Eudora Peterson, Mo Fry Pasic, Annie Donley, Cocoon Central Dance Team and MORE ! * Lineup subject to change.
As soon as the Doors Open at 7 : 00pm, patrons will have the opportunity to purchase raffle tickets for the chance to win all sorts of cool prizes from tickets to littlefield events to movie passes to local gift certificates to the PUNDERDOME card game !
" Generous Laughs " will be hosted by performers Marybess Pritchett and Ian Lockwood. Marybess Pritchett is a Brooklyn based actress, funny [ cat ] lady and proud Hufflepuff from the land of Dairy Queens and collard greens. You may have seen her on The Annoyance Theatre NY stage, of which she is an alumna, or on the popular comedy series " The Special Without Brett Davis. " Find her online at www.marybesspritchett.com and wherever coffee and fine pies are sold.
Brooklyn based comedian Ian Lockwood is the host of " Queer Bash ! ", Brooklyn's only queer stand - up showcase ; the host of Bingo Bango, Bitch !, a secret underground experimental comedy show / party ; the curator of RUDE at South 4th Bar, a weekly 4 - show alt - and - absurd comedy night ; and an absolute madman. He is an alumni of NYU Tisch's Experimental Theatre Wing, Second City's Comedy Studies, UCB, and The Annoyance Theatre. Catch him performing with FIONA at South 4th Bar, on the web with Ground Floor Comedy, as the poet laureate of Legion's " Goofy ", or on one of Brooklyn's many stand up shows. He is a very nice guy - but do not talk to him before he's had his morning coffee ! I beg of you ! Check out ianlockwood.info for more info.
One of NYC's premier independent live event venues, littlefield's origin began a decade ago when an environmental engineer and a chef embarked on a project unlike anything they've done before - - they transformed a 1920s textile warehouse into an eco - friendly performance and art space where patrons can enjoy some of the best comedy, live music, art, dance parties, film and theater in Brooklyn, in addition to weddings, private parties, conventions and festivals. With its friendly staff, signature cocktails, rotating art exhibits, and recycled materials that make up the physical space, littlefield has always been the quirky independent venue that could.
FOR TICKETS Visit : https : / / www.ticketfly.com / purchase / event / 1611618 Littlefield event link : https : / / www.littlefieldnyc.com / event / 1611618 All tickets are $ 10, General Admission, limited seating first - come first - served. January 28th, 2018 Doors - 7 : 00pm Show - 8 : 00pm