INTERPRETATIONS Series Continues 30th Anniversary Season March 14th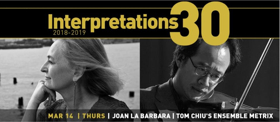 On Thursday, March 14th, 2019, at 8pm, the fifth concert of the 2018-2019 Interpretations series' Thirtieth Anniversary Season presents striking music sets from both vocalist and composer Joan La Barbara, and mixed-instrumentation group Ensemble Metrix, led by violinist Tom Chiu. Held at Roulette, 509 Atlantic Ave, Brooklyn, NY, tickets are $20 for adults / $15 for students & seniors, and available on www.Roulette.org and www.Interpretations.info.

The perennially influential and innovative vocalist/composer Joan La Barbara presents new material from her ongoing opera-in-progress, Dreams of Water Beyond One's Depth, inspired by the lives and work of the iconic Virginia Woolf and the enigmatic Joseph Cornell, with lyrics by the award-winning Vietnamese-American novelist Monique Truong, and featuring an ensemble of voices, instruments, synthesizer, and sonic atmosphere.
Joan La Barbara - voice, composer
Lauren Flanigan - soprano
Mario Diaz-Moresco - baritone
Julia Meadows - soprano
Miguel Frasconi - flute, laptop, sampler, glass
Bryan Hayslett - cello

Tom Chiu's Ensemble Metrix is a mixed-instrumentation group exploring the recontextualization of music in a variety of styles and genres. Using material from the broad canon of popular and underground music, Chiu deconstructs and distorts melodic hooks and motivic riffs, and weaves the material into an extended, minimalistic jam. The resulting structured score represents an analogue to a dee-jay's pre-determined playlist. Replacing turntables and records, the musicians produce the music live, each injecting personal flair in the final mix. Joining Ensemble Metrix will be some of Chiu's favorite collaborators, including Meaghan Burke, Sara Schoenbeck, Charles Waters, Peter Zummo, and other special guests.

The Interpretations Series is dedicated to nurturing the relationship of innovative composers with the growing community of new music virtuoso performers. "When we started, this was a real need, especially for the more experimental new music," says Founder and Artistic Director Thomas Buckner. "Now we are experiencing a blossoming of new music groups and solo performers, which makes the series necessary in a new way. There are so many exceptional composers and performers who need a great place to perform."

ABOUT JOAN LA BARBARA (www.joanlabarbara.com)

Joan La Barbara's career as a composer/performer/soundartist/actor explores the human voice as a multi-faceted instrument expanding traditional boundaries in developing a unique vocabulary of experimental and extended vocal techniques: multiphonics, circular singing, ululation and glottal clicks that have become her "signature sounds", influencing several generations of composers and singers. Creating works for multiple voices, chamber ensembles, music theater, orchestra and interactive technology, she has over the years garnered a myriad of awards and fellowships across the U.S. and Europe.

An influential figure in experimental music, some of La Barbara's storied collaborators have included Lita Albuquerque, Matthew Barney, and Judy Chicago. With some works written especially for her as the instrument, her recorded repertoire includes works by John Cage, Robert Ashley, Morton Feldman, and Philip Glass, among many others.

La Barbara is a classically trained singer who studied with soprano Helen Boatwright at Syracuse University, and contralto Marion Freschl at the Juilliard School in New York. She is also a composer and publisher member of ASCAP; a member of SAG-AFTRA and AEA; and has released her work through labels such as Tzadik, Newport Classic, Deutsche Grammophon, Sony, and Virgin.


ABOUT TOM CHIU (www.fluxquartet.com)

Violinist and composer Tom Chiu is the founder of the FLUX Quartet, widely recognized for their performances of technically challenging cutting-edge compositions, including Morton Feldman's six-hour marathon String Quartet No. 2.

A noted champion of new music, Chiu has performed over 200 premieres worldwide by influential composers such as Virko Baley, Julio Estrada, Alvin Lucier, and Henry Threadgill, among many others. Chiu has also avidly pursued collaborations with unconventional artists whose work he admires, including vocalist Joan La Barbara, balloon virtuoso Judy Dunaway, avant choreographer Eun-Me Ahn, puppeteer Basil Twist, and drone pioneer/guitarist David First. He has also worked closely with Ornette Coleman, with whom he appeared at the 2000 Bell Atlantic Jazz Festival and in 2005 at the Walker Arts Center. Chiu even made a childhood appearance with Tom Hanks in The Man With One Red Shoe as the character "Dickie."

Chiu's discography includes recordings for the Asphodel, Cambria, Chesky Records, Koch, Mode, Sombient, and Tzadik labels. He also holds degrees in music and chemistry from Juilliard and Yale, and has presented concerts and workshops at numerous universities, including Williams, Dartmouth, Wesleyan, and William and Mary.
More Hot Stories For You