BWW Review: PLACE Examines One's Role in Gentrification Through Soaring Soundscapes and Potent Poetry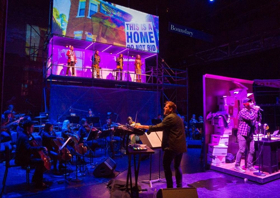 We all seek to find our "place", be it how we fit into our communities, our career, our relationships or the world around us. But at the root of it all, our "place" is more often defined by where we find ourselves at the end of the day--our home.
But what if your own placement there displaced or replaced someone else? This is the problem of gentrification--a loaded term and hot topic that has been discussed, explored and debated constantly as the issue continues to grow--but never quite so brilliantly as in the multimedia orchestral masterpiece, Place, a world premiere of a collaboration between three acclaimed politically incendiary artists at the top of their game: composer Ted Hearne, writer/musician/performer Saul Williams and director Patricia McGregor as part of BAM's Next Wave Festival.
BAM's Harvey Theater was adorned with an impressive amount of instrumentalists on stage--18 in all--conducted with passionate fervor by Hearne. Scaffolding, an all too familiar sight to anyone in New York City, frames the stage, looming over the musicians with the word "Gentrify" scrawled in graffiti on the screen. Centerstage sits performer Steven Bradshaw (a perfect doppelgänger for Hearne) portraying the composer, quite literally "boxed" in his own world (his bubble) comprised of his laptop, desk, piles of paper and boxes stacked high, closing him off from the outside world in his tiny cubicle.
Bradshaw as Hearne toils in his cluttered workspace and sings with a luminous voice evocative of the traditional Irish sean-nós ("in the old style") while he ruminates longingly on his son in "Balloons". The orchestra joins and his crystal-clear voice becomes distorted by a vocoder. As "Boundary" begins, angelic voices can be heard from above and the lights reveal four actor/vocalists (Sophia Byrd, Josephine Lee, Isaiah Robinson and Ayanna Woods) perched on the scaffolding.
The man's unravelling throughout Part 1 (written by Hearne) continues in "Interview" (based on Hearne's actual interview with McGregor with commentary by Williams), "Maps (Appropriation)" (which borrows from multiple artists including: the Yeah Yeah Yeahs, Nina Simone, Zora Neale Hurston and Erykah Badu), "Breakup Letter" and finally "Guilt." His internal anguish is aided sonically by a seamless blending of seemingly disparate genres such as: classical orchestrations, experimental jazz, vocal harmonies, gospel with touches of R&B, and hints of EDM through triggering of audio samples.
During "Breakup Letter", the lights reveal a homeless-looking woman (powerfully portrayed by Miami-based recording artist Sol Ruiz) peering from another scaffolding side on the opposite side of the composer. She is wily and mischievous as she enters the man's space and fiddles with his gear while he laments in song along with mournful and scratchy violins. Her appearance is the catalyst that dismantles his isolated existence and breaks him out of the comfort zone of his "box" as the cubicle is torn down by the other performers and he is forced outside to confront the reality of his surroundings.
This act of tearing down the walls begins Part 2 (written by Williams) which is a direct contrast to the Heane's Part 1. Instead of introspective navel-gazing, closed off from the rest of the world to be alone with one's thoughts, Parts 2 and 3 (also by Williams) are aggressively outward, in-your-face confrontations with uncomfortable truths that many--especially those responsible directly or indirectly--would rather not acknowledge. Saul Williams' potent poetry is like a rapid-fire succession of a fully-loaded gun, the verbal bullets penetrating deep in the minds and hearts of those who have open ears to hear them.
Bradshaw-as-Hearne is forced to look on as Ruiz's homeless woman is transformed into a punk-rock aggravator who raps Williams' "Is It Ok To Say?" which says the phrases regarded as too taboo to say aloud ("Is it ok to say white supremacy in white spaces?" "Is it ok to say your kind is not welcome here?" "Is it ok to say sorry and do it anyway?"). The furious questions are punctuated by the words sprawled on the screen above and the compositions enhancing the discontented tone. An image that celebrates Manifest Destiny is projected above--American Progress (1872) by John Gast--an allegorical representation of the modernization of the new west, personified by the goddess Columbia as America expanding westward, serving as a more demonic than angelic reminder of the pain and displacement that mission caused.
In "What About My Son?" the chorus (all people of color) lament the concerns and uncertainty for their own children, whose needs seem to be overlooked. This emotionally heart-wrenching scene was evocative of the Black Lives Matter movement and the remorseless separation of immigrant children from their families. Visually aided by home movies and music and vocals that flow from chants to desperate, furious wails then into smooth Sade-style jazz, the performers turn these questions to the sole white man whose noncommittal response is avoidance: "I'd rather not talk about it. It makes me uncomfortable. I'd rather not talk about history." Vocalist Isaiah Robinson says it all when he scoffs, "I bet you don't." This is perhaps one of the most poignant moments in a piece heavily laden with depth and meaning. The fact that Heane's character (a white man) admits his discomfort forces the white folks (myself included) in the audience to examine such uncomfortable truths themselves: where do they stand, where are they responsible and what uncomfortable truths are they avoiding?
The remainder of Part 2 launches into a chaotic frenzy of imagery, provocative poetry and sound. Images of indigenous Americans are flashed alongside new developments, construction sites and massive high rise buildings in Ft. Greene, Brooklyn, in "This Land Was Worth Every War", "Tales To Tell Your Children" and "New Faces", as the white folks and their cafes and shopping malls moved in and many long-time residents are pushed out. It felt like a rallying cry calling out both developers and new residents alike for showing ignorance or lack of concern for those who are already living in the places they wish to conquer (much like the principles of Manifest Destiny) or inhabit. The majority of Part 2 was so emotionally overwhelming and chock-full of stimulus overload that I found myself fighting back tears much of the time, relating to and sympathizing with the pain portrayed but also feeling that "white guilt" so often referenced.
But besides moments of welcomed humor, once the "box" was broken open, Place becomes relentless with constant inundation of expressions through words, images and sounds of suffering and turmoil from the people who feel forgotten and uncared for. They cut deeply like knives plunging into one's emotions and thoughts though they are, at the same time, dazzling to look at and hear. The outward unraveling spirals into chaos and dizzying confusion as the vocalists become protestors and shout "I'm migration" and "white flight" while brandishing empty signs and proclaiming: "I need a million mouths to say this but I only have this one." The arresting final image puts the responsibility to confront the issue and deliver the message back in the hands of Hearne--not the actor portraying him--but the composer himself.
How a work of such provocative political art could enter the realm of high art and work so well with so many moving parts, concepts, controversy and sheer number of highly ambitious and acclaimed artists involved is due to the talent, tenacity and teamwork from the ideal assembly of people who created or partook in Place and their personal investment and connection to the themes.
Two of the powerful, angelic vocalist-performers--Josephine and Isaiah--grew up with Hearne singing together in the Chicago Children's Chorus (nineteen year old Sophia Byrd is also a member but didn't sing with Hearne) while Steven, Sol and Ayanna were collaborators encountered later in life. The roles were created especially for them as were the music parts for the 18 instrumentalists with their unique skill sets and relationships to the soundscapes created. Co-scenic designer Sanford Biggers is a prolific and diverse African American artist whose work encompasses installation, film, drawing, sculpture and performance art that examine social, political and cultural topics. His artistic sensibilities were teamed with veteran co-scenic designer Tim Brown and lighting designer Pablo Santiago who lent the productions its vivid imagery, and sound designer Jody Elff who enhanced Hearne's soaring orchestrations.
Visionary tastemaker, producer and BAM favorite Beth Morrison founder of Beth Morrison Projects and co-founder of the PROTOTYPE Festival, has been at the forefront of musical and theatrical innovation since 2006 and has worked with Hearne for the past decade. She co-produced Place with Los Angeles Philharmonic and sings praises for Hearne: "Ted is a singular artist. No one is doing political art quite the way he is."
But though it took a "village" of innovative artists and collaborators to make Place, it's the three co-collaborators together who made it so compelling.
When Hearne first approached Williams, the poet/performer's response was: "the world doesn't need a white-male-centered perspective on gentrification right now." But after meeting with Hearne, Williams acquiesced and then embraced his intentions. The two co-writers volleyed thought responses about the themes to create the world and words of Place, while McGregor's deft skills as a director whose work and experience are so varied it seems there's nothing she couldn't take on helped sculpt the show. The three challenged each other and forced one another outside of their comfort zones to not resist the hard questions and confront difficult truths head-on-much like the audience is asking to. In the program, McGregor asks you the viewer: "Has gentrification been a protagonist or an antagonist in your life? Why and how?"
Bearing that question in mind--on a more personal note--I'm a recent transplant to Ft. Greene, Brooklyn (since 2016) after the further gentrification of an already over-gentrified area--Greenwich Village--seduced my landlord's greed to double the monthly dues on my non-rent stabilized 2-bedroom apartment, fully aware that four NYU students (or, more likely, their parents) would gladly pay such prices to squeeze into a closet-sized six-floor walkup. Now I pay around the same amount I did a decade ago for a nicer yet similar space in Ft. Greene. But portions of Place made me uneasy and question: who did I displace because I too was displaced, and where are they now? Is there a truly safe and stable place left for any of us in New York City? Or anywhere? Ft. Greene (where all three of the co-creators live or have lived at one point) is ever-evolving and was never a fixed place--I've heard direct accounts from neighbors who've lived there for 50 and even 70 or more years that it was once an affluent area, then changed and is changing again and again--always in flux. One thing to be admired about Ft. Greene is that it does retain a sense of diversity unlike many other neighborhoods in terms of race, age, education and socioeconomic backgrounds all coexisting. It is home to some of the most exciting arts organizations such as BRIC, Theatre for a New Audience and of course, Brooklyn Academy Of Music (BAM). But like everywhere else in New York City, new beginnings also trigger endings and changes come with consequences. In just a few years I have seen beloved neighborhood fixtures like the South African restaurant and community hotspot--Madiba--and Red Lantern, a bike shop meets café, shut their doors forever.
The viewer leaves Place dizzy with many thoughts and questions as it forces one to examine about their own place and that of others around them. But one thing is certain--these three incredible collaborators' homecoming to Ft. Greene in the Next Wave Festival solidifies their place in the realm of genius artists and provocateurs.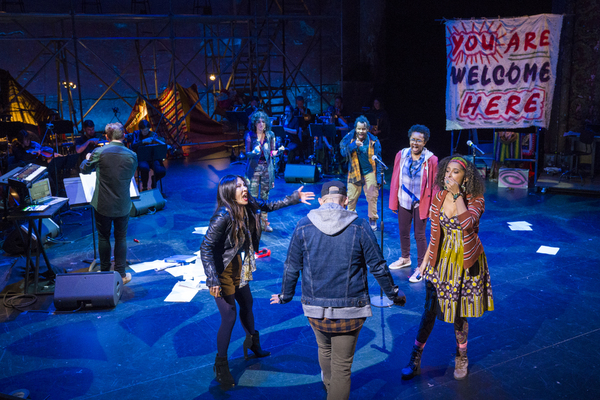 Photo: Ted Hearne, Conductor with ENSEMBLE in PLACE Created by Ted Hearne, Patricia McGregor, and Saul Williams; Music by Ted Hearne; Libretto by Saul Williams and Ted Hearne; Directed by Patricia McGregor. Dress rehearsal photographed: Thursday, October 11, 2018; 2:30 PM at the BAM Harvey Theater; Brooklyn Academy Of Music, NYC; Photograph: © 2018 Richard Termine PHOTO CREDIT - Richard Termine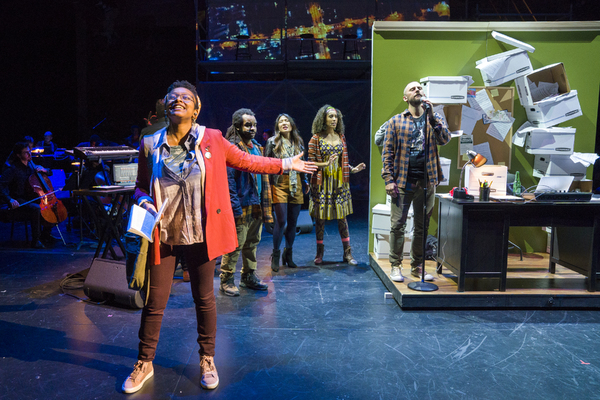 From Left: Ayanna Woods and Steven Bradshaw (at mic) in PLACE Created by Ted Hearne, Patricia McGregor, and Saul Williams; Music by Ted Hearne; Libretto by Saul Williams and Ted Hearne; Directed by Patricia McGregor. Dress rehearsal photographed: Thursday, October 11, 2018; 2:30 PM at the BAM Harvey Theater; Brooklyn Academy Of Music, NYC; Photograph: © 2018 Richard Termine PHOTO CREDIT - Richard Termine

Photo: Sol Ruiz (Center) in PLACE Created by Ted Hearne, Patricia McGregor, and Saul Williams; Music by Ted Hearne; Libretto by Saul Williams and Ted Hearne; Directed by Patricia McGregor. Dress rehearsal photographed: Thursday, October 11, 2018; 2:30 PM at the BAM Harvey Theater; Brooklyn Academy Of Music, NYC; Photograph: © 2018 Richard Termine PHOTO CREDIT - Richard Termine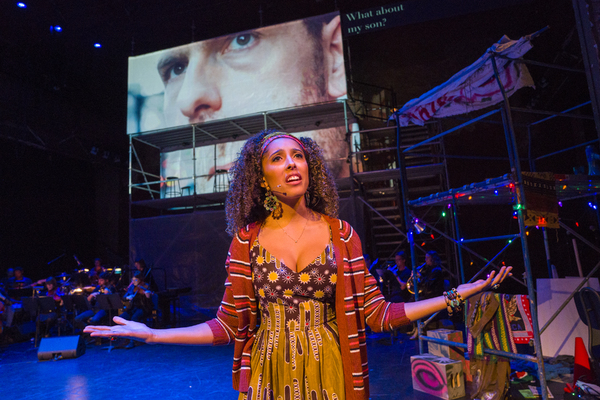 Photo: Sophia Byrd in PLACE Created by Ted Hearne, Patricia McGregor, and Saul Williams; Music by Ted Hearne; Libretto by Saul Williams and Ted Hearne; Directed by Patricia McGregor. Dress rehearsal photographed: Thursday, October 11, 2018; 2:30 PM at the BAM Harvey Theater; Brooklyn Academy Of Music, NYC; Photograph: © 2018 Richard Termine PHOTO CREDIT - Richard Termine

From Left: Ted Hearne, Conductior & Isaiah Robinson in PLACE Created by Ted Hearne, Patricia McGregor, and Saul Williams; Music by Ted Hearne; Libretto by Saul Williams and Ted Hearne; Directed by Patricia McGregor. Dress rehearsal photographed: Thursday, October 11, 2018; 2:30 PM at the BAM Harvey Theater; Brooklyn Academy Of Music, NYC; Photograph: © 2018 Richard Termine PHOTO CREDIT - Richard Termine

From Left: Ted Hearne, Conductior & Steven Bradshaw in PLACE Created by Ted Hearne, Patricia McGregor, and Saul Williams; Music by TEd Hearne; Libretto by Saul Williams and TEd Hearne; Directed by Patricia McGregor. Dress rehearsal photographed: Thursday, October 11, 2018; 2:30 PM at the BAM Harvey Theater; Brooklyn Academy Of Music, NYC; Photograph: © 2018 Richard Termine PHOTO CREDIT - Richard Termine

From Left: Ayanna Woods & TEd Hearne, Conductior in PLACE Created by Ted Hearne, Patricia McGregor, and Saul Williams; Music by Ted Hearne; Libretto by Saul Williams and Ted Hearne; Directed by Patricia McGregor. Dress rehearsal photographed: Thursday, October 11, 2018; 2:30 PM at the BAM Harvey Theater; Brooklyn Academy Of Music, NYC; Photograph: © 2018 Richard Termine PHOTO CREDIT - Richard Termine