A NEW BRAIN At Gallery Players Opens January 27th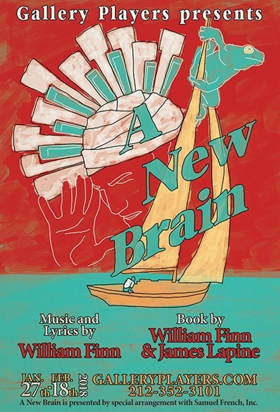 Gallery Players will begin 2018 with William Finn and James Lapine's A New Brain. It is an autobiographical musical exploring illness and the healing power of art.
A New Brain features music and lyrics by William Finn; book by William Finn and James Lapine. The show started as a concert at The Public Theater in 1996, then premiered Off-Broadway at Lincoln Center in 1998, directed by Graciela Daniele and featuring Malcolm Gets. In 2015 City Center presented A New Brain in their Encores! series with the cast headed by Jonathan Groff.
A New Brain follows a frustrated composer who experiences a potentially fatal illness and finds comfort in the healing power of art. The show is Mr. Finn's autobiographical account of his own battle for life when he was afflicted with a seemingly terminal illness. InTheatre wrote "Filled with beguiling, buoyant melody [and] witty and original lyrics [...] The kind of musical theatre invention we have come to expect from this gifted artist."
A New Brain opens Saturday, January 27th, and runs for 16 performances through Sunday, February 18th, 2018. Performances will be held Thursday, Friday, and Saturday evenings at 8:00 pm, Sundays at 3:00 PM, and the third and fourth Saturdays at 2:00 PM.

Tickets are $25 for Adults and $20 for senior citizens, students, and children 12 and under. Tickets can be purchased 24/7 online at www.galleryplayers.com or by calling OvationTix at 212-352-3101 (phone hours 9-9 weekdays, 10-6 weekends). A New Brain is an approved Actors Equity Association showcase.

Bringing A New Brain to the Gallery stage is Executive Producer, Mark Harborth; Company Manager, Justine McLaughlin; Director of Production, Scott Cally; Director/Choreographer Barrie Gelles; Music Director, Yi-Hsuan (Sobina) Chi; Lighting Designer, Scott Cally; Set Designer, Jason Pointek; Costume Designer, Hayley Zimmerman; Properties Designer, Gabrielle Giacomo; Production Stage Manager, Dominic Cuskern; Assistant Stage Manager, Emily LaRosa and an ensemble featuring Justine Campbell-Elliott, Laura Cetti, Ashley Harris, Max Joseph*, Jesse Manocherian*, Sharaé Moultrie, Adam Pearce, Justin Phillips, Alyson Leigh Rosenfeld*, Jim Roumeles*, Anette Michelle Sanders*, Samantha Schiffman*, Gerardo Vallejo, Christy Yin , Stewart Yu.
(*courtesy of Actors' Equity Association).
A New York institution for over 50 years-The Gallery Players' season comprises three plays and three musicals from both the classic and contemporary repertoire; the season finale is the annual Black Box New Play Festival, which workshops and presents world premiere productions of works by emerging playwrights. Gallery's OVERTURES program features staged readings of new musicals held throughout the regular season. Gallery has received the Off-Off Broadway Review's 2000 Award for Lifetime Achievement, as well as Innovative Theater (IT) awards for outstanding musical for Urinetown, Yank, and Like You Like It, and has earned the reputation of "New York's Best Kept Secret."

The Gallery Players is located at 199 14th Street, between 4th and 5th Avenues, in Park Slope, Brooklyn. Take the F Train to 4th Avenue or the R Train to 9th Street. By car: the BQE to Hamilton Avenue, to 14th Street. Website: http://galleryplayers.com.