WAM Theatre Makes Record Donation To Two Non-Profit Beneficiaries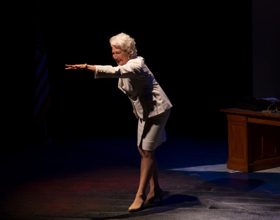 Every year, WAM Theatre donates a portion of the box office proceeds from their fall Main Stage production to agencies that benefit women and girls locally, nationally, or internationally. The success of ANN enabled the company to present their largest donation ever - $15,000 split evenly between its 14th and 15th beneficiaries, The Denise Kaley Fund and the Women's Fund of Western Massachusetts' 2018 Leadership Institute for Political and Public Impact (LIPPI). Each organization will receive $7,500.
"The Women's Fund of Western Massachusetts is beyond thrilled to receive a donation of $7,500 which will fund two full scholarships for Berkshire County women to attend our life-changing Leadership Institute for Political and Public Impact (LIPPI), as well other impact and leadership training for Berkshire women," exclaimed Donna Haghighat, CEO of the Women's Fund. "Now, more than ever, we need women's voices and representation in all aspects of leadership, and our nonpartisan LIPPI program provides women with the tools to step into that leadership."
"This extraordinarily generous gift from WAM opens up three major possibilities for us," Barbara Bonner, Fund Advisor and Co-Founder of The Denise Kaley Fund explained. "We can give more gifts than last year. We now have the flexibility to make our grants even more generous than before. And more people will know about and be able to access our services because of the increased profile of our fund during the run of ANN. This gift truly helped us take a big step forward! On behalf of all the women we serve, we are so grateful."
A one-woman tour-de-force, ANN is a hilarious and spirited portrait of Ann Richards, legendary Governor of Texas. Written by award-winning actress and writer Holland Taylor (Two and a Half Men) and starring Jayne Atkinson (House of Cards, Madam Secretary), ANN was a co-production with the Dorset Theatre Festival where it ran for four sold-out performances in Dorset over Labor Day weekend. ANN then continued on to break all of WAM's ticket sales records during its two week run at the Tina Packer Playhouse in Lenox, MA, in October.
"I am so deeply honored to be part of WAM's mission to combine theatre and philanthropy and support women supporting women and girls." says Jayne Atkinson, star of ANN. "Doing ANN has been part of my civic duty to give back and inspire."
In keeping with WAM Theatre's double philanthropic mission, the check presentations were made following the closing performance on Sunday, October 28. Since its founding in 2010, WAM Theatre has now donated more than $56,500 to 15 non-profit organizations.
The Denise Kaley Fund stands alone in their mission to help women living with cancer in Berkshire County pay for the cost of life's necessities as they undergo treatment and heal: heating oil, groceries, car payments and repairs, rent, mortgage payments, babysitting and medical expenses not covered by insurance, to name just a few. WAM's donation will provide emergency grants for women with cancer in Berkshire County.
Since 1997, the Women's Fund has been supporting women and girls in the four counties of western Mass through grant making and leadership programs. Their Leadership Institute for Political and Public Impact, or LIPPI, is a non-partisan initiative that provides women with the tools, mentors, and confidence they need to become our region's community leaders and elected officials. LIPPI trains women in the nuts and bolts of impacting policy from a citizen perspective, and develops leadership confidence through 11 intensive workshops held in over 10 months. WAM's donation will provide scholarships for Berkshire participants in the 2018 LIPPI cohort and other impact and leadership training for Berkshire women.
The 2018 beneficiaries were chosen after a rigorous selection process, including a request for proposals and site visits, overseen by a committee at WAM consisting of Kristen Van Ginhoven, Margaret Fluhr (WAM Volunteer), Wendy Healey (WAM Board of Directors), and Lia Russell-Self (WAM Artist).
In addition, WAM hosted a vibrant post-show panel discussion focusing on Women in Politics with Tahirah Amatul-Wadud, Stephanie Bosley and former Massachusetts Governor Jane Swift. Jayne Atkinson and Kristen Van Ginhoven held a lively talk-back following a special Thursday matinee attended by students from area schools.
A third panel - Integrating Activism into Artistic Choices moderated by Dina Janis, the Artistic Director of the Dorset Theatre Festival (our co-producers for ANN) and featuring Amanda Rafuse, the Director of Artistic Outreach for Northern Stage Company, Daniel Elihu Kramer, Artistic Director of the Chester Theatre Company, Lee Mikeska Gardner, Artistic Director of The Nora Theatre Company, and Kristen Van Ginhoven - was scheduled after our October 27 matinee performance that unfortunately had to be cancelled due to a local power outage.
The Denise Kaley Fund and the LIPPI Program of the Women's Fund of Western Massachusetts are WAM's 14th and 15th beneficiaries. Past recipients include: the Soldier On Women's Program, the Berkshire Immigrant Center, Suzi Banks Baum's New Illuminations initiative in Gyumri, Armenia, Hands in Outreach, Sisters for Peace, Mother of Peace Orphanage in Illovo, South Africa, the Rites of Passage and Empowerment Program for Girls (ROPE), Shout Out Loud Productions, Berkshire United Way's Teen Pregnancy Prevention Initiative, Edna's Hospital in Somaliland, The Women's Fund of Western Massachusetts, and Women for Women International.
"It is phenomenal to end our ninth season with this record-breaking donation." said Kristen Van Ginhoven, Artistic Director of WAM Theatre. "We are thrilled our audiences enjoyed ANN so much! We are excited to share plans for our 10th anniversary season soon!"
Photo by David Dashiell