The Pain and The Itch: Virginia Woolf-lite
The Pain and The Itch
By Bruce Norris
Directed by M. Bevin O'Gara; Set Designer, Cristina Todesco; Lighting Designer, James McNamara; Sound Designer/Composer, Aaron Mack; Properties Designer, Basia Goszczynska; Costume Designer, Angela Jajko; Video Designer, Jordan Harrison
CAST: Mr. Hadid, Cedric Lilly; Clay, Joe Lanza; Kelly, Aimee Doherty; Kayla (at this performance) Helen Steinman; Kalina, Philana Mia; Cash, Dennis Trainor, Jr.; Carol, Nancy E. Carroll; Kayla alternates, Rebecca Skye Hamberg, Abigail Steinman
Performances through April 4 at the Boston Center for the Arts/Plaza Theatre
Box Office 617-933-8600 or www.BostonTheatreScene.com
For show details and information on the season visit www.companyone.org
You are invited to share Thanksgiving dinner with the most dysfunctional family this side of the Westons of Osage County in Company One's production of Bruce Norris' The Pain and The Itch at the Boston Center for the Arts/Plaza Theatre. While dining with them is a surefire recipe for indigestion, watching them in action makes for a great evening of theatre and I challenge you to keep your jaw from dropping at their antics. They may start out looking like a typical, liberal privileged family, but throw in a sticky-fingered housekeeper, an avocado-munching rodent, and pornographic videos and wait for the chaos to begin. 
The Pain and The Itch has a biting, satirical tone and a history of controversy due to its inclusion of a child actress and its mature subject matter. Premiered at Chicago's Steppenwolf Theatre in 2004, it seems fitting that the honors in Boston go to Company One which has made a name for itself by pushing the envelope and producing edgy, provocative works over its ten seasons on the local theatre scene. Norris takes on class, race, and family values and packages them in a searing, unsettling, but also very funny play.
Kelly and Clay are yuppie parents of a newborn son and a daughter Kayla (about 6 years old) who has a serious medical issue of unknown origin. The play opens with wife, a high-powered attorney, and husband, a sensitive new age Dad, in somber conversation with Mr. Hadid in their comfortable contemporary home, relating their story in flashbacks. The identity of the African American stranger is not immediately apparent, but he remains a presence in the background as other members of the family appear for the holiday gathering. Clay's clueless mother Carol, sarcastic brother Cash, and the latter's young Bosnian girlfriend Kalina bring their foibles and flaws to the table and the party is in full swing.
The primary concern of the parents is to keep their children safe from the evils of the world, as well as from whatever creature has invaded their home to gnaw on avocados. Their list of no-nos includes smoking in the house, makeup on their little girl, and playing shooting games, albeit without toy guns. They are the ultimate wet blankets, running to and fro to stomp out imaginary sparks, while the family dynamics constitute a fire-breathing dragon in their midst, threatening to consume one and all. Selfish whining, angry insults, and nasty accusations are volleyed back and forth in a vicious verbal tennis match. Think of it as Who's Afraid of Virginia Woolf-lite.
Clay (Joe Lanza) and Cash (Dennis Trainor, Jr.) share a volatility gene and both actors convincingly exhibit the sibling rivalry, lashing out at each other and anyone who gets in their way. Carol (Nancy E. Carroll) enables her boys to continue the competitive pattern that goes back to their youth with her attempts to placate everyone, often denying reality. Adding to the commotion, Kalina (Philana Mia) and Kayla (Helen Steinman) chase each other around the house, squealing with childish delight, while Kelly (Aimee Doherty) rolls her eyes and talks through clenched teeth and a tight, insincere smile. When the playwright tugs on the loose threads, Mr. Hadid (Cedric Lilly) quietly observes the fabric of the family unravel while the audience continues to wonder about his piece of this puzzle.
Norris plants the seeds of a whole garden of questions about his characters. Is Hadid an exterminator or a lonely widower invited to dinner simply to provide some perspective? Do Clay and Kelly have a solid marriage, or is it all a façade? Could the overprotective Clay be responsible for Kayla's horrifying genital rash, or might the avocado-munching intruder be the cause of it? Some of these ideas are red herrings, but the fun lies in discovering which ones turn out to be fishy and which ones fact.
In a clever reinforcement of "practice what you preach," one of the central themes of the play, plastic surgeon Cash tells Hadid a story about a successful, yet unattractive woman who comes to him for a nose job, but proclaims that she doesn't believe in cosmetic surgery to solve life's problems. He is struck by the irony that she is motivated to improve her looks in order to find happiness, and that she is willing to sacrifice her beliefs to do so. The message lingers in an awkward silence between the two men and wafts over the audience until it sinks in. For all of his righteous parental superiority and panic about the evils of the outside world, Clay does more potential damage to Kayla by suppressing her natural exuberance, collecting porn videos, and setting a poor example when he alternately rants or sulks and disrespects his own mother in front of her. What is his responsibility and where does evil really lurk?
The snap and crackle of Norris' dialogue and crisp direction by M. Bevin O'Gara in her Company One debut make the action pop like kernels of corn in a hot fryer. Lights flash on or off over the living room or dining area to clearly indicate the flashbacks and forwards in time, music and videos are perfectly synchronized, and, in a departure from real life, all of the components of the Thanksgiving meal are ready to be served together. (I wonder if O'Gara cooks?) Without a doubt, her cast is cookin' on all burners. Doherty's tightly-wound professional woman is as removed from her free-spirited Sally Bowles in Cabaret, as is Carroll's relentless, oblivious mother from her role as Joan Didion in The Year of Magical Thinking. Lilly lends an air of down-to-earth dignity to the proceedings and tells Hadid's emotional story with authenticity. Mia is a charmer with a spot on accent and a nuanced performance as the outsider who wants to fit in with the family, but won't take mistreatment in trade. Steinman looks like she's enjoying the best play date ever, but lacks a little focus.
The Pain and The Itch is well-served by playing in the cozy Plaza Theatre where the audience is so close that it seems like we are also sitting in the living room, voyeurs peeping into these imperfect lives and feeling their discomfort. Fortunately, there are a lot of laughs in this dark comedy to break the tension and an array of surprises toward the end that will send you out into the night shaking your head. Lastly, it kind of makes you appreciate your own relatives.                   
 Photo: Joe Lanza (Clay), Aimee Doherty (Kelly)
From producing and starring in family holiday pageants as a child, to avid member of Broadway Across America and Show of the Month Club, Nancy has cultivated her love of the art and respect for the... (read more about this author)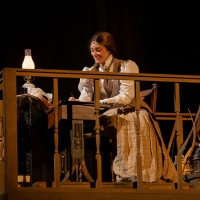 LITTLE WOMEN: THE BROADWAY MUSICAL

December 1, 2022

Have there ever been such devoted sisters as the four March girls, birthed by Louisa May Alcott in her postbellum semi-autobiographical novel LITTLE WOMEN? Director Ilyse Robbins shows her abiding affection for the story with her devotion to its heart and soul on display in the production of the 2005 Broadway Musical at Greater Boston Stage Company.
---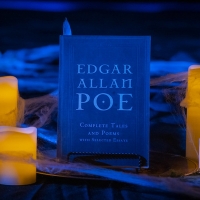 REVIEW: THE EDGAR ALLAN POE DOUBLEHEADER

October 28, 2022

If you have yet to reach your fright limit for the Halloween season, you still have two chances to experience chills of the dramatic variety at THT Rep at the BrickBox Theater in Worcester. Reprising the production she created for small, socially-distanced audiences of 20 in the early days of the pandemic, Artistic Director Livy Scanlon is performing THE EDGAR ALLAN POE DOUBLEHEADER in front of 290 stadium-style seats.
---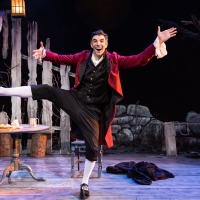 REVIEW: THE LEGEND OF SLEEPY HOLLOW

October 26, 2022

Two hundred years after Washington Irving introduced the little hamlet of Sleepy Hollow and its superstitious denizens to the canon of American literature, the legend remains among the most enduring of stories that capture the imagination of adults and children alike, inspire questions about the supernatural realm, and scare the bejesus out of its audience.
---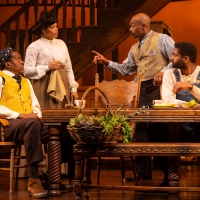 Review: AUGUST WILSON'S JOE TURNER'S COME AND GONE

October 22, 2022

JOE TURNER'S COME AND GONE was the first Wilson play produced at the Huntington in 1986, the beginning of a 19-year relationship that saw all ten of his American Century Cycle plays chronicling the African American experience in the 20th century performed on the local stage.
---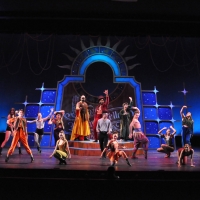 Review: PIPPIN: Growing Up Is Hard To Do

August 8, 2022

The second and final production of Reagle Music Theatre of Greater Boston's 2022 season is Stephen Schwartz's PIPPIN, originally produced on the Broadway stage in 1972 with direction and choreography by Bob Fosse, and revived/reimagined in 2013 by Diane Paulus at the American Repertory Theater before going to Broadway. Undaunted by following in those two very large sets of footsteps, RMT Artistic Director Rachel Bertone forges her own path to stage a version that leads with an enlarged heart and a healthy helping of fun and whimsy.
---