Swedish Tour de Force Sophie Dunér to Embark on US Mini Tour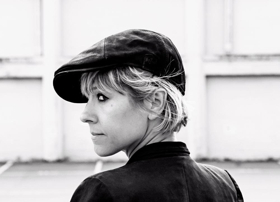 Dynamic Swedish composer, lyricist, vocalist & visual artist Sophie Dunér embarks on a US Mini Tour this December. Celebrating her most recent release, The City of Dizzy, a unique and darkly beautiful collaboration with cellist Jeremy Harman, Dunér will perform duos together on Friday, December 1st at ShapeShifter Lab in Brooklyn at 9:30pm; then on to The Lilypad in Cambridge on Saturday, December 2nd at 7:30pm.
"This is a killer album. Nearly every track comes at you like an assault of rhythm in which the twists and turns of the music keep you on the edge of your seat" (Art Music Lounge). Sophie has previously released the chamber jazz CD, The City of My Soul, with string quartet (produced by Michael Haas, Coralfox) on PARMA recordings, hailed by Fanfare Magazine as "...a stunning album, the music of which certainly opens up new and quite astonishing possibilities for other jazz vocal artists around the world to emulate and expand. A first-class creator."
She has collaborated with musicians such as Rory Stuart, Matt Penmann, Kahlil Kwame Bell and Dominic Duval to name a few. Her performances span from Festival de Música Contemporánea de La Plata in Buenos Aires and Festival O/Modernt in Sweden to The Bop Shop, Smalls and CBGB´s in the US.
Jeremy Harman is part of The Sirius Quartet and has as a freelance cellist collaborated with musicians such as
Uri Caine
and Marc Ribot, having performed at venues such as
Carnegie Hall
and Newport Jazz Festival.
The concert will be accompanied by Dunér's visual art. Cadence Magazine has called Sophie "a genuine triple threat as a composer, lyricist and vocalist."
The City of Dizzy can be heard on Soundcloud and is available for purchase at CD Baby.
Sophie Dunér on the genesis of this project:
"I first met Jeremy Harman while he was on tour with The Sirius Quartet in Germany a few years ago. We ended up collaborating at the PARMA Music Festival in Portsmouth, NH, the following summer and that resulted in this CD, which we recorded in Boston. I felt the record needed to be made. I used to sing with regular jazz trios and quartets. That's where I come from. Jazz. However, string instruments always fascinated me - especially when aggressively played. (My previous CD, The City of My Soul, produced by Michael Haas and released on PARMA recordings, was recorded with a string quartet.) So here I had a musician who could supply me with all of it: a string sound in all its varied forms, harmony, bass, pedals, percussion plus additional loops and counter line melodies, and ultimately; improvisation. Jeremy´s outstanding versatility as a cellist is amazing and his playing coloured and shaped my pieces exactly the way I had imagined them. Can a singer and composer possibly ask for more?"
TOUR SCHEDULE:

Friday, December 1, 2017 at 9:30pm
Sophie Dunér & Jeremy Harman
ShapeShifter Lab
18 Whitwell Place
Brooklyn, NY (Between 1st & Carroll St., off 4th Ave., Park Slope)
Admission: $10
Subway: R (Union St. Station)
Saturday, December 2, 2017 at 7:30pm
Sophie Dunér & Jeremy Harman
The Lilypad
1353 Cambridge St., Cambridge, MA
Admission: $10
Subway: Red Line to Central Squre, walk northeast on Prospect St. for 1/2 mile, turn left on Cambridge Street, The Lilypad will be on your right in 1/10 mile.
https://www.lilypadinman.com/home/2017/12/2/sophie-dunr-jeremy-harman-duo
Photo: Petra Bjorstad ©