Photo Flash: Un-Common Theatre's SECRET GARDEN
The Un-Common Theatre Company is proud to present the Tony award winning musical "The Secret Garden" at the Orpheum Theater, Foxboro over the weekend of April 1st.
Based on the classic children's novel by Francis Hodgson Burnett, "The Secret Garden" tells the haunting story of a young girl's struggle to free the inhabitants of a gloomy Yorkshire mansion who are emotionally imprisoned by a tragic memory. Through her tenacity, human courage and her profound sense of dignity, young Mary Lennox, sent to live in the sorrowful house following the death of her parents from cholera, brings her departed aunt's neglected garden back to life, along with the spirit and soul of her long grieving uncle and the health of her fragile, bedridden cousin.
Guest director, Michael La Fleur, brings the heart and soul of this emotionally charged musical to life through pure theatrical staging, intriguing illusions, and haunting visual imagery. Guided by the whirling, gliding ghosts of her past, and with the help of a handful of unforgettable characters, Mary's story unfolds in dark visions of hauntEd Hallways, a moving, dancing maze, portraits that come to life and, through some simple but artistically realized, creative stagecraft, a breathtaking garden that blooms before the audience's eyes.
Esther Zabinski, Music and Orchestra Director, leads the talented cast of 29 through the beautiful and sophisticated musical score.
"The Secret Garden features Deirdre Pedersen of Westborough as Mary; Johnny Fullerton of Mansfield as Archibald; Katie Beckvold of Abington as Lily; Andrew Purdy of Franklin as Colin; Sarra Forti of Middleboro as Martha; Sean Neary of Mansfield as Neville; Ryan Larkin of Mansfield as Dickon; Olivia Losiewicz of Mansfield as Mrs. Medlock; and Corey Cadigan of West Bridgewater as Ben.
Completing the talented cast are:
From Foxboro: Jonah Philibert (Fakir), Erin Van Dell (Mrs. Shaw)
From Mansfield: Katie Armstrong (Alice), Michaela Buccini (Mrs. Winthrop), Alex Fullerton (Lt. Wright), Lloyd Hewitt (Albert), Abbey Johnston (Claire Holmes), Logan Marks (Major Holmes) and Kelly Newton (Rose)
From Needham: Sara Curtin (ensemble), Erin Lipman (ensemble), Ava Marinelli (ensemble), and Kate Oetheimer (ensemble)
From Norfolk: Sarah Gibson (Ayah), Julie Lugten (ensemble), and Emily Walsh (ensemble)
From North Easton: Tim Andrew (Major Shaw)
From Norton: Elizabeth Riley (ensemble) and Abigail Sitte (ensemble)
From Westwood: Marybeth Hogan (ensemble)
Performances will be held at The Orpheum Theatre, Foxboro on Friday, April 1 at 7:30 pm, Saturday, April 2 at 7:30 pm and Sunday April 3 at 2:00 pm. The show is recommended for audiences age 8 and older. Tickets are $20 for adults and $15 for seniors and students and may be purchased through Brown Paper Tickets at (800) 838-3006 or order online at www.brownpapertickets.com and search for "The Secret Garden". For Un-Common member or group sales please call The Un-Common Theatre Co. at (508) 698-3098.
The Un-Common Theatre Co. is currently in its 31st season of providing a safe, exciting and creative place for children and adolescents to develop life skills through exposure to the professional theatrical experience. For more information on the Un-Common Theatre Co. and "The Secret Garden" please visit their website at
www.uncommontheatre.org
Photo Credit: Kevin Forti


Sean Neary, Abbey Johnston, Deirdre Pedersen of Westborough (Mary), Oliva Losiewicz 2nd Row: Kelly Newton, Katie Armstrong, Logan Marks, Ryan Larkin 3rd Row: Lloyd Hewitt, Johnny Fullerton, Michaela Buccini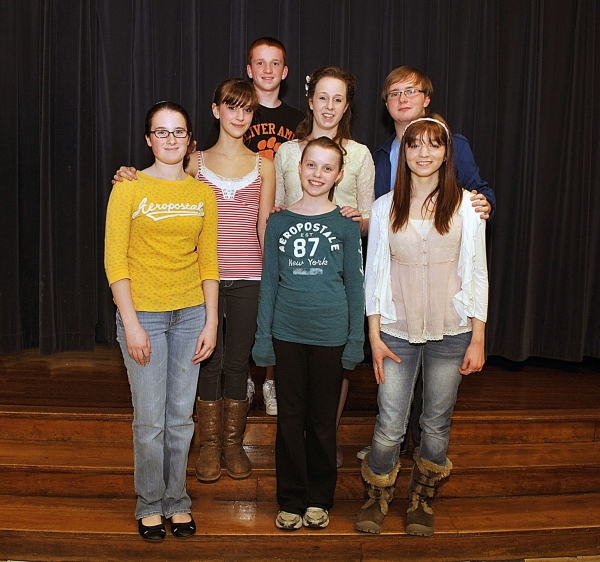 Elizabeth Riley of Norton, Deirdre Pedersen of Westwood, Sarra Forti of Middleboro, Abbey Sitte of Norton, Katie Beckvold of Abington, Corey Cadigan of W. Bridgewater, Tim Andrew of N. Easton

Deirdre Pedersen of Westborough (Mary), Kate Oetheimer of Needham, Erin Lipman of Needham, Marybeth Hogan of Westwood and Sara Curtin

Deirdre Pedersen of Westborough (Mary), Emily Walsh of Norfolk, Andrew Purdy of Franklin, Jonah Philibert of Foxboro, Erin Van Dell of Foxboro, Sarah Gibson of Norfolk and Julie Lugten