MIDNIGHT AT THE NEVER GET to Make New England Premiere in Provincetown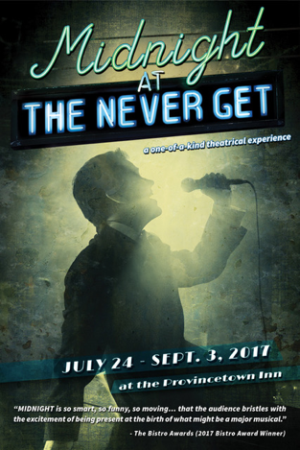 Midnight at The Never Get, the award-winning and critically-acclaimed musical hit of last summer's New York Musical Festival, will enjoy its New England premiere this summer, a co-production of Visceral Entertainment (Michael Chase Gosselin and Tim Sulka) and Dustin Sparks Productions.
Starring Sam Bolen and Kevin Quill (with a special appearance by Jody O'Neil) and conceived by Mr. Bolen and Mark Sonnenblick, with book, music and lyrics by Mr. Sonnenblick, choreography by Andrew Palermo (Allegiance, The Other Josh Cohen), music direction & arrangements by Adam Podd (The Spidey Project, Fiction in Photographs) and direction by Max Friedman (Ruby Manger Live!, Charlie Rosen's Broadway Big Band), Midnight at The Never Get will play a (6) six-week engagement at Provincetown Inn (1 Commercial Street - Provincetown, MA) with performances beginning Monday, July 24th. Opening Night is set for Saturday, July 29th at 7pm. The show will play through Sunday, September 3rd.
Featuring a sultry score fashioned after the American Songbook, Midnight at The Never Get imagines two men who never existed at a time that very much did. Trevor Copeland (Sam Bolen) and Arthur Brightman (Kevin Quill) have the perfect New York romance. That's swell. In 1965, it's also against the law. So, in the back room of "The Never Get," an illegAl Greenwich Village gay bar, they put together a show called "Midnight" - a queer nightclub act where Arthur writes love songs for Trevor to sing to a man. But as they hurtle towards the end of the decade and tensions in the Village reach a breaking point, the lovers find themselves caught in a relationship they can't control and a movement they don't understand.
In a statement, Producer Michael Chase Gosselin said, "Tim Sulka, Dustin Sparks and I are very excited to bring Midnight at The Never Get to Provincetown audiences this summer and share this one-of-a-kind theatrical experience that combines elements of a book musical and jazz cabaret in a site-specific production at the Provincetown Inn. I'm thrilled that we are able to give audiences a taste of what stepping back in time to 1965 at "The Never Get" could be while they enjoy the show's universal love story and remarkable score."
The creative team includes Christopher & Justin Swader (set), Vanessa Leuck (costumes), Jamie Roderick (lighting), Kevin Heard (sound), Addison Heeren (prop design) and Preston Ridge (creative consultant). The Production Stage Manager is KJ Morton.
Midnight at The Never Get will play Monday - Friday at 8:30pm and Saturday at 6:00pm & 9:30pm. Tickets are priced at $25-$65 and beginning July 3rd, may be purchased online at www.brownpapertickets.com or by calling 1-800-838-3006.
ABOUT THE ARTISTS:
Mark Sonnenblick (Co-Conceiver/Book/Music/Lyrics) is a composer, lyricist, and scriptwriter, although not always at the same time. Collaborations include Midnight at The Never Get (Bistro Award, MAC Award Nominee "Show of the Year"), Independents ("Best Production" FringeNYC, "Critics' Pick" New York Times), Dragons Love Tacos (TheatreworksUSA), Twenty Minutes or Less (Washington National Opera), Ship Show (Yale Institute for Music Theatre), Stompcat in Lawndale (Ars Nova Ant Fest), and Wheel of Misfortune (Denver Center for the Performing Arts). He has developed work at The Johnny Mercer Writers Colony (Goodspeed Musicals), UCross Foundation, Rhinebeck Writers Retreat, The John Duffy Institute (Virginia Arts Festival), Composers and the Voice (American Opera Projects), and The Johnny Mercer Songwriting Project. He lives in Brooklyn with no pets of any kind.
Sam Bolen (Co-Conceiver/Trevor Copeland) is an actor and a singer living in Brooklyn. He pitched the idea that became Midnight at The Never Get to Mark Sonnenblick in Mark's old kitchen, then went on to originate the role of Trevor in productions at Don't Tell Mama and the 2016 New York Musical Festival, for which he and the team won the Bistro Award for Book Musical last March. Other New York credits include STREEPSHOW! Season 1 (The Tank); The New Yorkers, Irma La Douce, Gentlemen Prefer Blondes, Annie Get Your Gun, It's a Bird. It's a Plane. It's Superman! (Encores!); POPE! An Epic Musical (NYMF, Outstanding Lead Actor); Macbeth, Twelfth Night, Hamlet (Old Hat Theatre Co.). Regional: A Funny Thing Happened On The Way To The Forum, The Drowsy Chaperone, The Mousetrap, Forever Plaid (New London Barn Playhouse); John & Jen (Red House Arts Center). Sam is a graduate of the William Esper Studio and of Yale University, where he was a Whiffenpoof and a Spizzwink. www.sambolen.com / @wafflehouses
Kevin Quill (Arthur) is an actor, director, and piano bar entertainer. He recently reprised the role of The Poet in the one-man show An Iliad, which has toured throughout the northeast since 2013. He played Jamie in his original concept of The Last Five Years where the two characters accompany one another on piano. Kevin lives in New York City - more info can be found at thekevinquill.com.
Jody O'Neil (Sister Etcetera) is a New York/Cape Cod-based actor and writer whose recent stage work has swung the gamut from a Cockney junkie Claire in The Maids and a DJ-spinning Mephisto in Doctor Faustus Lights the Lights to a pair of iconic O'Neill roles: Tyrone, Jr. in A Moon for the Misbegotten and Chris Christopherson in Anna Christie. On screen, he has seduced co-star Margot Kidder in a wicked tango in Never Met Picasso and rallied around Samuel L. Jackson as one of Mango's Boys on "Saturday Night Live." Currently, he can be seen as failed banker Ivan Zamir in the locally-produced 14-part mini-series, "Offseason," streaming on Amazon Prime.
Max Friedman (Director) is a director of theatre, concerts, and cabaret. He is the recipient of a 2017 Bistro Award for Midnight at The Never Get, which he helmed at Don't Tell Mama and 42West as part of NYMF 2016. He most recently directed a concert presentation of Paul Jabara's Rachael Lily Rosenbloom... and don't you ever forget it at 54 Below. Other NYC credits include Love Letter: Joe Iconis & Lauren Marcus do Johnny Cash & June Carter Cash (Don't Tell Mama), Noel & Julia's Wayward Brainchildren (Joe's Pub), Charlie Rosen's Broadway Big Band (2016 MAC Award Nomination, Show of the Year), Ruby Manger Live! The Farewell Engagement by Julia Mattison & Noel Carey (54 Below), The Bluest Ink (Sondheim Jazz Revue, le poisson rouge), and 6 by Zack Zadek (NYMF 2012). Regional credits include Murder Ballad (NJ Premiere) and The Longing and The Short of It by Daniel Maté (5 Carbonell Award Nominations, including Best Director). As an Assistant Director, projects include Jasper In Deadland (Prospect Theater Company), The Other Josh Cohen (Soho Playhouse), Uncool:The Party, 35MM, and many projects with Joe Iconis and Family including Things to Ruin, Bloodsong of Love, and The Annual Joe Iconis Christmas Spectacular. Friedman is currently in residence as the Associate Director of Programming of the legendary cabaret institution Don't Tell Mama where he has helmed over a dozen original cabaret acts and a series of developmental presentations of new musicals. www.maxfriedmandirector.com Instagram/Twitter: @maxbfriedman
Visceral Entertainment (Producer) This newly formed theatre, film and television Production Company brings together the talents of its two principals, Michael Chase Gosselin and Tim Sulka. In addition to this limited engagement of Midnight at The Never Get, Visceral Entertainment is currently producing the original musical, Money Talks, now playing at the Davenport Theatre Off-Broadway. Other projects in development include the holiday musical, The Most Miserable Christmas Tree, a new Broadway musical comedy, Pope! An Epic Musical, an audience immersive musical stage adaptation of the Jonathan Lethem novel, You Don't Love Me Yet and a stage adaptation of the novel The Black Ledger, by D.G. Allen. Film and television projects include Urbn FaeryTales, a musical television series of familiar fairy tales set and filmed in modern day Brooklyn, and Prime Cuts, a film of the darkly comic graphic novel, a teen version of the Sweeney Todd legend.
Dustin Sparks Productions (Producer) is a multi-faceted, entertainment company specializing in producing theatre and live entertainment. The company is committed to producing projects that celebrate the human experience through new works, and adaptations that bring to life a range of diverse stories to inspire and engage audiences.
More Hot Stories For You