Cape Rep Theatre to Present Evening of THREE NEW PLAYS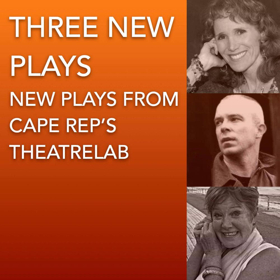 Cape Rep Theatre's 32nd season continues with a production of Three New Plays, plays from our playwrights' lab, all deeply intimate, revelatory stories of American women.
Bella by Vickie Summers, 19 DEF by Ian Ryan and My Marbles are Perfectly Fine by Joanne Callum Powers were developed in Cape Rep's playwriting lab as well as our Playwriting for Performers workshop taught by resident playwright, Art Devine.
Tickets are $15. Complimentary snacks, a cash bar and post show chat with our authors follow the performances. August 14 thru 28 Monday evenings at 7PM. Call the box office for details. Cape Rep Indoor Theater. North Side Route 6A E. Brewster. 508.896.1888 or www.caperep.org.
Cape Rep's 2017 Indoor Theater season opened with Richard Nelson's Regular Singing May 4 - June 4, followed by Jaclyn Backhaus' ingenious comedy, Men On Boats June 22 - July 22. Next up is the ten-time Tony-winning musical, Billy Elliot the Musical, music by Elton John, book and lyrics by Lee Hall, August 2-27, followed by William Finn and James Lapine's imaginative musical comedy, A New Brain September 14 - October 15. The season will close with the world premiere of Boundless, November 2 - December 3, an original play with music by Damian Baldet and Alison Weller that explores the Cape Cod fishing industry. Special events include Trish & Jared's 21st Century Songbook, a musical revue featuring two of Cape Rep's favorites, Sunday & Monday nights June 25 - July 17 followed by a production of New Plays from Cape Rep's Theatrelab, Monday nights, August 7 -21. The Outdoor Theater will include an original play written and directed by local theater artist Holly Erin McCarthy, The Epic Adventure of Lulu's Lemonade Stand, June 28 - August 31, and Pitter Patter Puppets, Mary Wilson's delightful interactive puppet show July 7 - August 22.
Cape Cod Repertory Theatre Company, Inc. is a 501c3 organization, founded in 1986 as a company dedicated to creativity and professionalism. On seven acres of land in Nickerson State Park in Brewster, Massachusetts, Cape Rep Theatre is the steward of the beautiful land and historic buildings that are home to the company's three theaters, including the only outdoor theater on Cape Cod. We are professional theater in an intimate setting.
More Hot Stories For You