BWW Reviews: Stoneham Theatre's Recipe for $uccess
How to $ucceed in Business Without Really Trying
Book by Abe Burrows, Jack Weinstock, and Willie Gilbert; Music and Lyrics by Frank Loesser; Based Upon the Book by Shepherd Mead; Directed and Choreographed by Ilyse Robbins; Musical Direction by Jim Rice; Scenic Design, Jenna McFarland Lord; Costume Design, Elisabetta Polito; Lighting Design, John Eckert; Sound Design/Engineering, John Stone; Props Master, Megan Kineen; Production Stage Manager, Rachel Policare; Assistant Stage Manager, Maegan Alyse Passafume
CAST (in alphabetical order): Ephie Aardema, Sirena Abalian, Neil A. Casey, Katie Clark, Nicholas Davis, Sarah de Lima, Aimee Doherty, Russell Garrett, Laura Graczyk, Tyler Bradley Indyck, Bradley Jensen, Maria LaRossa, Kevin Patrick Martin, Angelo McDonough, John James Pirroni, Sophie Rich, Robert Saoud, Nick Sulfaro, Ceit Zweil
Performances through June 7 at Stoneham Theatre, 395 Main Street, Stoneham, MA; Box Office 781-279-2200 or www.stonehamtheatre.org
J. Pierrepont Finch finds all the advice and guidance he needs to rise to the top of the corporate ladder in a little step-by-step book called How to Succeed in Business Without Really Trying. Stoneham Theatre has discovered that the secret to success for producing a big song and dance musical is to enlist Ilyse Robbins to direct and choreograph. With Robbins reigning as chair of the board over a company of established pros and starry-eyed up-and-comers, this effervescent How to $ucceed is bound to do boffo business.
Let's start with the fact that H2$ premiered on Broadway in 1961 and is as much a reflection of its era as the recently-departed Mad Men, but Robbins slants its attitude and satire enough to make it resonate for the 2015 audience inured to the glass ceiling and the excesses of Wall Street. In terms of updating, the women portrayed onstage at Stoneham seem to be aware of how they are being mistreated, ogled, and manhandled, and manage to sneak in a few good licks in return. Keep an eye on the likes of Ceit Zweil (Smitty) and Katie Clark (Miss Krumholtz), for example, and see the inner goddess who cedes no power to the inept frat boys trying to press their advantage. Even Hedy La Rue, the poster child for dumb blonde (who happens to be a redhead), is a sly, savvy vixen who goes after what she wants in Aimee Doherty's strong characterization.
The stars of the show are newcomer Tyler Bradley Indyck (Finch) and Stoneham/Broadway vet Ephie Aardema (Rosemary) and they are adorable together. Their chemistry builds as the relationship between their characters heats up and you can't help but root for Ponty and Rosemary to share a happy ending. They are but two of the strong actor/singers in the cast, joined by the delightful Neil A. Casey (born to play J.B. Biggley), versatile Robert Saoud (Mr. Twimble/Womper), and triple-threat tapper Russell Garrett (sycophantic Bratt). Angelo McDonough almost succeeds in stealing the show with his big voice and broad strokes as Finch's nemesis Bud Frump.
Sarah de Lima adds class and comic timing to the testosterone-heavy officescape as Biggley's secretary Miss Jones, and Nick Sulfaro distinguishes himself in three roles (Gatch/Ovington/Toynbee). The featured players are surrounded by a constellation that includes an amazing group of dancers who also manage to infuse their nameless executives and secretaries with individuality. Sirena Abalian, Nicholas Davis, Laura Graczyk, Bradley Jensen, Maria LaRossa, and John James Pirroni, led by Dance Captain Kevin Patrick Martin, do justice to Robbins' choreography in several production numbers. They stumble about like zombies in "Coffee Break," make great use of office furniture in "A Secretary is Not a Toy," and rally with a big finish in "Brotherhood of Man."
Music Director Jim Rice leads a band of five musicians (Rick Copeland, Tim Cote, Heather Katz-Cote, Mick Lewander, John Styklunas) who lay down the Frank Loesser tunes with pizazz. Jenna McFarland Lord's set is both stylish and functional (with furnishings traveling on and off, rooms sliding in and out), and John Eckert's lighting design adds dimension and spotlights important moments. Costume designer Elisabetta Polito captures the fashion spirit of the era. Sounds are loud and clear and perfectly synched, thanks to designer John Stone.
How to $ucceed... won the Pulitzer Prize, as well as seven Tony Awards, including Best Musical, in 1962. Five decades later, the satire is still pointed and the love story is still poignant. Book writers Abe Burrows, Jack Weinstock, and Willie Gilbert have drawn characters to care about, even with their foibles and failings, and this cast makes them their own. By necessity, the production has been downsized to fit the space, but it results in an intimate experience with the employees of World Wide Wicket. Their jobs may be mundane and nondescript, but wait 'til you see them dance!
Photo credit: Mark S. Howard (Cast in Finale)
| | |
| --- | --- |
| Vote Now for the 2022 BroadwayWorld Boston Awards | |
| voting ends in | |
From producing and starring in family holiday pageants as a child, to avid member of Broadway Across America and Show of the Month Club, Nancy has cultivated her love of the art and respect for the... (read more about this author)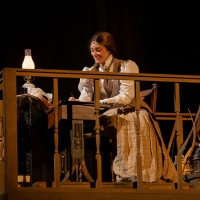 Review: LITTLE WOMEN: THE BROADWAY MUSICAL

December 1, 2022

Have there ever been such devoted sisters as the four March girls, birthed by Louisa May Alcott in her postbellum semi-autobiographical novel LITTLE WOMEN? Director Ilyse Robbins shows her abiding affection for the story with her devotion to its heart and soul on display in the production of the 2005 Broadway Musical at Greater Boston Stage Company.
---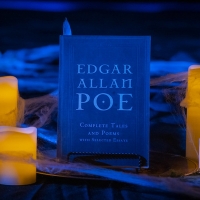 REVIEW: THE EDGAR ALLAN POE DOUBLEHEADER

October 28, 2022

If you have yet to reach your fright limit for the Halloween season, you still have two chances to experience chills of the dramatic variety at THT Rep at the BrickBox Theater in Worcester. Reprising the production she created for small, socially-distanced audiences of 20 in the early days of the pandemic, Artistic Director Livy Scanlon is performing THE EDGAR ALLAN POE DOUBLEHEADER in front of 290 stadium-style seats.
---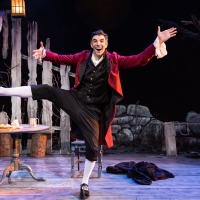 REVIEW: THE LEGEND OF SLEEPY HOLLOW

October 26, 2022

Two hundred years after Washington Irving introduced the little hamlet of Sleepy Hollow and its superstitious denizens to the canon of American literature, the legend remains among the most enduring of stories that capture the imagination of adults and children alike, inspire questions about the supernatural realm, and scare the bejesus out of its audience.
---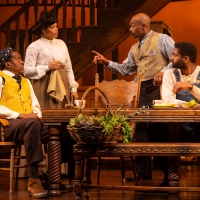 Review: AUGUST WILSON'S JOE TURNER'S COME AND GONE

October 22, 2022

JOE TURNER'S COME AND GONE was the first Wilson play produced at the Huntington in 1986, the beginning of a 19-year relationship that saw all ten of his American Century Cycle plays chronicling the African American experience in the 20th century performed on the local stage.
---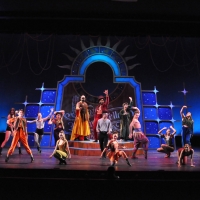 Review: PIPPIN: Growing Up Is Hard To Do

August 8, 2022

The second and final production of Reagle Music Theatre of Greater Boston's 2022 season is Stephen Schwartz's PIPPIN, originally produced on the Broadway stage in 1972 with direction and choreography by Bob Fosse, and revived/reimagined in 2013 by Diane Paulus at the American Repertory Theater before going to Broadway. Undaunted by following in those two very large sets of footsteps, RMT Artistic Director Rachel Bertone forges her own path to stage a version that leads with an enlarged heart and a healthy helping of fun and whimsy.
---