BWW Review: Sondheim's ROAD SHOW: Looking For America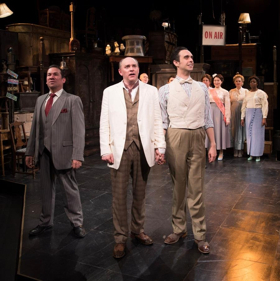 Road Show
Music and Lyrics by Stephen Sondheim, Book by Jonathan Tunick, Co-Directed by Spiro Veloudos & Ilyse Robbins; Music Director, Jonathan Goldberg; Choreography, Ilyse Robbins; Scenic Design, Cristina Todesco; Costume Design, Amanda Mujica; Lighting Design, John R. Malinowski; Sound Design, Elizabeth Cahill; Assistant to the Director, Sarah Haber; Production Stage Manager, Diane McLean; Assistant Stage Manager, Brittney Page
CAST: Neil A. Casey, Tony Castellanos, Patrick Varner, Vanessa J. Schukis, Sean McGuirk, Jordan Clark, Shannon Lee Jones, Will McGarrahan, Robin Long, David Makransky, Brandon Milardo
Performances through February 11 at The Lyric Stage Company of Boston, 140 Clarendon Street, Boston, MA; Box Office 617-585-5678 or www.lyricstage.com
Musical theater, like jazz, is an American art form, and Stephen Sondheim is the quintessential practitioner of the style. In an ongoing homage to the master, the Lyric Stage Company presents the composer/lyricist's most recent collaboration with librettist John Weidman, Road Show, a much-labored show about the travels and travails of the real-life Mizner Brothers. A pair of entrepreneurs and con men who sought their fortunes in escapades from Alaska to New York to Florida in the early 20th century, the story of their successes, failures, and the art of the deal fits right in with our American zeitgeist.
Producing Artistic Director Spiro Veloudos writes in his program note that the development process of Road Show comprised four scripts, three titles, and three directors as it journeyed from a 1999 New York workshop production to Chicago and Washington, DC (2003), Off-Broadway (2008), and London (2011), but never made it to the Great White Way. When Veloudos had the opportunity to see it at the Signature Theatre in Virginia two years ago, it renewed his interest and allowed him to find resonant themes in the story. Collaborating with Ilyse Robbins as co-director/choreographer and Jonathan Goldberg as Music Director, Veloudos does what he does best, which is to make the elements of the musical conform to the parameters of the Lyric Stage jewel box.
Among the key ingredients are Cristina Todesco's utilitarian set featuring stacks of old furniture and trunks, the perfect backdrop for what is virtually a memory play about men who wander the world. John Malinowski's lighting design augments the spare scenery, and Amanda Mujica's costume designs are reflective of the many locales the brothers visit, always evocative of the period (1890s through 1930s). Goldberg (keyboards) and two musicians are situated above and at the rear of the stage, but Elizabeth Cahill's design makes them sound like many more than their number.
Sondheim's score is the beating heart of Road Show, moving the story forward and helping to define the characters. With about a dozen and a half musical numbers in a 90-minute show, the songs do more than the book to tell the story, and do it better. I wouldn't rank this near the top of the Sondheim canon (it just doesn't feel like there's enough there there), but the eclectic score and the Lyric cast make it worthwhile. It's always a treat to catch Neil A. Casey (Addison Mizner) strutting his stuff. His comic timing and generally genial persona serve this role well, although his performance also contains some very good dramatic nuance. Casey and Tony Castellanos (Wilson Mizner) portray the challenges of the sibling relationship, sometimes at odds with each other, and other times sharing an us-against-the-world closeness. Wilson is the flashier of the two, and Castellanos captures his daring, his swagger, and his dark side, while also showing his ability to sell a song.
Vanessa J. Schukis (Mama Mizner) and Patrick Varner (Hollis Bessemer) are noteworthy in supporting roles. She creates a maternal character who is nurturing and loves her boys for who they are, and she expresses it beautifully in one of the score's loveliest numbers ("Isn't He Something!"). Varner gets better with every show and convincingly portrays his character's arc, growing up in his relationship with Addison and sharing another one of the best songs with Casey ("The Best Thing That Ever Has Happened").
The company is blessed with actors with fine voices who juggle multiple roles with ease. Sean McGuirk makes a brief appearance as Papa Mizner, singing powerfully in his deathbed scene as he advises his boys to take America by storm ("It's in Your Hands Now"). Showing their versatility, the ever-reliable Will McGarrahan and David Makransky each take on no less than five roles, while Jordan Clark, Shannon Lee Jones, Brandon Milardo, and Robin Long seamlessly alternate among three or four characters apiece. They play prospectors, poker players, real estate speculators, radio singers, and well-to-do denizens of Palm Beach, and do a little set re-arranging for good measure.
Road Show spans forty years in the lives of the Mizners. The actors don't visibly age, but Casey and Castellanos both show the weight of their experiences as the story progresses. Fresh-faced and youthfully exuberant at the start of their journeys, their excitement waxes and wanes throughout their ups and downs. Addison has a lot of disappointment when he sets out on his own ("Addison's Trip"), while Wilson bounces from one venture to another ("That Was a Year"). Often one is up when the other is down and it is interesting to observe the changes in their complicated relationship, compellingly expressed in the eleven o'clock number ("Get Out/Go"). Despite their differences, blood is thicker than water and you get the sense that brotherly love transcends even death. They died within two months of each other in 1933.
Photo credit: Maggie Hall (Tony Castellanos, Neil A. Casey, Patrick Varner)